1840: The City Architect of Rotterdam, Willem Nicolaas Rose, was commissioned to build the first hospital in Rotterdam. Coolsingel Hospital took eleven years to complete, and its first director was Rotterdam physician Bastiaan Molewater.
1863: In 1863, seven respected citizens, under the leadership of Dr. Hendrik Willem De Monchy, decided to establish a children's hospital. It was located on Hoogstraat (now the 'Koopgoot'), above a furniture store.
1869: Queen Sophia donated 100 Dutch guilders and a sewing machine to the children's hospital. In return, the hospital now bears her name.
1914: The Rotterdam Radiotherapy Institute was founded. Daniel den Hoed, a radiologist from Gouda, became the institute's director in 1940. Under his leadership the institute expanded to become an excellent clinic that will later bear his name.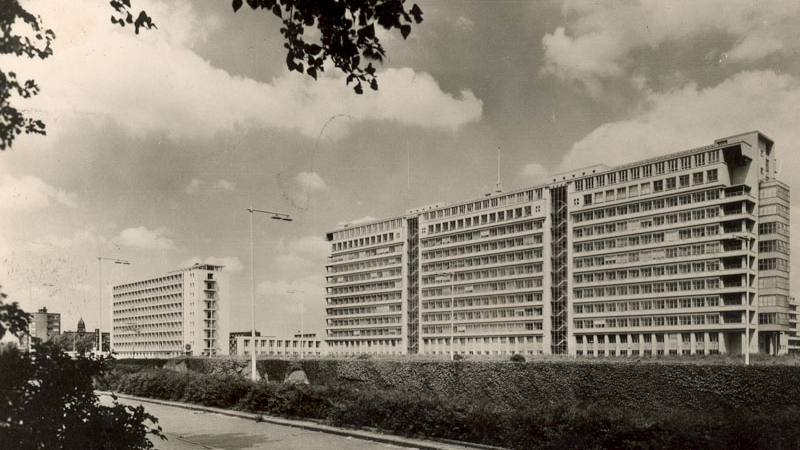 1940: The Coolsingel Hospital was hit by four bombs during the German bombings and caught fire almost immediately. Most of the hospital was destroyed. A new hospital was built elsewhere in the city thanks to the availability of facilities there.
1950: The predecessor of the medical faculty, the Stichting Klinisch Hoger Onderwijs (Foundation for Clinical Higher Education), was founded. The foundation was a medical training center that trained doctoral students from all over the Netherlands to become physicians.
1961: The Dijkzigt Hospital, located on the Land of Hoboken site, came into service on 18 September. The hospital was named after the enormous Van Hoboken family estate, which is now the Natural History Museum.
1966: The Faculty of Medicine and Health Sciences was founded on 7 October. The founder of the medical faculty in Rotterdam was Prof. Andries Querido.
1971: The Dijkzigt Hospital merged with Sophia Children's Hospital to become the Academic Hospital Rotterdam (AZR).
1973: Erasmus University Rotterdam (EUR) was founded on 1 February. The medical faculty provides medical training for physicians and scientific researchers, postgraduate courses, and it contributes to
medical specialist training programs.
1982: EUR started a Master's program for policy and management issues in healthcare, as part of the Faculty of Medicine and Health Sciences. The program was later renamed: Health Sciences, Health Policy, & Management (BMG).
1993: The Netherland's oldest children's hospital moved to Hoboken, where the Dijkzigt Hospital and the medical faculty were already located. A footbridge connects both hospitals and the medical faculty.
1995: Daniel den Hoed, the leading oncology institute, also became part of AZR.
1998: The dean of the medical faculty and the boards of Erasmus University Rotterdam and AZR discussed the formation of Erasmus University Medical Center Rotterdam on 7 October.
2002: Erasmus MC was born on 1 June.
2016: The 50th anniversary of university hospital care in Rotterdam was celebrated in this year.

2018: King Willem-Alexander opens the new Erasmus MC building on 6 September.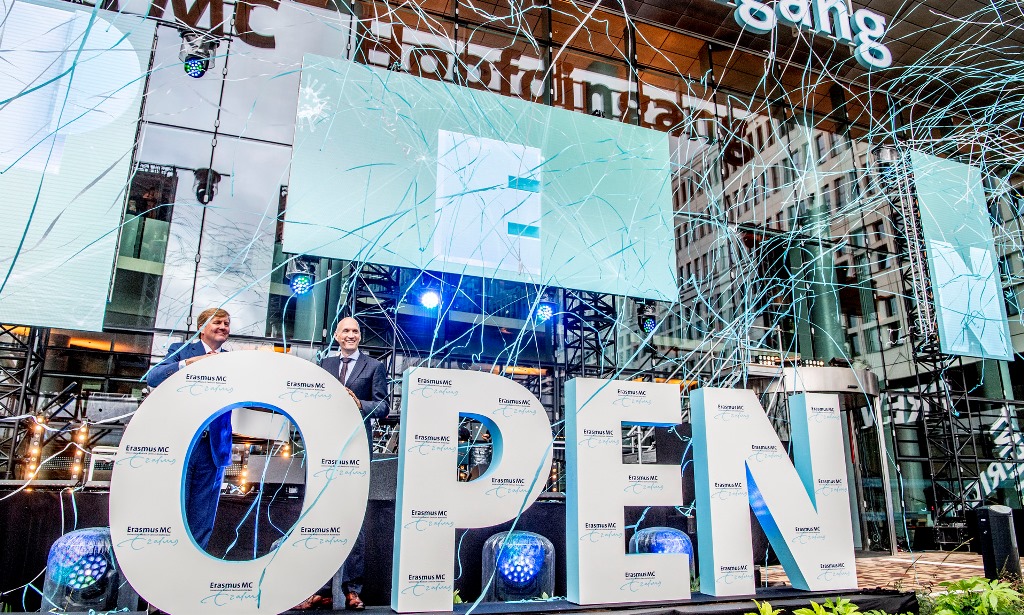 Visit our website www.50jaaracademischegezondheidszorginrotterdam.nl (Dutch only) to discover our history and see what we have become today.