Our organization
We are Erasmus MC
We are the people of Erasmus MC. Day in, day out, our staff, volunteers and students work with passion and dedication to achieve everything we stand for: safe, first-rate healthcare for patients with complex issues, unusual and rare conditions or acute needs. But we also stand for top-quality teaching that attracts ambitious, inquisitive and talented students and seeks to answer the healthcare questions of tomorrow. And we stand for world-class scientific research that bolsters our understanding of diseases and disorders and helps to predict, treat and prevent them.

Together, we are Erasmus MC. Our roots lie in Rotterdam, a city and port of international standing. We are the most innovative university medical center in the Netherlands and one of the world's leading centers of scientific research. We need vision, ambition, courage and – above all – perseverance to maintain this status.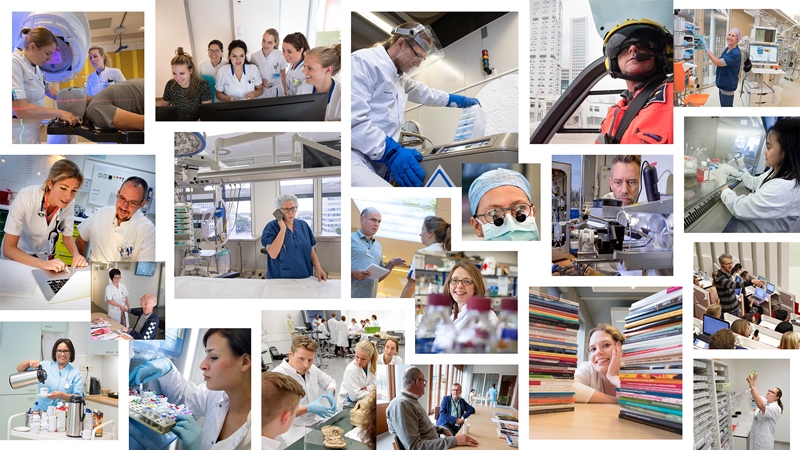 Our mission statement and vision
Our mission statement
We are committed to achieving a healthy population and pursuing excellence in healthcare through research and teaching.
Our vision
Erasmus MC is recognised as a leading innovator in healthcare.'
Our three core values
Responsible
Connecting
Enterprising.
Our strategy
Erasmus MC has been setting out a five-year strategic plan, named Course, since 2003. Each edition of Course clearly sets out our ambitions in terms of providing patient care, teaching, training, and conducting research. In each of these core tasks we focus on the social impact and valorization of our ideas. In doing so, we take account of developments in our own organization as well as developments in the world around us.
Strategy23: Technology & Dedication
Technology & Dedication are the two guiding principles underlying Strategy23 and are at the core of our goals. The word 'dedication' describes the way in which our staff perform their work, with time and consideration for their patients and each other, passion for scientific research and concern for the interests of their students. They do this against a backdrop of rapid changes in technology. Our strategic ambitions embrace both these aspects: people and technology, healthcare and innovation, and teamwork and impact. Read the strategy document here.
Impact: the crux of Strategy23
We wish to have a social impact by championing a healthy society. This is our social purpose as a university medical center. This is the target towards which we will be working over the next few years. Strategy23 follows three distinct routes towards this target.
Positioning ourselves as a partner
We aspire to being a valued partner in all our collaborative efforts. Trust, interest and respect for each other's input and expertise are key here. First and foremost we see and treat our patients as valuable partners in all our core activities. We are also an academic powerhouse shaping, leading and facilitating new regional, national and international partnerships and networks, and connecting the Rotterdam region with new developments, both in the Netherlands and further afield. We wish to be a driving force, strengthening and enriching existing partnerships and challenging our partners to seek the unexpected.
We believe it is our social responsibility to take the lead in treating patients effectively (i.e. providing the right form of healthcare at the right time and place), in promoting health, in understanding, predicting and preventing disease through research, and in training the healthcare professionals of the future. These are all things we seek to do in conjunction with our partners.
We need to contribute to political and public debate and to be perceived as an established and reliable scientific authority on healthcare. We also wish to make effective use of scarce public funds and to help create an accessible, affordable and inclusive healthcare system.
Using technology to lead the way in innovation
In the future, major innovations in health and healthcare will emerge at intersections between the biomedical and natural sciences, medicine, engineering and big data. These innovations will influence people's views on health and disease, in terms of molecules and cells, but also in terms of individuals and populations as a whole. They will affect the way in which we organise our patient care, our scientific research and our teaching. Technology is becoming an increasingly important – and indeed crucial – part of our work. Against this background, we are seeking to become the top technical university medical center in the Netherlands. Operating in a unique setting means that the conditions are ideal for this. Firstly, Rotterdam — with its highly diverse population — is a city with pronounced ambitions in life sciences and health, and whose inhabitants are renowned around the country for their can-do mentality. Secondly, the southwest of the Netherlands is a large and diverse hinterland with some 4.5 million inhabitants, many hospitals, three universities (in Rotterdam, Leiden and Delft), as well as our subsidiary hospital in the province of Zeeland. Add into the mix our links with the European Commission in Brussels and our reputation for top-class research performed with long-term partners all over the world.
Focusing on our staff and internal organisation
The human aspect is the inextricable link between technology and health. Adopting a personal approach means fostering long-term relationships not just with our patients, but also with our staff, students and volunteers. Our aim is to offer the latter a pleasant and safe place in which to work, study and fulfil their ambitions. It also means that we wish to do our very best to help overcome the growing shortage of healthcare professionals. This is our responsibility, not just as a healthcare provider and Rotterdam's biggest employer, but also as an innovator.