Central Patient Lab Services (Blood tests) at Erasmus MC
How it works
Central Patient Lab Services is where you go if you are asked in an outpatient clinic to take a blood test or to provide other samples (such as urine, faeces or saliva). You don't need to make an appointment if you're already a patient here in the hospital.
Please make sure that you bring a valid ID document with you. You can check-in at the self-service registration kiosk opposite the reception desk. You will be issued with a day ticket and automatically added to the correct queue.
You can then take a seat in the waiting area and we will see to you as soon as it is your turn. Your number will be displayed on the information screens.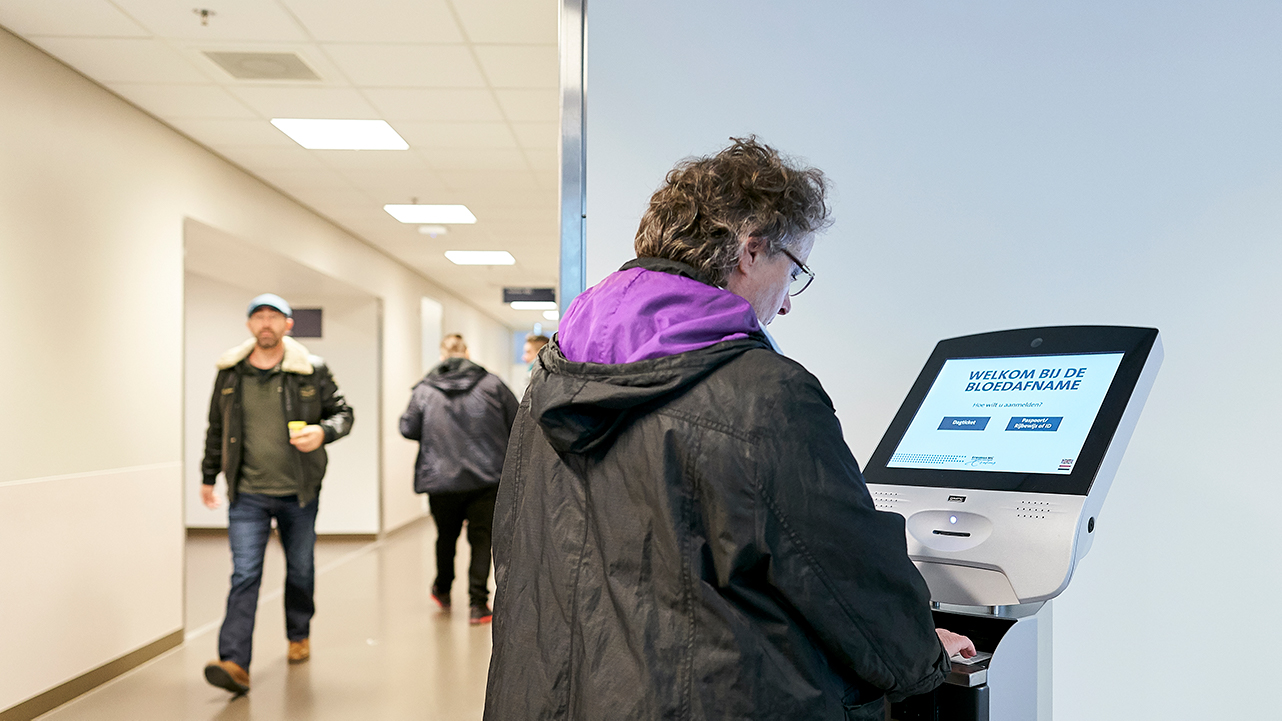 Where can you find us?
You can find us at one of the following locations:
Ne building, first floor
Ng building, first floor
Room SP-3480 in the Erasmus MC Sophia Children's Hospital
Follow the signs to the correct location. You can also ask one of our hosts and hostesses in the main hall to help you if necessary.
Central Patient Lab Services (Blood tests) at Sophia Children's Hospital
Blood tests for children
When you arrive for a blood test, we'll first explain to you and your child exactly what it is we are going to do. If we need to take a blood sample from a child aged less than 6 months old, we'll do this by means of a heel prick. If the child is over 6 months old, the sample is taken by pricking their finger or arm. Which we do depends on what it is that your physician has asked for.
Sweat test
We also carry out sweat tests. A sweat test involves collecting sweat and lasts 30 minutes.
360-degree photographs in the Erasmus MC Sophia Children's Hospital
If you need to go to the Erasmus MC Sophia Children's Hospital for a blood test, you can prepare for your visit by viewing a number of 360-degree photographs on our website.
Go to the page on 'Joep's adventure' and select 'Central patient lab services'.
Opening hours
We are open from 7:30 am to 5:30 pm (the blood test room in the Ng-1 building closes at 4:30 pm).
The blood test room in the Erasmus MC Sophia Children's Hospital is open from 8 am to 4:30 pm.
Results
Log-in to My Erasmus MC to see your lab results.