Contact and directions
Telephone numbers and addresses
General telephone number
010 704 0 704
To cancel or reschedule an appointment, see our outpatients' clinic phone numbers.
Visiting address Erasmus MC Sophia
Dr. Molewaterplein 40, 3015 GD Rotterdam - Erasmus MC Wytemaweg entrance.

Open route in Google maps.
See map of accessibility of buildings Sb, Sh, Sk and Sp.
Postal address
P.O. Box 2060, 3000 CB Rotterdam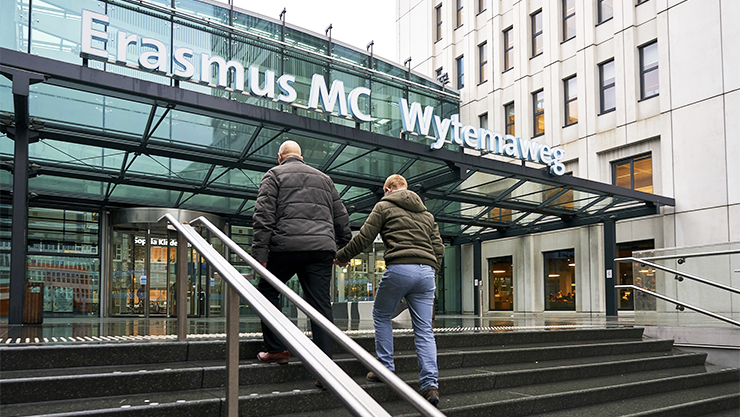 Visit the Sophia Children's Hospital via the Erasmus MC Wytemaweg entrance.
More information
International Patient Center (For overseas patients and referring physicians)
Public transport
Parking
Erasmus MC has two multi-storey parking garages. The parking garage at Wytemaweg is located below the Erasmus MC Sophia Children's Hospital. Our second parking garage is located at Westzeedijk. You'll see signs directing you to Erasmus MC as soon as you reach the Rotterdam ring road.
Address Wytemaweg parking garage: Wytemaweg 12, 3015 CN Rotterdam
Address Westzeedijk parking garage: Westzeedijk 361, 3015 AA Rotterdam
Watch the video 'How to get to the Erasmus MC by car - parking facilities' for more information.
Check the link for more information and parking rates. In case of long-term hospitalization, we offer parents and carers a parking discount. This allows you to park for 14 days at a reduced rate.
Kiss & Ride
You are not allowed to park your car near the entrance on Dr. Molewaterplein, but you may stop briefly to drop off or pick up someone.
Finding your way & facilities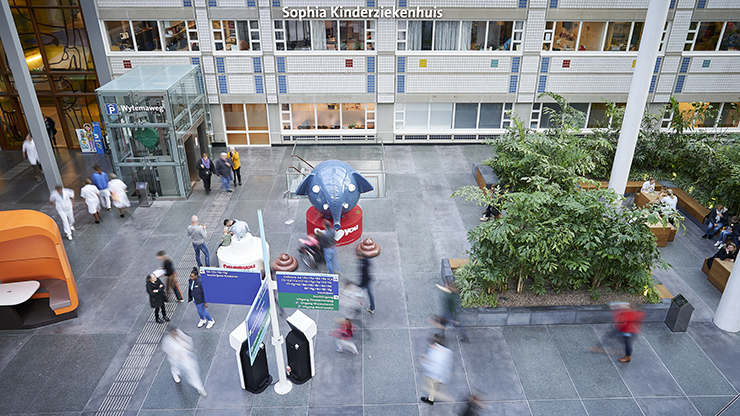 Welcome to the Sophia Children's Hospital
Via the Erasmus MC Wytemaweg entrance or one of our parking garages, you enter the central hall. You will find the entrance to the Sophia Children's Hospital behind elephant Olli. Follow the building codes (Sb, Sh, Sk en Sp) or ask a host or hostess. Read more about the directions and check out the overview of specialties on each floor.
Facilities
Restaurants & stores
The Passage hosts several restaurants, stores and other facilities. Check the opening hours and locations of facilities in and around Erasmus MC Sophia.
Speeldek (daycare)
Het Speeldek offers daycare to siblings of children who are hospitalized or receiving treatment in our hospital. Hospitalized children are welcome to play with their siblings or parents at Het Speeldek on Saturdays and Sundays.
Registration on arrival
First visit
Are you and your child visiting our hospital for the first time? Please register 30 minutes before your appointment at the registration desk in the entrance hall to complete all formalities. After your registration you will receive a day ticket.
Follow-up appointment
For each next visit, please first pick up your day ticket at one of the self-service registration kiosks in the central hall. For this you will need to present a valid ID document (identity card or passport) of your child. The kiosk examines the ID document and retrieves the appointment data from the electronic patient file. The day ticket shows the time and place of all appointments you have that day.
More detailed information about registration on arrival.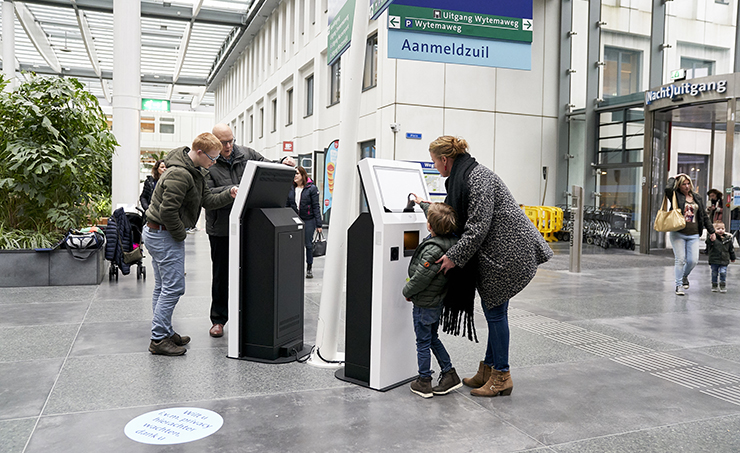 Send a postcard?
Children admitted to our hospital can receive mail. Everyone likes to receive a postcard, especially when ill!
Sending a postcard to a patient
Erasmus MC Sophia
The child's name and room number
P.O. Box 2060
3000 CB Rotterdam