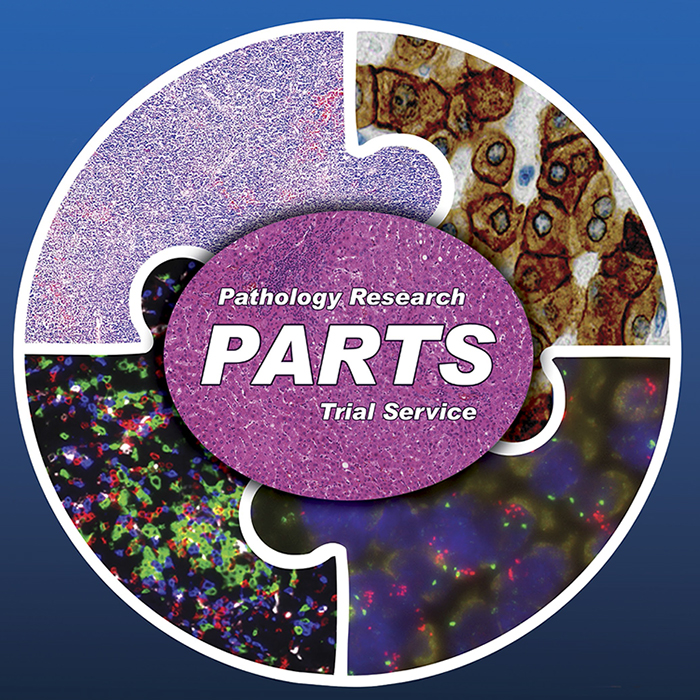 Research Facility
PARTS
Have your research done at the department of Pathology
Erasmus MC Pathology Research and Trial Service (PARTS) offers support to researchers within and outside the Erasmus MC since the end of 2014, with the emphasis on cell and tissue research.
News, events & publications
About us
Our goal
Wij zijn gespecialiseerd in:
Weefsels doorvoeren en inbedden

Vervaardigen van vries- en paraffinecoupes op elk gewenste dikte

Histochemische kleuringen (geautomatiseerd)

Immunohistochemische kleuringen: DAB, alkalische fosfatase en fluorescentie (geautomatiseerd)

Multiplex-kleuringen, zowel fluorescent als chromogeen (in ontwikkeling)

FISH en CISH

DNA en RNA isolaties

Opslag en uitgifte van zowel vries als paraffine materiaal (weefselbank)

TRIALS

Elektronen microscopie

Moleculair pathologische bepalingen
Contact us
If you have any complaints, suggestions or questions, you can always contact us via e-mail or give us a call. Also take a look at our FAQ.
email: parts@erasmusmc.nl
Phone: +31 (10) 70 38297 / 43901
Lab: Be-235
Opening hours: 8:30-17:00
DNTP:
email: dntp@erasmusmc.nl
Phone: +31 (10) 38934 / 43901
Voor meer informatie ga naar www.parts-erasmusmc.nl