About
Introduction
Derk ten Berge is associate professor at the department of Cell Biology of the Erasmus MC University Medical Center Rotterdam. His group studies the biology of embryonic and adult stem and progenitor cells and their establishment during embryonic development. To this end, the ten Berge group uses cell and embryo culture techniques, mouse models, single cell RNA and epigenetic analyses, confocal imaging, proteomics, CRISPR/Cas9-mediated genome editing and other techniques.
Scientific training and positions
Group leader at the Erasmus MC since 2009.
Recipient of Human Frontiers Long Term Fellowship (2000), AMC Fellowship (2008, declined) and Marie Curie Individual Fellowship (2010).
Postdoc (2000-2008) in the group of Prof. Roel Nusse at Stanford University. There he studied the role of WNT signals in embryonic development.
PhD (1994-1999) in the group of Frits Meijlink at the Hubrecht Institute, Utrecht, the Netherlands.
Derk ten Berge, PhD
d.tenberge@erasmusmc.nl
Research
Stem Cell and Developmental Biology
The Ten Berge group studies the cellular and molecular mechanisms that govern the creation and self-renewal of pluripotent and adult stem cells
Our discovery of a novel pluripotent stem cell has now been published in Nature Cell Biology. See for an explanation (in Dutch) Amazing Erasmus.
Every adult mammal, including humans, is constructed from many millions of cells, each specialized into muscle, blood, bone or other cell types. During this specialization, each cell builds up a memory that permanently records the type of the cell. This starts very early in embryonic development, a few days after fertilization. A population of cells devoid of this cellular memory then arises. Because their cellular memory is still unwritten, these cells are free to make all cell types of the embryo. This property is called pluripotency, and it is the pluripotent cells that construct the actual embryo. The remaining cells form the extraembryonic tissues, such as the placenta, which do not become part of the individual. To this end they retain part of the cellular memories from the male and female germ cells that together produced the embryo. To create pluripotency, however, this cellular memory must be erased. How the cellular memory is erased and pluripotency is created in the embryo are the central questions that we investigate.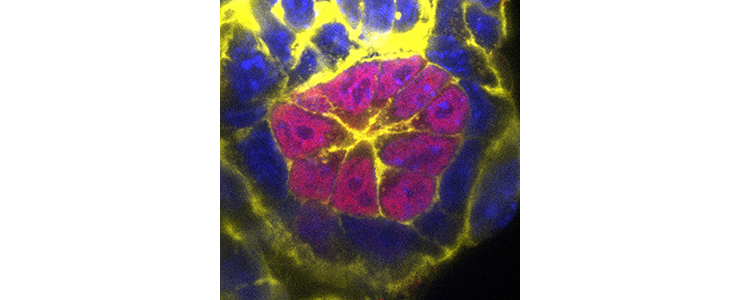 A mouse embryo shortly after implantation. The pluripotent cells are arranged in a rosette configuration and labelled in red for presence of a pluripotent transcription factor. Yellow marks the actin cytoskeleton and blue the nuclei.
The basis of cellular memory is not in changes in the DNA code (genetic changes) but in mechanisms that ensure that certain hereditary information can or cannot be expressed by modifying or packing the DNA in a special way. Signals, such as growth factors, that regulate the differentiation of the cell leave a trace in these modifications that lead to permanent changes in gene expression. Because these modifications form a regulatory layer on top of the genetic code of the DNA, we call them epigenetic modifications (epi = on top). We study which epigenetic changes occur during the induction of pluripotency in the embryo, which molecular mechanisms take care of these changes, and how these are linked to the embryonic processes that take place simultaneously, such as implantation in the uterine wall, growth and pattern formation.
This research can provide us with many new insights into the formation of pluripotency, in the epigenetic mechanisms that regulate pluripotency and cell differentiation, and in early embryonic development. The results can contribute to better methods to induce pluripotency in adult cells. Moreover, this research will provide insight into the mechanisms by which pluripotent cells regulate gene expression in the absence of normal epigenetic mechanisms. Such alternative mechanisms have also been observed in cancer cells, and our research may therefore lead to a better understanding of the role of epigenetic mechanisms in cancer.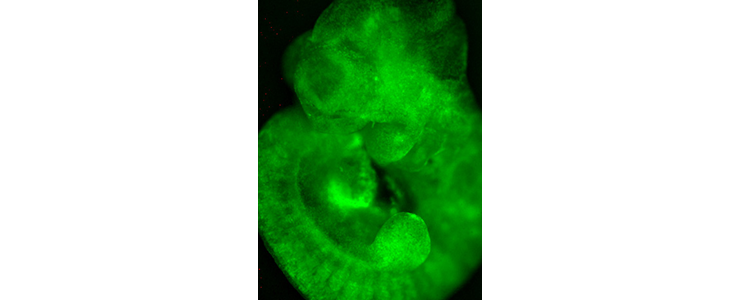 Pluripotent stem cells were labelled with a green fluorescent marker and injected in a pre-implantation stage mouse embryo. One week later, the green fluorescent cells can be found in every tissue of the embryo. Picture courtesy of Melodi Tastemel and Dorota Kurek.
Publications
Neagu A, van Genderen E, Escudero I, Verwegen L, Kurek D, Lehmann J, Stel J, Dirks RAM, van Mierlo G, Maas A, Eleveld C, Ge Y, den Dekker AT, Brouwer RWW, van IJcken WFJ, Modic M, Drukker M, Jansen JH, Rivron NC, Baart EB, Marks H, Ten Berge D. (2020) Nature Cell Biology 22, 534-545. In vitro capture and characterization of embryonic rosette-stage pluripotency between naive and primed states. Nature Cell Biology
See also News&Views by Carolyn Dundes and Kyle Loh (2020) Nature Cell Biology 22, 513-515. Bridging naive and primed pluripotency. Nature
Nesrin Tüysüz, Louis van Bloois, Stieneke van den Brink, Harry Begthel, Monique M.A. Verstegen, Luis J. Cruz, Lijian Hui, Luc J.W. van der Laan, Jeroen de Jonge, Robert Vries, Eric Braakman, Enrico Mastrobattista, Jan J. Cornelissen, Hans Clevers, Derk ten Berge (2017) Nature Communications 8, 14578. Lipid-mediated Wnt protein stabilization enables serum-free culture of human organ stem cells. Nature
Roberto Narcisi, Ozan H. Arikan, Johannes Lehmann, Derk ten Berge, Gerjo J.V.M. van Osch (2016) Tissue Engineering Part A 22, 1264-1273. Differential effects of small molecule WNT agonists on the multilineage differentiation capacity of human mesenchymal stem cells. Pubmed
Loos F, Maduro C, Loda A, Lehmann J, Kremers GJ, Ten Berge D, Grootegoed JA, Gribnau J. (2016) Mol Cell Biol 36, 2656-2667. Xist and Tsix Transcription Dynamics Is Regulated by the X-to-Autosome Ratio and Semistable Transcriptional States. MCB
Yin, Y., Bijvelds, M., Dang, W., Xu, L., van der Eijk, A.A., Knipping, K., Tüysüz, N., Dekkers, J.F., Wang, Y., de Jonge, J., Sprengers, D., van der Laan, L.J., Beekman, J.M., ten Berge, D., Metselaar, H.J., de Jonge, H., Koopmans, M.P., Peppelenbosch, M.P., Pan, Q. (2015) Antiviral Res. 123, 120-131. Modeling rotavirus infection and antiviral therapy using primary intestinal organoids. Pubmed
Narcisi, R., Cleary, M.A., Brama, P.A., Hoogduijn, M.J., Tüysüz, N., van Osch*, G.J., ten Berge*, D. (2015) Stem Cell Reports 4, 459-472. Long-Term Expansion, Enhanced Chondrogenic Potential, and Suppression of Endochondral Ossification of Adult Human MSCs via WNT Signaling Modulation. Pubmed
Duinhouwer, L.E., Tüysüz, N., Rombouts, E.W.J.C., ter Borg, M.N.D., Mastrobattista, E., Spanholtz, J., Cornelissen, J.J., ten Berge, D., Braakman, E. (2015) PloS One 10, e0119086. Wnt3a protein reduces growth factor-driven expansion of human hematopoietic stem and progenitor cells in serum-free cultures. Pubmed
Kurek, D., Neagu, A., Tastemel, M., Tüysüz, N., Lehmann, J., van de Werken, H.J.G., Philipsen, J., van der Linden, R., Maas, A., van Ijcken, W., Drukker, M., and ten Berge, D. (2015) Stem Cell Reports 4, 114-128. Endogenous WNT signals mediate BMP-induced and spontaneous differentiation of Epiblast Stem Cells and human Embryonic Stem Cells. Pubmed
Van Loosdregt, J., Fleskens, V., Tiemessen, M., van Boxtel, R., Mokry, M., Meerding, J., Pals, C., Kurek, D., Baert, M., Delemarre, E., Grone, A., Groot Koerkamp, M., Sijts, A., Maurice, M., van Es, J., ten Berge, D., Holstege, F., Staal, F., Zaiss, D., Prakken, B., and Coffer, P.J. (2013) Immunity 39, 298-310. Canonical Wnt Signaling Negatively Modulates Regulatory T Cell Function. Pubmed
Bialecka, M., Young, T., Chuva de Sousa Lopes, S., ten Berge, D., Sanders, A., Beck, F., and Deschamps, J. (2012) Dev. Biol. 371, 227-234. Cdx2 contributes to the expansion of the early primordial germ cell population in the mouse. Pubmed
Kurek, D. and ten Berge, D. (2012) Cell Cycle 11, 207-208. The signaling requirements for mouse embryonic stem cells. Pubmed
ten Berge, D., Kurek, D., Blauwkamp, T., Koole, W., Maas, A., Eroglu, E., Siu, R.K., and Nusse, R. (2011) Nature Cell Biology 13, 1070-1075. Embryonic stem cells require Wnt proteins to prevent differentiation to epiblast stem cells. Pubmed
Cooper, K.L., Hu, J.K., ten Berge, D., Fernandez-Teran, M., Ros, M.A., Tabin, C.J. (2011) Science 332, 1083-1086. Initiation of proximal-distal patterning in the vertebrate limb by signals and growth. Pubmed
ten Berge, D., Brugmann, S.A., Helms, J.A., and Nusse, R. (2008) Development 135, 3247-3257. Wnt and FGF signals interact to coordinate growth with cell fate specification during limb development. Development
ten Berge, D., Koole, W., Fuerer, C., Fish, M., Eroglu, E., and Nusse, R. (2008) Cell Stem Cell 3, 508-518. Wnt signaling mediates self-organization and axis formation in embryoid bodies. Pubmed
Student projects
We offer a variety of research projects for BSc and MSc students from Molecular Medicine, Nanobiology and other programs, such as:
CRISPR/Cas9-mediated genome editing to introduce mutations, affinity tags and reporters in pluripotent cells
Live imaging of signaling pathway activity, transcription factors and epigenetic marks in mouse embryos
ChIP-Seq to explore genome-wide binding sites of transcription factors and epigenetic modifications in pluripotent cells
Proteomics to hunt for interaction partners of pluripotency transcription factors
Identify novel pluripotent states using single cell RNA sequencing
In vitro manipulation and cell line derivation from mouse embryos
When you perform a research project in our laboratory you can expect:
Daily supervision, weekly work discussions and weekly plenary departmental project discussions
Frequent seminars by national and international speakers
Well-equipped laboratories with state-of-the-art imaging, genomics and proteomics facilities
A critical but supportive research environment
Freedom to pursue original ideas
Derk ten Berge is group leader at the department of Cell Biology of the Erasmus MC University Medical Center Rotterdam. His group studies the biology of embryonic and adult stem and progenitor cells and their establishment during embryonic development. To this end, the ten Berge group uses cell and embryo culture techniques, mouse models, single cell RNA and epigenetic analyses, confocal imaging, proteomics, CRISPR/Cas9-mediated genome editing and other techniques.
Mail Derk ten Berge at d.tenberge@erasmusmc.nl if you are interested in an internship in the lab.
Lab members and alumni
Current lab members
Irene Escudero Selma - PhD student
Emiel van Genderen - PhD student
Lucas Verwegen - Research technician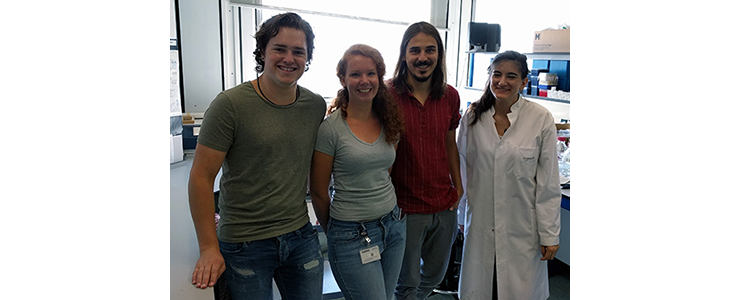 Robin van Albada, Jente Stel, Johannes Lehmann, Irene Escudero
Alumni and their current positions
Postdocs
Wouter Koole - Clinical Laboratory Geneticist in training at Radboud University Medical Centre Nijmegen
Dorota Kurek - Senior Scientist Application Development at MIMETAS - The Organ on a Chip Company in Leiden.
PhD students
Johannes Lehmann - Postdoctoral researcher in Peter de Keizer group, Utrecht Medical Center
Alex Neagu - Science and Business Consultant at ttopstart B.V., Utrecht
Nesrin Tuysuz - Postdoctoral researcher in Jan Paul Medema group at Academic Medical Center Amsterdam
MSc Internship students
Robin van Albada - Data analyst at EY Advisory, Assurance, Tax, Transaction Services
Yang Ge - PhD program at Leiden University Medical Center
Diana Sá da Bandeira - PhD program at the University of Edinburgh, UK
Shannon Dealy - Independent software engineer
Tânia Garcia - PhD program at Academic Medical Center Amsterdam
Melodi Tastemel - PhD program at University of Texas Southwestern Medical Center at Dallas, US
Undergraduate internship students
Robert Benisch - Internship in protein structure at Surrozen, a biotech startup in South San Francisco, California, US
Huiwen Ding - MSc program Bioinformatics and Systems Biology at Free University Amsterdam
Rijndert Ariese - Research technician at Princess Maxima Center for Pediatric Oncology, Utrecht
Abidemi Junaid - PhD program at Leiden University
Yike Huang - PhD program at Hubrecht Institute, Utrecht
Brian van Kampen - PhD program at Hubrecht Institute, Utrecht
Eva van den Assem - Assistant researcher at Bejo Zaden, Breda
Patty Bacilio - Talent Scout | Corporate Recruitment | iSense ICT Professionals