About
Introduction
Ana Ruiz-Saenz obtained her PhD in Molecular Biology from the Autonomous University of Madrid in 2011. Her PhD work focused on elucidating the role of the cytoskeletal protein 4.1R in microtubule organization and cell migration using state-of-the-art time-lapse microscopy. In 2013, in a movement towards translational research, she was awarded with a Ramon Areces postdoctoral fellowship and she joined the laboratory of Dr. Moasser at UCSF. During her postdoc, she focused her work on HER2-amplified cancers. She identified a novel mechanism to target the currently undruggable HER3 by inhibiting its cotranslational translocation and investigated the potential of HER2 to overcome HER3 requirement in these cancers using in vitro and in vivo approaches. Furthermore, she has frequently participated in different science communication activities including an iBiology course on experimental design. She has recently started her own research group at the Erasmus MC where she aims to decipher novel molecular mechanisms underlying resistance to therapies and progression of HER2-amplified breast cancers.

Contact information:
Name: Ana Ruiz-Saenz
Telephone: +31-1070 34609
E-mail: a.ruizsaenz@erasmusmc.nl

Visiting address:
Dept. of Cell Biology
Erasmus MC
Faculty building
Room Ee-651
Wytemaweg 80
3015 CN Rotterdam
The Netherlands

Postal address:
Dept. of Cell Biology
Erasmus MC
Faculty building
Room Ee-651
PO Box 2040
3000 CA Rotterdam
The Netherlands
Field(s) of expertise
Breast cancer is the second most common cancer in the world and the most frequent cancer among women. Each year, more than 1 million women are diagnosed with breast cancer. Although overall survival rates for breast cancer have improved significantly over the decades, close to half a million lives are still lost annually due to this disease. Therefore, a better understanding of how breast cancer arises and progresses is needed to develop better treatments for breast cancer patients.
Human epidermal growth factor receptor (HER2)-positive breast cancer affects one of five women diagnosed with breast cancer and, until the advent of targeted agents, was associated with poor outcomes. The main driver of this disease is the tyrosine kinase receptor HER2, a glycoprotein massively overexpressed on the surface of the cancer cells. The development of HER2-targeted therapies such as trastuzumab, has significantly improved patient clinical outcomes, with a substantial benefit in overall survival. Unfortunately, a significant number of HER2-positive breast cancer patients do not respond or develop resistance to the treatment. The molecular mechanisms driving resistance and cancer progression are complex and encompass not only the cancer cell but its interaction with the surrounding microenvironment. Cancer cells rewire their internal circuitry, implement new strategies and exploit the interaction with other cell types (immune cells, endothelial cells, fibroblasts…) to promote their own survival, evasion from the immune cells and metastasis.
Our lab aims to elucidate the molecular mechanisms underlying resistance to targeted therapies and driving cancer progression, with a especial focus on the role of tumor-associated aberrant glycosylation. Our projects involve the use of advanced molecular and cellular techniques, 3D cancer spheroids, co-culture systems, CRISPR-Cas9 technology, mouse models, clinical specimens and sophisticated live microscopy. We also benefit from an interdisciplinary network of collaborators that include research groups from Europe and USA working on different fields such as epigenetics, bioinformatics or systems biology. The ultimate goal of our work is to provide deeper insights into the role of HER2 in breast cancer progression, maximizing the translational impact of our research and thereby hopefully contribute to the improvement of targeted therapies for the treatment of breast cancer.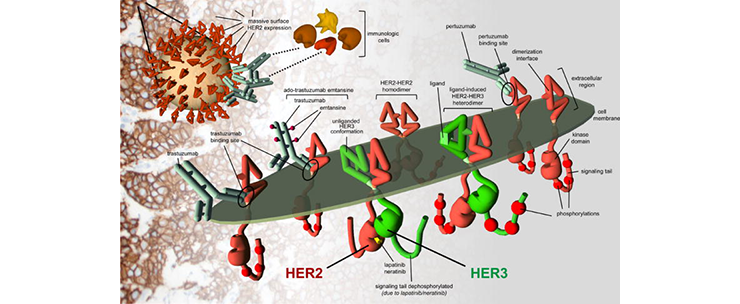 Publications
Coppé JP, Mori M, Pan B, Yau C, Wolf DM, Ruiz-Saenz A, et al. Mapping phospho-catalytic dependencies of therapy-resistant tumors reveals new actionable vulnerabilities. Nature Cell Biology 2019; 21(6):778-790.
Ruiz-Saenz A#, Dreyer C, Campbell MR, Steri V, Gulizia N, Moasser MM#. HER2 amplification in tumors activates PI3K/Akt signaling independent of HER3. Cancer Research 2018; 78(13):3645-3658. # corresponding authors.
Ruiz-Saenz A and Moasser MM. Targeting HER2 by Combination Therapies. J Clin Oncol. 2018; 36(8):808-811.
Spassov D, Ruiz-Saenz A, Piple A, Moasser MM. The function of the intrinsically disordered unique domain of Src. Cell Reports, 2018; 25(2):449-463.
Rangel L, Lospitao E, Ruiz-Sáenz A, Alonso MA, Correas I. Alternative polyadenylation in a family of paralogous EPB41 genes generates protein 4.1diversity. RNA Biol. 2017;14(2):236-244.
Campbell MR, Zhang H, Ziaee S, Ruiz-Saenz A, Gulizia N, Oeffinger J, et al. Effective treatment of HER2-amplified breast cancer by targeting HER3 and β1 integrin. Breast Cancer Res Treat. 2016;155(3):431-40.
Ruiz-Saenz A, Sandhu M, Carrasco Y, Maglathlin RL, Taunton J, Moasser MM. Targeting HER3 by interfering with its Sec61-mediated cotranslational insertion into the endoplasmic reticulum. Oncogene 2015;34(41):5288-945.
Amin DN, Ruiz-Saenz A, Gulizia N, Moasser MM. Chemical probing of HER2-amplified cancer cells identifies TORC2 as a particularly effective secondary target for combination with lapatinib. Oncotarget 2015;6(38):41123-33.
Ruiz-Sáenz A, van Haren J, Rangel L, Demmers J, Sayas CM, Millán J, et al. Protein 4.1R binds to CLASP2 and regulates microtubule organization and dynamics at the cell cortex. J Cell Sci 2013;126(Pt 20):4589-601.
Aranda JF, Reglero-Real N, Marcos-Ramiro B, Ruiz-Sáenz A, Fernández-Martín L, Bernabé-Rubio M, et al. MYADM controls endothelial barrier function through ERM-dependent regulation of ICAM-1 expression. Mol Biol Cell 2013;24(4):483-94.
Andrés-Delgado L, Antón OM, Bartolini F., Ruiz-Sáenz A., Correas I., Gundersen G.G.et al. INF2 promotes the formation of detyrosinated microtubules necessary for centrosome reorientation in T cells. J Cell Biol 2012;198(6):1025-37.
Ruiz-Sáenz A, Kremer L, Alonso MA, Millán J, Correas.I. Protein 4.1R regulates cell migration and IQGAP1 recruitment to the leading edge. J Cell Sci 2011;124 (Pt 15):2529-38.
Aranda JF, Reglero-Real N, Kremer L, Marcos-Ramiro B, Ruiz-Sáenz A, Calvo M, et al. MYADM regulates Rac1 targeting to ordered membranes required for cell spreading and migration. Mol Biol Cell 2011;22(8):1252-62.
Recent Findings 
Previous studies in the lab have shown that autologous dendritic cells pulsed with allogenic tumor cell lysate was able to induce peripheral T cell activation and tumor-reactive T cell responses in patients with mesothelioma and pancreatic cancer. Current research focuses on how to initiate an effective immune response in the tumor as well as the tumor-draining lymph node using dendritic cell vaccination. Furthermore, we are studying novel approaches for (personalized) vaccination. In addition, we have identified T cell characteristics that underlie clinical efficacy of immune check inhibitors or chemotherapeutic agents in mesothelioma. The selected publications below give an impression of our work.