A pleasant stay
at Erasmus MC Sophia Children's hospital
Being ill is not fun. On this page, you can read what we have to offer, besides medical care, to make your time in our hospital as pleasant as possible. For you as a patient or a parent, sibling or friend.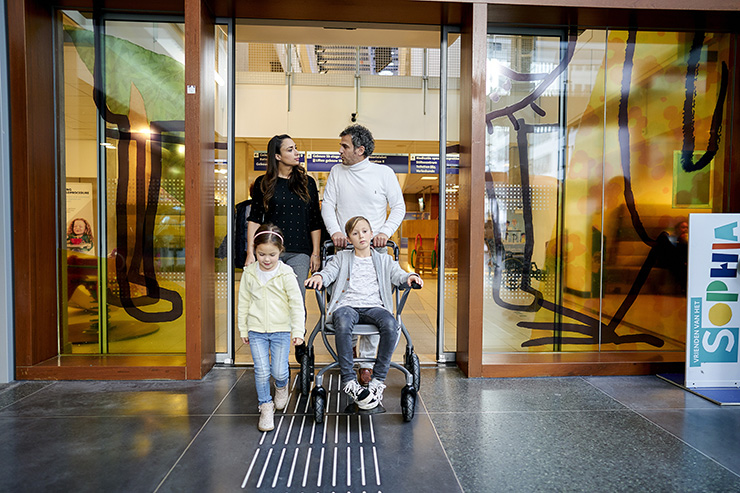 Information for you:
Take a tour with Joep
It's perfectly normal to be a little nervous before your visit to the hospital. You're not familiar with the hospital environment and you're not quite sure what's going to happen. On this page, you can watch Joep's visit to the Sophia Children's Hospital. Choose one of the rooms in the hospital for a special tour with Joep and view 360-degree pictures of the rooms. This way you know what our hospital looks like before you visit us.
Learn more and start the tour: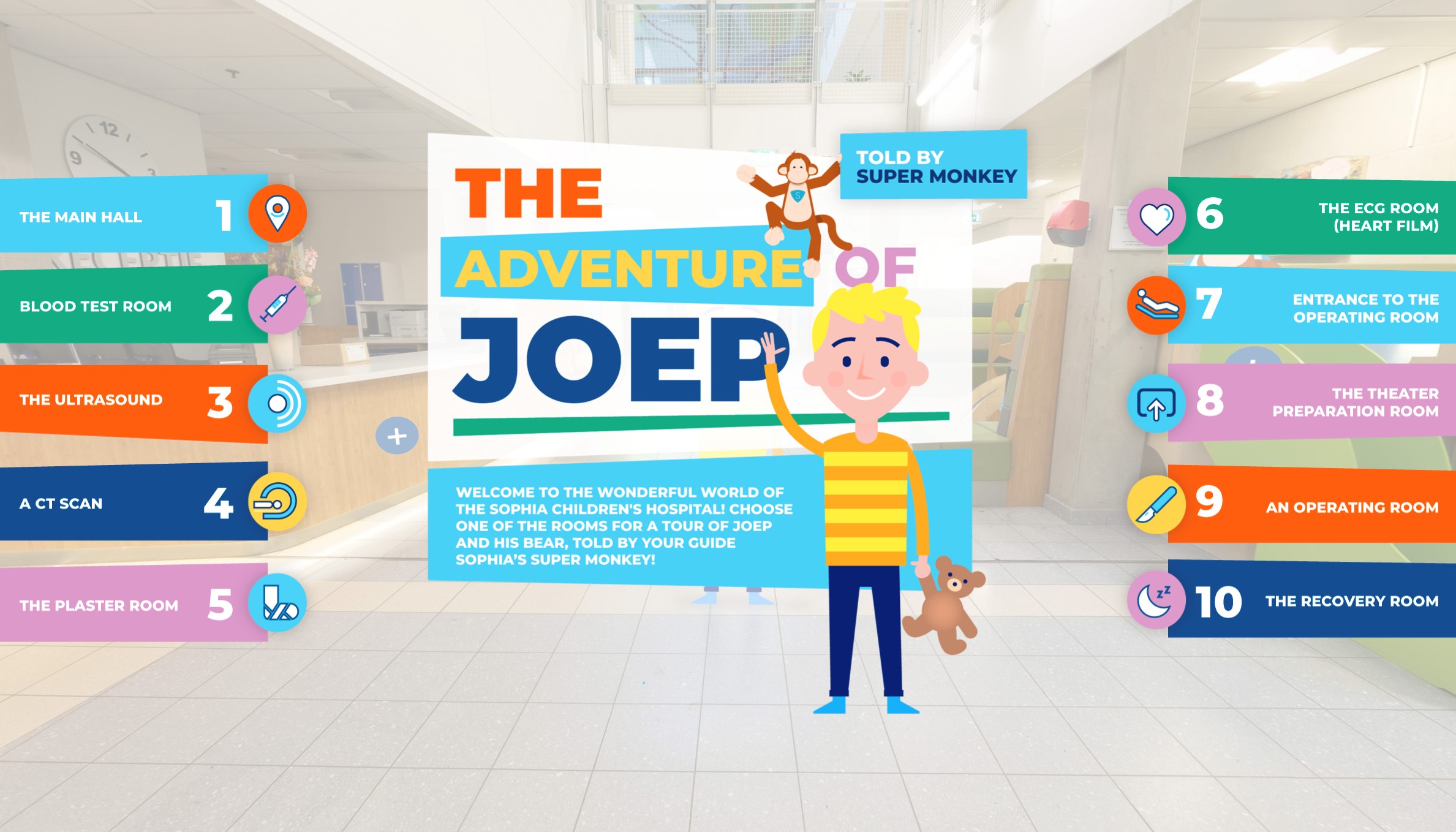 A pleasant stay on the ward
Are you visiting our hospital for tests or do you need to stay longer than a day? Your parents are allowed to stay by your side day and night. Other family members or other visitors are welcome between 2:00 PM - 8.00 PM.
In the room
If you have to stay during the night, you are assigned a room on the ward. Your parents can stay and sleep in your room. In addition to a shower and toilet, you will also find a tablet in your room. On this tablet, you can play games, surf the internet and view your own medical information. You can also watch the live broadcasts of Sophia TV on the tablet. You can use the tablet everywhere in our hospital. If you want to use Wi-Fi, choose 'hotspot' and agree to the terms and conditions.
Playroom
Most of our wards have a playroom. The playroom is open daily. This room can be used by you or your visitors, under supervision of an adult.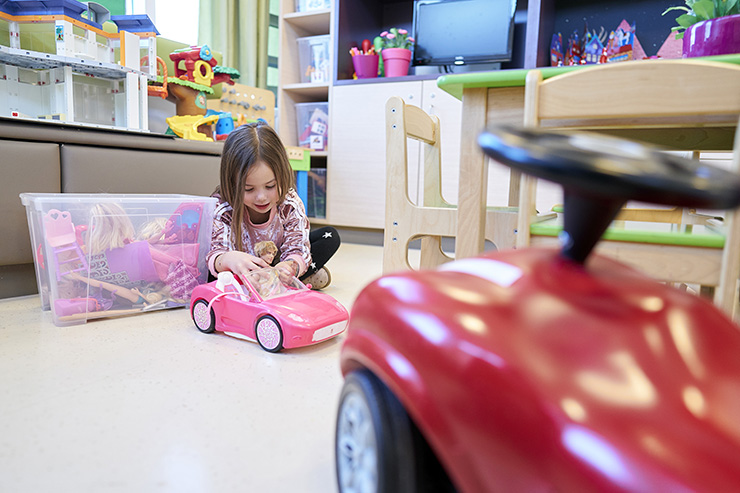 Fun experiences at your bedside
Being ill doesn't mean laying still and being bored in your bed all the time. To let you and other children in the hospital relax, laugh or forget your worries for a moment, we organize fun experiences at your bedside.
Every week, on Tuesday or Wednesday, the CliniClowns come by. They do cool magic tricks, make music and tell funny stories. You can recognize them by their red nose. Will they be able to make you laugh?
Every first Thursday of the month, the Song Factory comes to the hospital. Together with you they write a song and record it. The Song Factory then make a cool video clip of it!
"Abracadabra, I wish there was a magician at my bedside!" Once a month magicians come to the hospital to teach you a real magic trick.
Do you want to dream away to a place where everything is allowed and possible? Ask a member of the Rainbow Tree staff if they will go to the Rainbow Forest in your imagination with you. Everything is possible there!
Is your bear, doll or cuddly toy sick? Then take it to the Bear Doctor. The Bear Doctors visit the hospital regularly.
The people of BedtimeStories will come and read to you. And not just before bedtime! They visit our hospital every monday, carrying a nice suitcase full of stories.
Every Wednesday or Thursday a cartoonist will be present on different wards, who will make a drawing especially for you, according to your wishes.
Sophia TV
Erasmus MC Sophia has its own Sophia TV studio. We broadcast from the studio once a week:
Thursday from 5.30 PM - 6.30 PM
During the broadcast, you can just walk into the studio (Sh-2051) to participate, or you can send a question or comment in advance to Sophia TV via this email address. The broadcasts can be watched via the hospital's internal television network and livestreamed on the tablet in the room. Every Friday an extra video is shown on the YouTube channel of Sophia Media.
Sophia TV is made for and by children. Children may participate in Sophia TV, both in front of and behind the camera. For example as a camera operator, presenter or director's assistant. In the studio, everything is allowed.
Send a card to Olli
Olli the elephant is located in the central hall in front of the entrance of Erasmus MC-Sophia Children's hospital. Olli has laid two big turds. They are very special turds, because they have a hole in them. Exactly big enough to put a note or drawing in them for Olli. What do you want to send to Olli?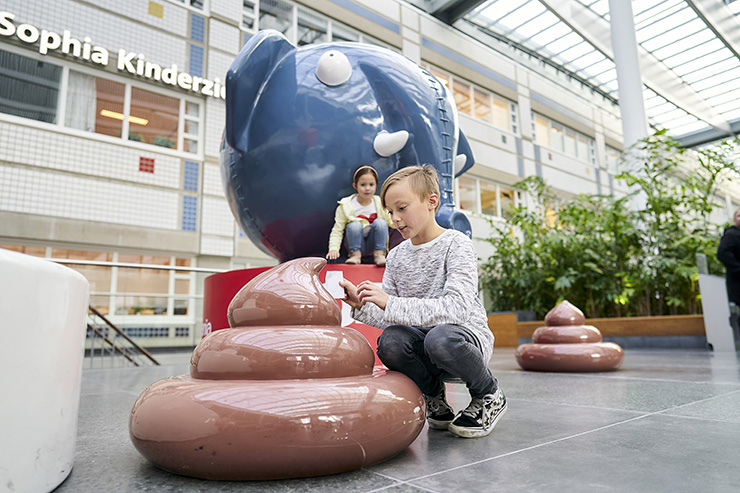 The Children's Advisory Council
Do you have a good idea for our hospital, or do you want something to change? In the Children's Advisory Council meetings, children think and decide along with Erasmus MC-Sophia. The Children's Advisory Council is formed by patients, brothers, sisters and friends of patients and speaks on behalf of all children being treated in the hospital.
The Children's Advisory Council meets about five times a year to discuss important topics and possible improvements for the hospital. For example: the food in our hospital, the layout of our hospital, or the communication between patients and caregivers.
Would you like to be a member of the Children's Advisory Council? To become a member you have to be between the ages of eight and eighteen, and be a patient in the Erasmus MC-Sophia, or a sibling, family member or friend of a patient in our hospital. For more information, please visit the page of the Children's Advisory Council.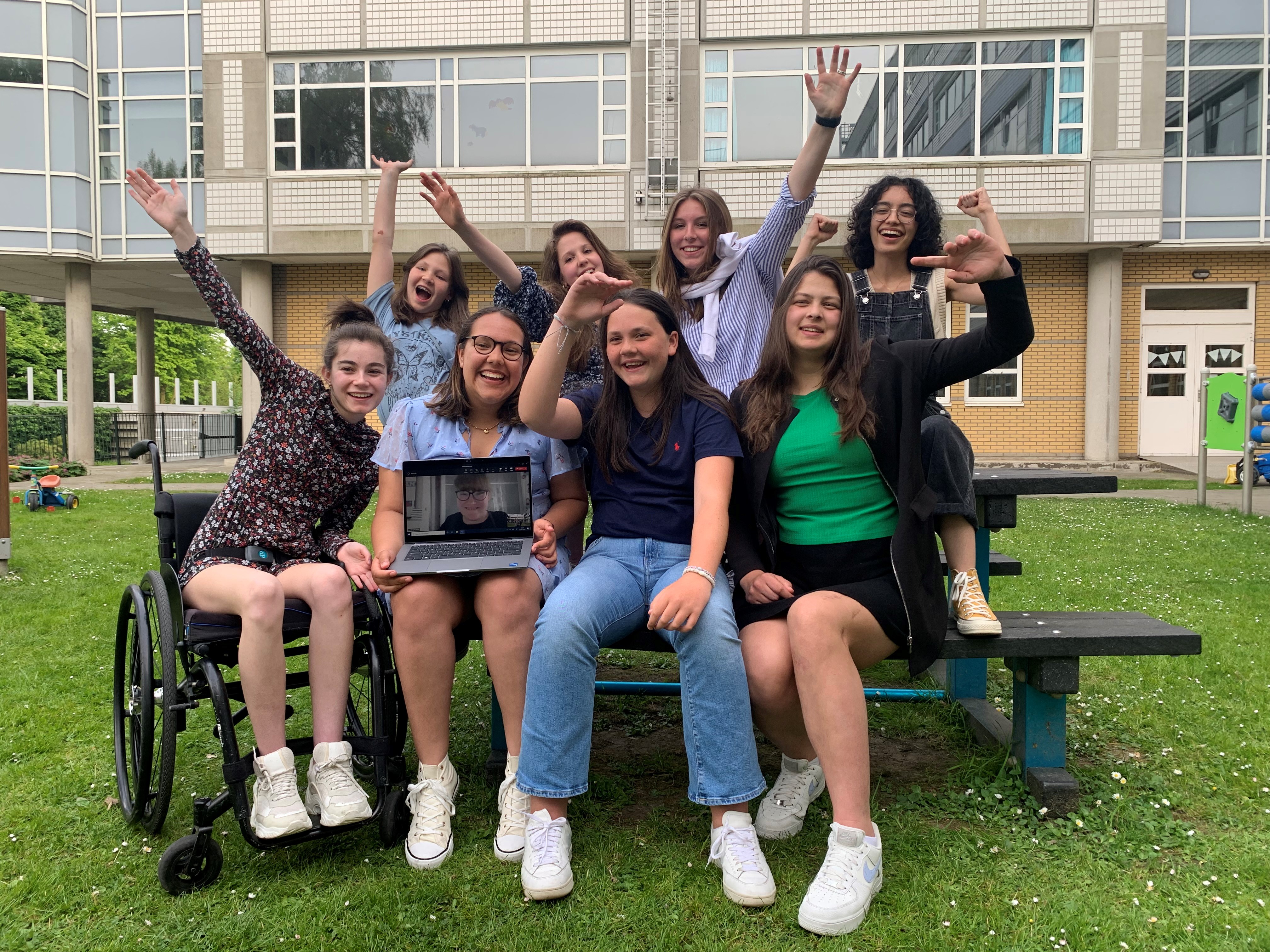 Information for Family:
Co-creation of care
You know your child best. Our nurses and doctors therefore work together with parents to provide the best care for all children. This is what we call Co-creation of care (in short: Co-Care). Read more on our page about Co-Care.
Many departments schedule Co-Care consultation meetings two or three times a week. During these meetings we discuss the treatment plan for the coming days. Everyone, including the child if he or she is old enough, can share how things are going and what important issues still need to be addressed.
Co-care also means that children and parents can participate in several councils and committees: the Children's Advisory Council, the Family Advisory Council and the Family Advisory Committees. By doing this we ensure a pleasant as possible stay with the best possible care.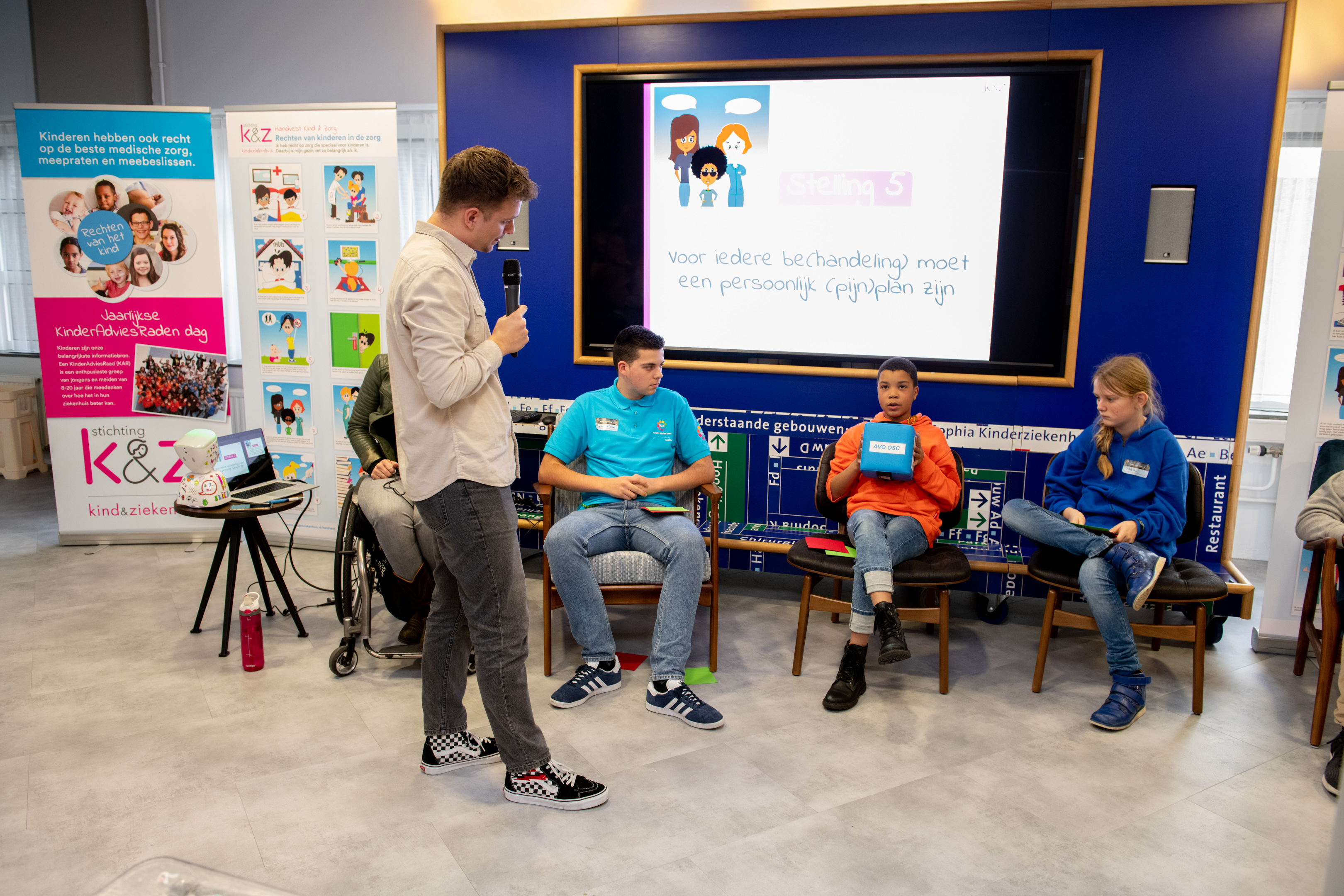 Stay informed through My Erasmus MC
You can view your child's medical data, lab results and correspondence online via 'My Erasmus MC', the online patient portal on the Erasmus MC website. You can access this secure digital environment yourself by using your child's personal DigiD. Check your child's online file regularly to stay up to date with the most important medical data and/or to prepare for a subsequent consultation with the doctor.
Digital contact with your child's treatment team
BeterDichtbij
Do you have a medical (non-emergency) question? You can ask your child's doctor or treatment team directly in the BeterDichtbij app. BeterDichtbij is an app you can install on your phone. Through BeterDichtbij, you or your child can ask your child's treatment team about any questions or concerns you may have. It is also possible to add photos through the app. You will receive a response within two working days. Ask your healthcare provider about the BeterDichtbij app.
Video calls with the doctor
You do not always have to come to Erasmus MC Sophia for an appointment. The doctor can also invite you and your child for a video session. This means you can stay at home for the consultation.
A pleasant stay on the ward
If your child has been admitted to Erasmus MC Sophia, you can stay with him or her all the time. Other visitors are welcome between 2:00 PM - 8:00 PM.
Training hospital
Erasmus MC Sophia is a teaching hospital. This means that in addition to doctors and nurses, there are also rotating medical students, residents and paediatric nurses in training in each department. The supervising doctor is, of course, ultimately responsible for the care of your child.
In the room
You may stay with your child overnight, in their room. In addition to a shower and toilet, you may also use the tablet which can be found in the charging panel next to the bed. On this tablet you and your child can use the internet, play games and view medical data. The livestreams of Sophia TV can also be streamed on the tablet. The tablet can be used everywhere in our hospital. We offer Wi-Fi: choose 'hotspot' and agree to the terms and conditions to activate it.
Breakfast
Breakfast is available for parents who stay overnight with their child, so you can start the day together. We take care of the breakfast for your child, and for you. This is an initiative from the Children's Advisory Council.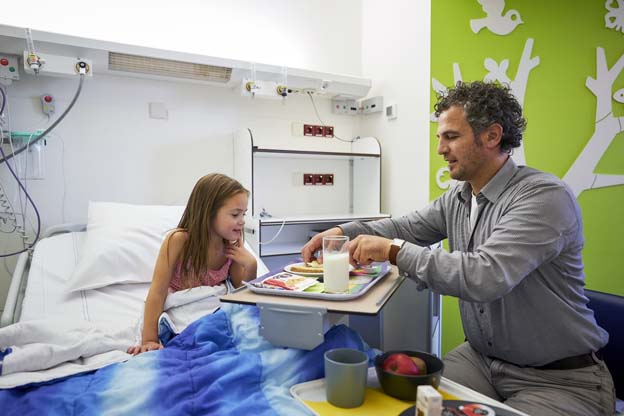 Playroom
Most of our wards offer playrooms. The playroom is open daily. Children who have been admitted, and any visitors, can make use of this room under the supervision of an adult.
Family room
During the admission of your child you can use the family room. Here you will find a kitchen where you can store or warm up a meal.
Diaper-changing rooms
There are several wheelchair-accessible diaper-changing rooms in the hospital that parents and visitors can use.
Room SB-2647 of the Kinderthoraxcentrum outpatient clinic on the 2nd floor is a large changing room for children of all ages. A folding changing couch is available In the rooms SP-1487 and SP-1437. These rooms are especially suitable for young children.
Access pass
To ensure the safety of our patients, electronic access control is in place in the evening and at night. Parents receive an access pass to enter the department during evening and night hours.
Send a postcard
Your child can receive mail in our hospital. Family and friends can send a card to the address below:
Erasmus MC Sophia Children's Hospital
[The child's name and room number]
P.O. Box 2040
3000 CA Rotterdam
Bedside experiences
Every week we organize different experiences and activities on the ward or at your child's bedside to relax or laugh. To find out more about the different events, take a look at the information for children, or ask a pedagogical staff member for more information.
For parents, by parents: 'Chat & Cake'
A stay at our hospital is busy during the week: visits from doctos, tests are carried out or blood is taken. These activities usually take place from Monday to Friday. The weekends are a lot quieter. Especially parents of children who have been in hospital for a long time notice this difference.
A group of parents of admitted children have come up with the idea of organizing so-called 'Chat & Cake' meetings. Once a month on a Sunday, parents are welcome in the family room of the Kinderthoraxcentrum (2 north) or the family room of 1 north/south. The initiators will be there with all kinds of homemade snacks, drinks and a listening ear. Parents are welcome to exchange experiences or just have a chat. Do you prefer not to chat with other parents? You are always welcome to come and bring or eat something tasty, without having to chat.
Talk to the medical social worker
Our medical social workers can support, guide and advise you as a family. They will help you to find ways to deal with the problems resulting from a period in the hospital. For example: coping with illness and treatment, communicating about the illness, dealing with loss and mourning and problems adjusting to handling new (social) situations.

During an admission or outpatient appointment you may ask the doctor or the nurse to refer you to the medical social work department.
Educational support for your child
School is important for every child, even when they are sick. That is why we offer educational support during an admission (longer than a week) or structural day treatment in our hospital, but also at home or at school. Please contact 'Educational support' to discuss the possibilities for your child.
Family Advisory Council
The Family Advisory Council listens to the experiences of families and parents of admitted children in Erasmus MC Sophia Children's Hospital. Together with the hospital, the Family Advisory Council translates these experiences into improvements of care.
The Family Advisory Council meets about eight times a year to discuss important topics and possible improvements for our hospital. For example: how can we improve communication in the hospital, can patients get a case manager and how can we increase the awareness and publicity of the Family Advisory Council?
Would you like to become a member? Send a message to this email address.The chairperson will then contact you.
Friends of Sophia Foundation
The Friends of Sophia Foundation (in Dutch:
Stichting Vrienden van het Sophia
) is a fundraising institution that raises money to fund scientific research aimed at improving treatment methods. The foundation also supports projects aimed at making the stay at our hospital as pleasant as possible for our patients and you as a parent. The Friends of Sophia Foundation has provided us with decoration and interior items for our public areas, toys and means of relaxation for our patients and guests.
Facilities in and around Erasmus MC Sophia
Car parking
Amusement deck for siblings
The Amusement deck offers daycare to siblings of sick children who have been admitted or are being treated in our hospital.
We offer daycare to children between zero and ten years old, for a few hours a day up to an entire day. For each age group there are toys and customized care. There are beds to for the youngest children to sleep in. The daycare is provided by volunteers with the support of the Ronald McDonald House management. To be able to offer daycare facilities in the future, a voluntary donation for the care of your children is welcome.
Location
The entrance of the Amusement deck (In Dutch: Speeldek) is next to the entrance Wytemaweg.
Opening hours
For current opening hours, please call the Play Deck at (010) 310 81 20. We strive to be open on weekdays from 9:00 am to 5:00 pm. We are only open if there are children registered for that day. Due to limited availability it is important to make your reservation no later than 1 working day in advance. If we have no registrations we decide the day before that the Play Deck will not open.
More information
For information and reservations, please contact us at (010) 310 81 20.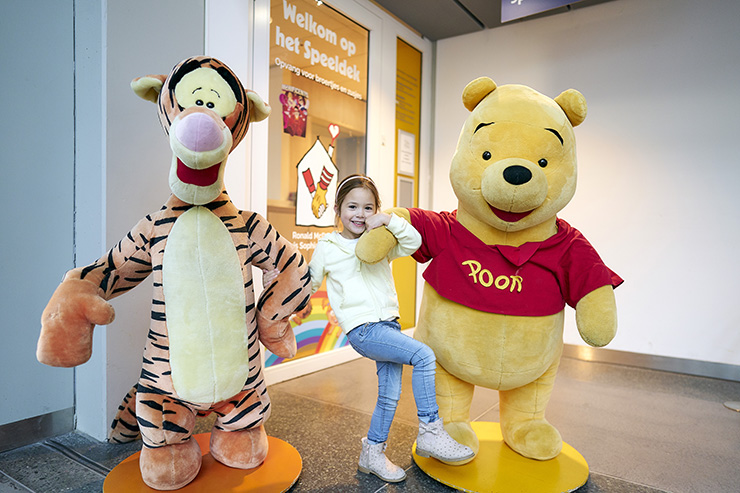 Relax in the Silence Center
A hospital stay can be emotionally demanding. The Silence Center in Erasmus MC-Sophia is a place to relax, meditate, pray or light a candle. Our south-east facing prayer room caters to Muslim visitors. The Silence Center (Stiltecentrum) in on the second floor, room Sk-1250.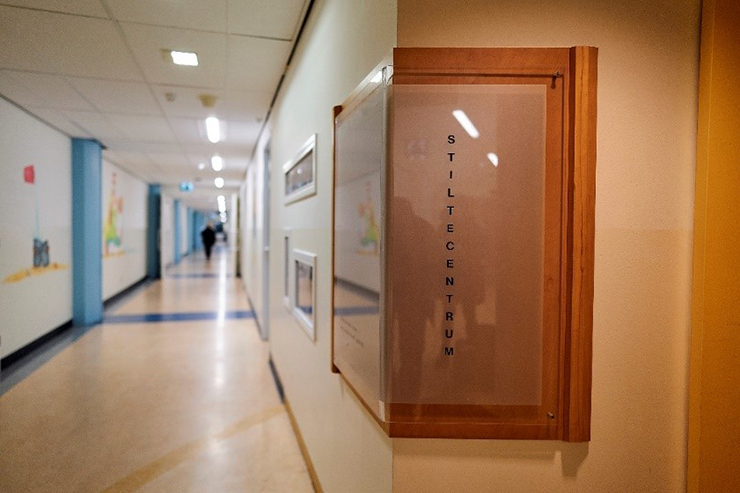 Staying in the Ronald McDonald House
If your child is admitted to the Erasmus MC-Sophia, you would of course prefer to be as close to your child as possible, as often as possible. The Ronald McDonald House Sophia Rotterdam (in Dutch) is located next to Erasmus MC Sophia. You can stay there while your child is admitted at our hospital. Read the admission criteria on the page of the Ronald McDonald House Rotterdam website.
More information
Staying over at the Ronald McDonald House is not free, but the costs are low. For more information and to request a room please visit the (in Dutch) website or call + 31 10 310 81 00.
Meals and shops
On our
facility page
you will find the opening hours and locations of the restaurants, shops and other facilities in and around Erasmus MC. At most stores and restaurants you can only pay with debit card.
Prettig-Verblijf-in-ErasmusMC-Sophia
Prettig-Verblijf-in-ErasmusMC-Sophia