About our research group/lab
Our research
Comprehensive molecular analyses of AML
The department of Hematology at Erasmus MC is involved in clinical and translational research aimed at the improvement of treatment and diagnosis of hematological malignancies. The department coordinates and participates in multicenter clinical trials (HOVON/SAKK) and has a major focus on the delineation of the biology of hematologic malignancies and the development of molecular diagnostics for these diseases. The aim of these programs is to dissect the cellular and molecular pathogenesis of these conditions and translate them to clinical practice. The focus of the Valk group is to delineate the biology of AML and develop novel prognostic indicators by investigating clinical AML specimens using various genome-wide technologies (genomics).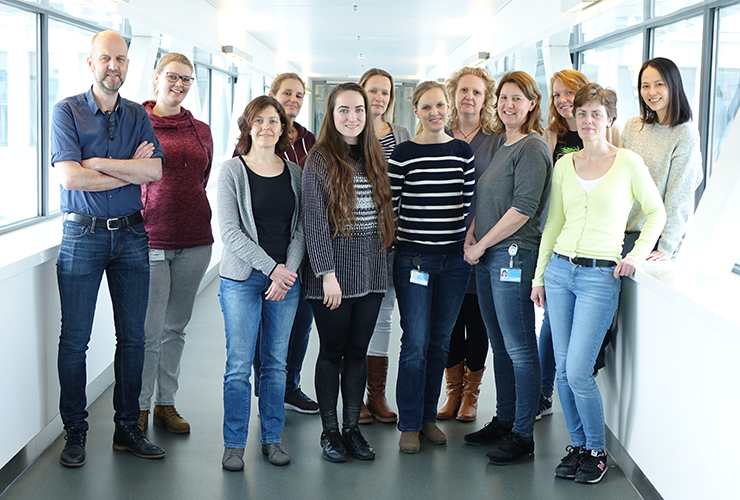 Molecular Diagnostics
Within the department the Valk group runs the molecular diagnostic unit that routinely examines relevant clinically biomarkers in various hematologic malignancies, i.e., AML, acute lymphoblastic leukemia, chronic myeloid leukemia, myeloproliferative disorders and others. The laboratory is accredited by the ISO15189. The molecular diagnostic unit at the department of Hematology acts as central reference laboratories for all participating centers in the international and multicenter HOVON-SAKK clinical AML trials.
Key Publications
Valk PJM, Verhaak RGW, Beijen MA, Erpelinck CAJ, Barjesteh van Waalwijk van Doorn - Khosrovani S, Boer JM, Beverloo HB, Moorhouse MJ, van der Spek PJ, Löwenberg B, Delwel R - Prognostically Useful Gene-Expression Profiles in Acute Myeloid Leukemia. New Engl.J.Med. 2004, 350: 1617-1628.
https://www.ncbi.nlm.nih.gov/pubmed/15084694
Taskesen E, Bullinger L, Corbacioglu A, Sanders M, Erpelinck CA, Wouters BJ, van der Poel-van de Luytgaarde S, Damm F, Krauter J, Ganser A, Schlenk RF, Löwenberg B, Delwel R, Dohner H, Valk PJ, Dohner K. Prognostic impact, concurrent genetic mutations and gene expression features of AML with CEBPA mutations in a cohort of 1182 cytogenetically normal AML: further evidence for CEBPA double mutant AML as a distinctive disease entity. Blood. 2010; 117(8):2469-75.
https://www.ncbi.nlm.nih.gov/pubmed/21177436
Rockova V, Abbas S, Wouters BJ, Erpelinck CAJ, Beverloo HB, Delwel R, van Putten WLJ, Löwenberg B, Valk PJM. Risk-stratification of intermediate-risk acute myeloid leukemia: integrative analysis of a multitude of gene mutation and gene expression markers. Blood. 2011; 118(4):1069-76.
https://www.ncbi.nlm.nih.gov/pubmed/21596848
Pratcorona M, Abbas S, Sanders M, Koenders J, Kavelaars F, Erpelinck-Verschueren C, Zeilemaker A, Lowenberg B, Valk P. Acquired mutations in ASXL1 in acute myeloid leukemia: prevalence and prognostic value. Haematologica. 2012; 97(3):388-92.
https://www.ncbi.nlm.nih.gov/pubmed/22058207
Ribeiro AF, Pratcorona M, Erpelinck-Verschueren C, Rockova V, Sanders M, Abbas S, Figueroa ME, Zeilemaker A, Melnick A, Löwenberg B, Valk PJ, Delwel R. Mutant DNMT3A: a marker of poor prognosis in acute myeloid leukemia. Blood. 2012;119(24):5824-31.
https://www.ncbi.nlm.nih.gov/pubmed/22490330
Gröschel S, Sanders MA, Hoogenboezem R, de Wit E, Bouwman BA, Erpelinck C, van der Velden VH, Havermans M, Avellino R, van Lom K, Rombouts EJ, van Duin M, Döhner K, Beverloo HB, Bradner JE, Döhner H, Löwenberg B, Valk PJ, Bindels EM, de Laat W, Delwel R. A single oncogenic enhancer rearrangement causes concomitant EVI1 and GATA2 deregulation in leukemia. Cell. 2014; 157(2):369-81.
https://www.ncbi.nlm.nih.gov/pubmed/24703711
Gröschel S, Sanders MA, Hoogenboezem R, Zeilemaker A, Havermans M, Erpelinck C, Bindels EM, Beverloo HB, Döhner H, Löwenberg B, Döhner K, Delwel R, Valk PJ. Mutational spectrum of myeloid malignancies with inv(3)/t(3;3) reveals a predominant involvement of RAS/RTK signaling pathways. Blood. 2014; 125(1):133-9.
https://www.ncbi.nlm.nih.gov/pubmed/25381062
Jongen-Lavrencic M, Grob T, Hanekamp D, Kavelaars FG, Al Hinai A, Zeilemaker A, Erpelinck-Verschueren CAJ, Gradowska PL, Meijer R, Cloos J, Biemond BJ, Graux C, van Marwijk Kooy M, Manz MG, Pabst T, Passweg JR, Havelange V, Ossenkoppele GJ, Sanders MA, Schuurhuis GJ, Löwenberg B, Valk PJM. Molecular Minimal Residual Disease in Acute Myeloid Leukemia. N Engl J Med. 2018; 378(13):1189-1199.
https://www.ncbi.nlm.nih.gov/pubmed/29601269
Sanders MA, Chew E, Flensburg C, Zeilemaker A, Miller SE, Al Hinai AS, Bajel A, Luiken B, Rijken M, Mclennan T, Hoogenboezem RM, Kavelaars FG, Fröhling S, Blewitt ME, Bindels EM, Alexander WS, Löwenberg B, Roberts AW, Valk PJM, Majewski IJ. MBD4 guards against methylation damage and germline deficiency predisposes to clonal hematopoiesis and early-onset AML. Blood. 2018;132(14):1526-1534.
https://www.ncbi.nlm.nih.gov/pubmed/30049810
Pubmed page Peter Valk
Our team
P.J.M. (Peter) Valk, Principal investigator
Chu, Isabel, Drs.
Goudswaard, Chantal, Drs.
Graaf de, Larissa, Drs.
Hogenbirk-Hupkes, Pauline, Drs.
Geertsma-Kleinekoort, Wendy, Drs.
Poel van der-van de Luytgaarde, Sonja, Drs.
Mangoendirjo, Lisa, Drs.
Spilt, Isis, Drs.
Storm, Milena, Drs.
Hoseinzadeh, Farzaneh, Drs.
Kavelaars, Francois, Drs.
Rijken, Melissa, Drs.
Zeilemaker, Annelieke, Drs.