What we do
About our project
Coronary CT
Patients with stable chest pain undergo Coronary Computed Tomography Angiography (CCTA) as the first line test to detect coronary stenosis. An anatomically significant (>= 50% luminal narrowing) stenosis on CCTA does however not always cause cardiac ischemia (i.e. hemodynamically significant stenosis). CCTA is often followed by invasive coronary angiography (ICA) to assess the hemodynamic significance of the stenosis. However, >=50% stenoses on CCTA often turn out not to be hemodynamically significant on ICA. Fractional Flow Reserve from coronary computed tomography (FFRct) analysis provides additional functional information based on the anatomical CCTA images.
FUSION Study
In the randomized controlled FUSION study, we assess if adding FFRct to CCTA can avoid unnecessary invasive coronary angiography (ICA) in stable chest pain patients with a (more than) 50% stenosis on CCTA. 528 patients will be randomized between FFRct and the routine work-up with ICA. The primary outcome measure is the rate of ICA without obstructive coronary stenosis (anatomical narrowing <50% or invasive FFR >0.80) reflecting unnecessary ICA.
Multicenter
The study is led by a team of investigators from Erasmus MC that work closely with colleagues from 5 Dutch hospitals (UMCG, UMCU, Gelre, ADRZ, St Jansdal). Patient enrollment will start in the second half of 2020.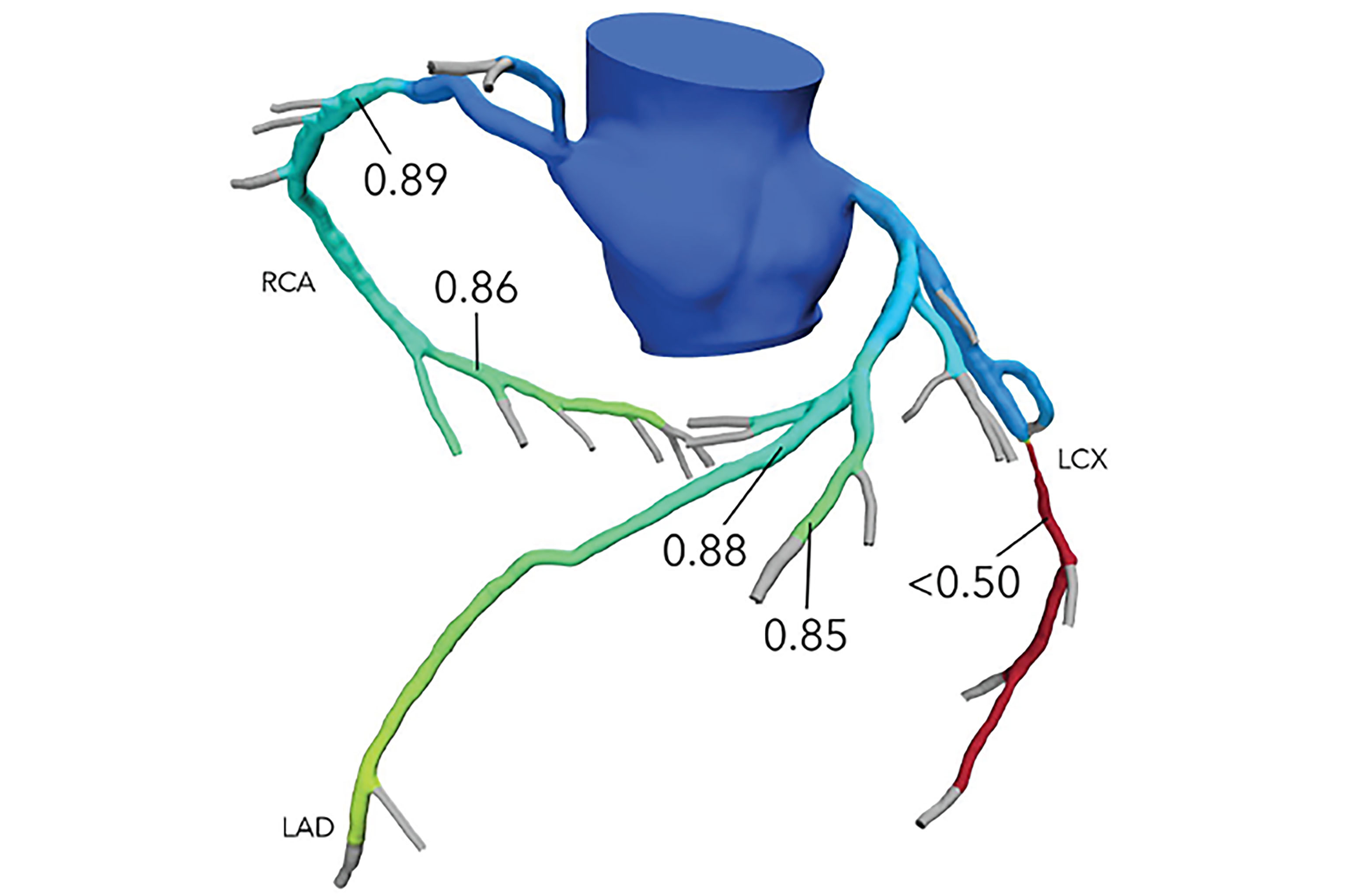 Our research focus
The Cardiac Imaging CT group at Erasmus MC has a strong track record in cardiac imaging research.
Our main areas of interest are:
Ischemic Heart Disease: non-invasive assessment of the coronary arteries.
Heart Valve (Dys)function: use of CT to assess the working mechanisms of prosthetic heart valves and their modes of failure.
Endocarditis: improvement of diagnostic imaging (CT and PET-CT) for endocarditis
Imaging to Improve Cardiac Surgery: use of CT imaging to plan surgical strategy to improve patient outcome.
Funds & Grants
Zorginstituut / ZonMw Veelbelovende Zorg
Collaborations
Internal collaboration (Erasmus MC)
Department of Radiology & Nuclear Medicine
Department of Cardiology
External collaborations
Universitair Medisch Centrum Groningen (UMCG)
Universitair Medisch Centrum Utrecht (UMCU)
Gelre Ziekenhuis, Apeldoorn
Admiraal de Ruyter Ziekenhuis (ADRZ)
St Jansdal Ziekenhuis, Harderwijk
Our team
Dr. R.P.J. Budde, Radioloog
Dr. A. Hirsch, Cardioloog