What we do
About our project
Semantic Dementia is uncommon as it does not have a clear heritable component and a relatively homogeneous clinical and pathological presentation. Somatic mutations in the brain have been described to cause neurodevelopmental disorders. The role of these kind of mutations in neurodegenerative disorders is currently unclear.
What is the aim?
We are investigating whether somatic mutations acquired in the brain of semantic dementia patients might contribute or even cause the disease process.
How do we perform this research?
We will derive DNA from blood and 2 brain tissues of these patients, and compare genetic variants between them to identify brain-specific somatic mutations. We will follow-up using transcriptomics and proteomics in the same brain tissues to evaluate the impact of these mutations. Finally we will use cell models and/or animal models to demonstrate a causal relationship between mutations and disease.
What is the desirable outcome?
Identifying somatic mutations in semantic dementia brains that might cause or contribute to the disease process. Simultaneously, these datasets will provide insight in the pathophysiology in the brain of this disease.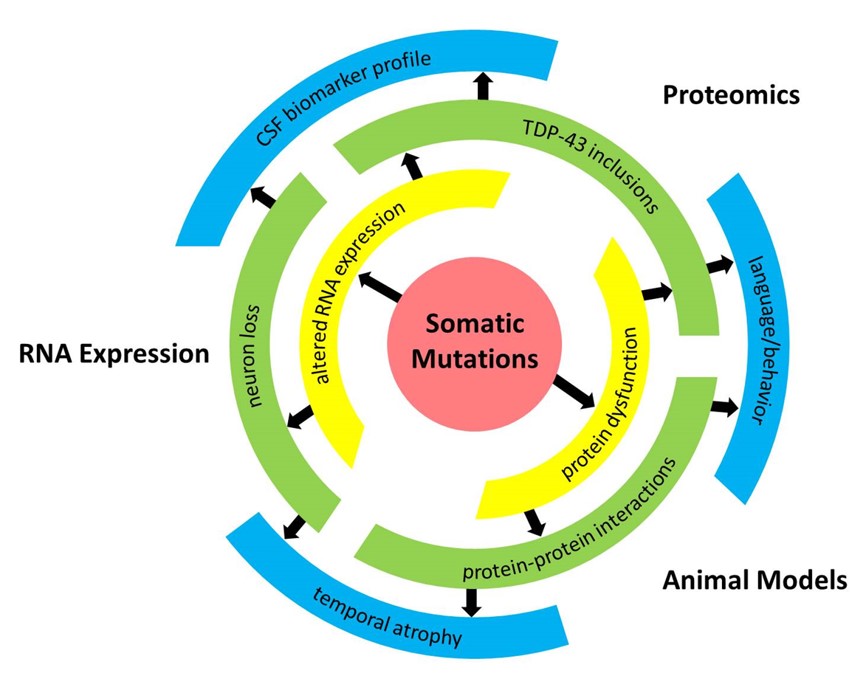 Funds & Grants
ZonMw, Alzheimer Nederland, Gieskes-Strijbis foundation; WE. 09 2017-05.
Collaborations
Our team
Prof John van Swieten
Jeroen van Rooij
Shami Melhem
Merel Mol