About
Introduction
Debby van Riel - Associate professor
Viral infections are a major burden of disease worldwide, and in recent years we have learned that even mild infections can contribute to the development of disease in multiple organ system. The research in the RielScience team aims to understand how a viral infection results in the development of disease in the acute and/or post-acute phase. Therefore, we study the systemic pathogenesis of respiratory virus infections, including influenza A viruses, coronaviruses and enterovirus-D68. Furthermore, we focus on the neuropathogenesis of a broad range of virus infections, including influenza A viruses, coronaviruses, enterovirus and recently monkeypoxvirus.
In recent years the team has shown that many respiratory viruses can spread beyond the respiratory tract, where they affect the central nervous and cardiovascular system. Furthermore, we have shown that many respiratory viruses can enter the CNS, including almost all influenza A viruses and SARS-CoV-2 viruses, where they trigger local inflammatory responses that might last in the post-acute phase. In our studies we combine in vivo with in vitro models to unravel the virus-host interaction at the molecular- to host level. Our in vitro models are recently established scalable, reproducible and relevant human model systems, such as stem cell derived neural cultures that contain multiple cell types. Our research is published in many high ranked journals including Science, Nature Com, Trends in Neurosci, NEJM, Am J Pathol, Acta Neuropathol Com, PloS Path, J Infect Dis, etc. (see publications).

We feel that understanding the fundamental mechanisms how viruses can spread through a host, target different organ system, and trigger organ dysfunction is essential to
(1) identify common phenotypic characteristics of viruses that predict the virulence in a specific host/organ system
(2) screen new (emerging) viruses for their potential to cause disease,
(3) develop preventive or therapeutic interventions strategies and
(4) validate intervention strategies.


You can follow Debby on: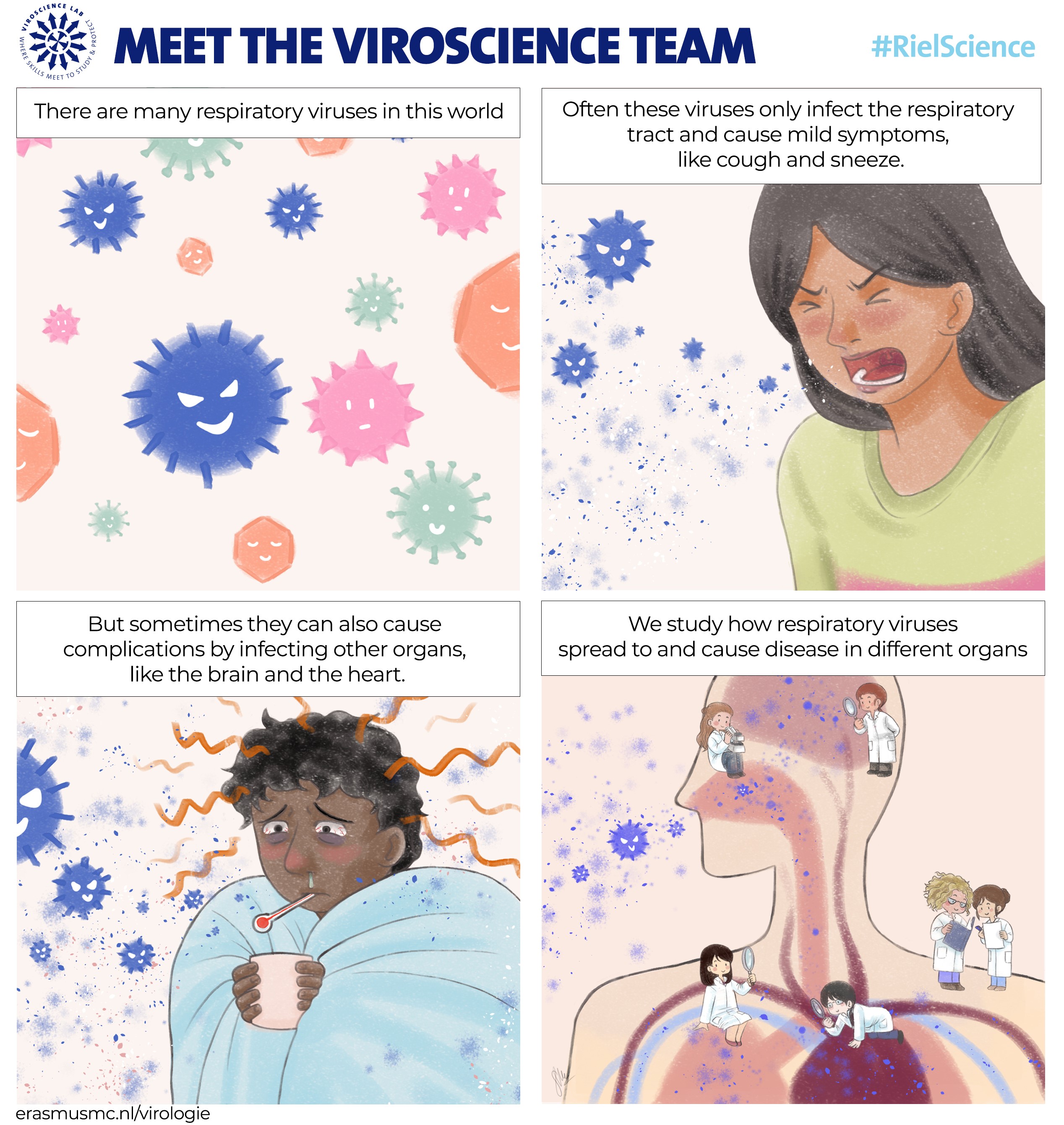 Field(s) of expertise
Comparative pathology and Pathogenesis
Publications
Scholarships, grants, and awards
Debby has received several grants and fellowships that support her research group, including a Veni, Erasmus MC fellowship, Vidi, EUR fellowship and Aspasia (total > 1.5 million Euro).
In addition, she has been part of the EU consortia FLUPIG, ANTIGONE, and is currently part of KAPPA-FLU.
In addition, Debby received the Beijerinck premium in 2015 (2 yearly award for promising early career scientists within virology research in the Netherlands), the ESWI Award in 2017 (3-yearly international awards for the most promising body of work in influenza virus research from European Scientific Working group on Influenza) and she is a former member of the Young Erasmus Academy and currently the young scientist ambassador at the ESWI.
International collaborators
Longstanding (inter)national collaborations:
Prof. Dr. Gülsah Gabriel, Heinrich-Pette Institute (HPI) Hamburg, Germany:
Debby is employed as a guest scientist at the HPI. This collaboration is based on the joint interest in the pathogenesis of influenza virus infections. This collaboration resulted in several joint publications (Stanelle-Bertram S 2023; Thiele 2020; Anfasa 2017; Betram 2017; van Riel 2016; Otte 2016 and Siegers 2014)
Dr. Emmie de Wit, RML NIH, Montana US:
The Collaboration with Dr de Wit is based on on our joint interest in the (neuro) pathogenesis of respiratory viruses including 1918 H1N1 Influenza virus (Spanish flu)
This collaboration resulted in several joint publications (Bauer 2023; van Riel 2020; Munster 2020; te Velthuis 2018; de Wit 2018; Chutinimitkul 2010; van Riel 2010; de Wit 2010; van Riel 2007; Munster 2007; van Riel 2006).
Dr. Femke de Vrij and Prof. Kushner, department of Psychiatry, Erasmus MC, The Netherlands:
This collaboration is based on the development of human induced pluripotent stem cell derived neural models that can be used to study the effect of virus infections in biosafety level 2 and 3 conditions. This resulted in several joint publications (Bauer 2022; Bauer 2022; Bauer 2021; Anfasa 2017).
Dr Oliver Harschnitz, Human Technopole, Milan, Italy:
The collaboration with the team of Dr. Harschnitz is based on our joint interest in how viruses affect the neural homeostasis using stem cell based neural models. This resulted in 2 joint publications so far (Bauer 2023; Bauer 2022).
My Groups
The RielScience team consists of an enthusiastic group of scientists with different expertise, background and training.
Current members:


Debby van Riel – PI, Associate Professor
Brigitta Laksono – Postdoc
Lisa Bauer – Postdoc
Edwin Veldhuis-Kroeze- Veterinary Pathologist
Lonneke Leijten – Research technician
Syriam Sooksawasdi Na Ayudhya – PhD student
Feline Benavides – PhD student
Alisha Biharie – BSc Student
Anouk Montenarie – MSc Student