About Co-care
What is Co-Care?
Co-Care is all about staff of Erasmus MC Sophia, children and families forming one team. In this team, everyone has their own and equal input.

Co-Care is based on the ideas of Patient and Family-Centered Care. This concept assumes that a sick child and his or her family play an important role in the care they receive.

Using Co-Care, we involve the family in the direct care of the child and in choices for treatment. The child and family members can decide for themselves how they want to be involved. The child also decides who belongs to the 'family'. These can be parents, brothers, sisters, grandmothers, grandfathers, aunts or uncles, or other important people in their social network, such as a neighbour, babysitter or friend.

We use this concept in formulating and implementing personal treatment plans, and we also incorporate it as much as possible into the organization of our hospital. This includes innovations in our care and the hospital, the quality and safety policy, the content of our educational courses, and how we interact with our patients and with each other.

In Erasmus MC Sophia, children and their parents share their experiences, give us advice and help us improve through several councils and committees: the Children's Advisory Council, the Family Advisory Council and the Family Advisory Committees. In this way we ensure that everyone in the hospital will be welcomed personally and hospitably'; we ensure a pleasant stay and together we provide the best possible care.
Why Co-Care?
Co-Care is about listening to each other and working together for the best care. Doing so, we can treat children in an even better way. In Erasmus-MC Sophia, children, parents, nurses and doctors really work together. This ensures that every child receives 'tailor-made' care.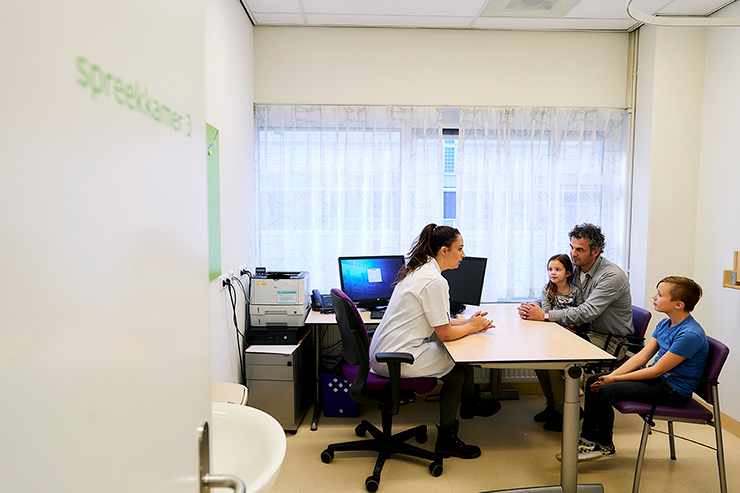 The 10 core values
Together with children and their parents we have formulated 10 core values of Co-care. These values determine how we provide care to a child, how we collaborate with his or her 'family'. and how we organize our care provision.
A child and its family are inseparable; that is why we make sure that they can be together as much as possible.
We provide a comfortable and safe environment, where we respectfully and lovingly engage with a child and his or her family.
We instruct and stimulate the family how to take care of their child themselves, so they can confidently provide this care.
We pay attention to the child's development and the functioning of his or her family.
We give up-to-date and comprehensible information to the child and family, so that they can decide on the treatment together with the medical team.
We strive to ensure that the child and family do not experience avoidable pain, physical discomfort and emotional stress.
We take care of the child and family by deploying personnel who are specially trained to care for children and guide them and their families.
The child and family have the opportunity to work with us to improve care, education, scientific research and the hospital environment.
We provide clear and continuous care, and assign a dedicated contact person inside and outside our hospital.
The best care is leading: a child is referred to us when the care he or she needs cannot be provided with the same quality at home or in a care facility close to home.
These core values have been formulated based on the Dutch Charter for Children in Hospital (in Dutch: Kind & Ziekenhuis) and the four core values of Patient and Family-Centered Care.
Co-Care care in practice
Co-Care is practised in all departments of Erasmus MC Sophia, e.g. through the Co-Care consultation meetings or through collaboration with the Children's Advisory Council, the Family Advisory Council and the various family advisory committees within the departments.
Co-Care consultation meetings
Many departments schedule Co-Care consultation meetings two or three times a week. On these occasions, our doctors and nurses, together with the child and parents, make the treatment plan for the coming days. Together they discuss the medical data, the course of the last few days, the results of examinations and the medication. Everyone can share how things are going and what important issues still need to be addressed or arranged. In this way, children and parents become equal partners and are part of our medical team.
Examples of questions to the child and parents:
What are the important issues you would like to discuss today?
How do you think it is going?
What do you need in the coming days, or before discharge?
The Co-Care consultation meetings can take place in the patient's own room or in a consultation room on the ward and usually takes about 10 minutes. These meetings are not a substitute for a doctor's consultation. We make a separate appointment if a family has many questions, or needs more time and attention. Participating in a consultation meeting is always a choice of parents and child. The child's contribution depends on his or her age, illness and development.
The Children's Advisory Council, Family Advisory Council and Family Advisory Committees
In Erasmus MC Sophia, children, parents and family help to improve our care and make the stay in the hospital more pleasant. They do so in different ways, and every contribution is valuable to us. After all, children, parents and their families know better than anyone what it is like to be in our hospital and what is going well and what could be improved. For those who want to help us for a longer period, they may join the Children's Advisory Council, the Family Advisory Council and the Family Advisory Committees within the departments. In all committees and councils, hospital staff support the children and parents in their plans and commitment.
The Children's Advisory Council
In the Children's Advisory Council, patients and their sisters and brothers help us think about topics they find important. We also ask them for advice when there are new plans for the hospital. The children who participate in the Children's Advisory Board regularly visit the hospital and therefore know exactly what it is like in our hospital. They can tell us what they have been through and what their ideas are to make their stay in our hospital more comfortable. The hospital board and staff find the opinion of the Children's Advisory Board very important and therefore listen carefully to them.
In the Children's Advisory Council, the children discuss everything where is room for improvement. For example:
The food in the hospital.
The contact with the doctors and nurses.
The furnishing of the hospital.
The entertainment in the hospital: are there enough fun things to do?
The Family Advisory Committees
In Erasmus MC Sophia. each department has a Family Advisory Committee. In these committees, family members of children (often the parents) and staff members of the departments discuss important points for improvement, and how improvements can be implemented. A committee meets about six times a year.
These are the Family Advisory Committees in our hospital:
Family advisory committee IC Neonatology / Obstetrics.
Family advisory committee IC Children (department of Pediatric Intensive Care).
Family Advisory Committee Sector Children. Comprising: Medium Care departments: 1 Noord KC (Child Brain Center), 1 Zuid KC (Pediatric Surgery), 2 Noord KG (Pediatric Thorax Center), 2 Zuid
KG (Pediatrics), the day care and outpatient clinics for children.
Family advisory committee KJPP (Child and adolescent psychiatry/psychology). Comprising: the outpatient clinic, the pediatric clinic and the adolescent KJPP clinic.
The Family Advisory Council
In the Family Advisory Council, parents and family share their thoughts on major projects, and discuss their ideas with the hospital management. Each member of the Family Advisory Council is also involved in a family advisory committee within a department. In this way, they ensure that the opinions of family and staff from all departments are heard and discussed in the Family Advisory Council. As a result, there is good collaboration between the various advisory committees, which is helpful for major plans and projects.
The Family Advisory Council permanently includes two members of Erasmus MC's Client Advisory Council. This ensures that there is also alignment with developments within the entire Erasmus MC.
The Family Advisory Council meets eight times a year. Important projects for the Family Advisory Council in the coming years are:
Developing an app that keeps children, parents and doctors informed about the child's health in an accessible way.
Appointing a case manager: this implies that each patient has a single contact person in the hospital, who is easily accessible and coordinates the treatment.
Increasing the visibility of the Family Advisory Board and Family Advisory Committees among parents and staff.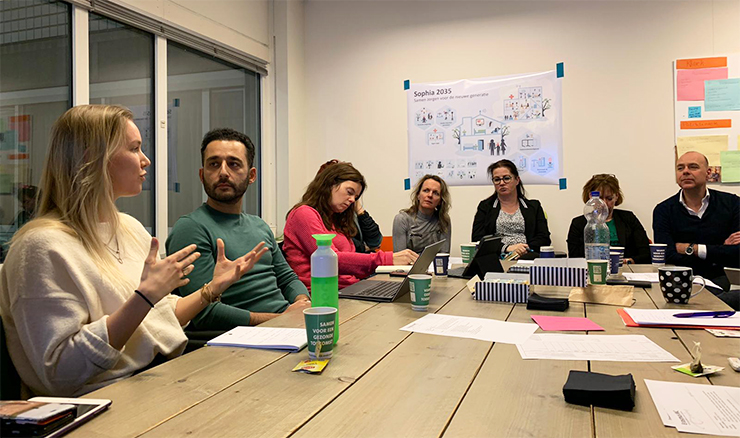 The Family Education Committee
In the Family Education Committee, parents and family members help us in teaching nursing and medical students, as well as in the training we offer our staff. Through sharing personal experiences, parents provide a unique contribution: they show what it is like to be a patient or a family member of a patient. They tell what a healthcare provider should preferably do or not to do, and how the care can be provided in the best possible way. Without the enthusiastic commitment of many parents and family, it would not be possible to nicely shape the educational curriculum.
The Family Construction Committee
In the Family Construction Committee, parents and family work with us on the plans for the renovation and new construction of Erasmus MC Sophia. We have named this 'Program Sophia' and it will require more and more attention in the coming years. The family advisors contribute from the perspective of patients and their family members, which will enable us to realize an even better hospital in the future.
Would you also like to contribute in providing the best care?
Do you have ideas on how to improve care in the Erasmus MC Sophia, would you like to share your personal experience in our hospital or would you like to apply as a family advisor? Then please contact the Co-Care team by clicking on the button below.