About our research group/lab
Our research
Brain development disorders
The development of the brain cortex is a complex process, which is strictly regulated in time and space. Rare genetic mutations can have consequences for the intellectual development, motor skills such as speech and walking, and behaviour, leading to a broad range of intellectual disability, autism, cerebral palsy and seizures. We focus on malformations of the cerebral cortex, classified on radiological (MRI) pattern, such as lissencephaly, nodular heterotopia, polymicrogyria, microcephaly, megalencephaly, schizencephaly and porencephaly. All of these are rare, and very little is known about the cause and disease mechanisms. We aim at discovering new genes and disease mechanisms.
The research
Stored material of undiagnosed patients is used to test novel candidate genes with WES/WGS, RNAseq, and functional biochemical tests at cell and stem cell biological level. The focus lies on specific mechanisms involved in brain development, such as regulation of cell-cell interaction (e.g. formation and function of primary cilia and cell migration), cell proliferation (regulation of mitosis) and regulation of cell death (apoptosis). Broad national and international collaborations allow confirmation and validation in additional individuals.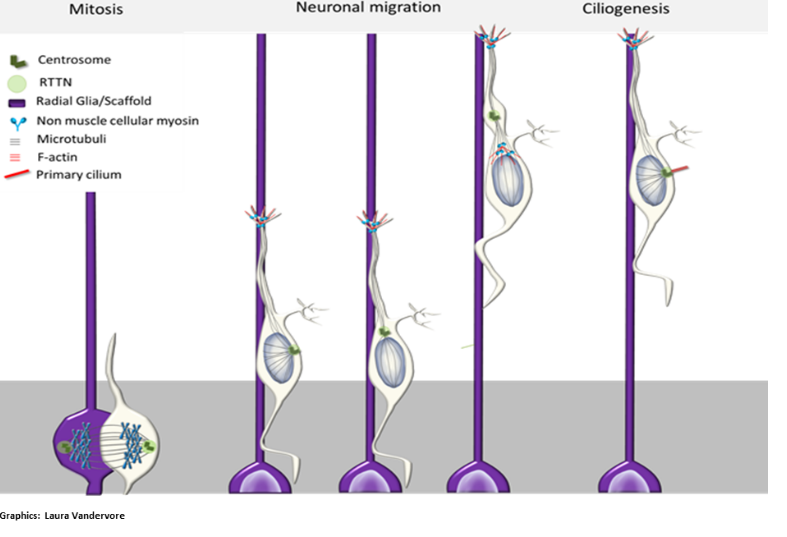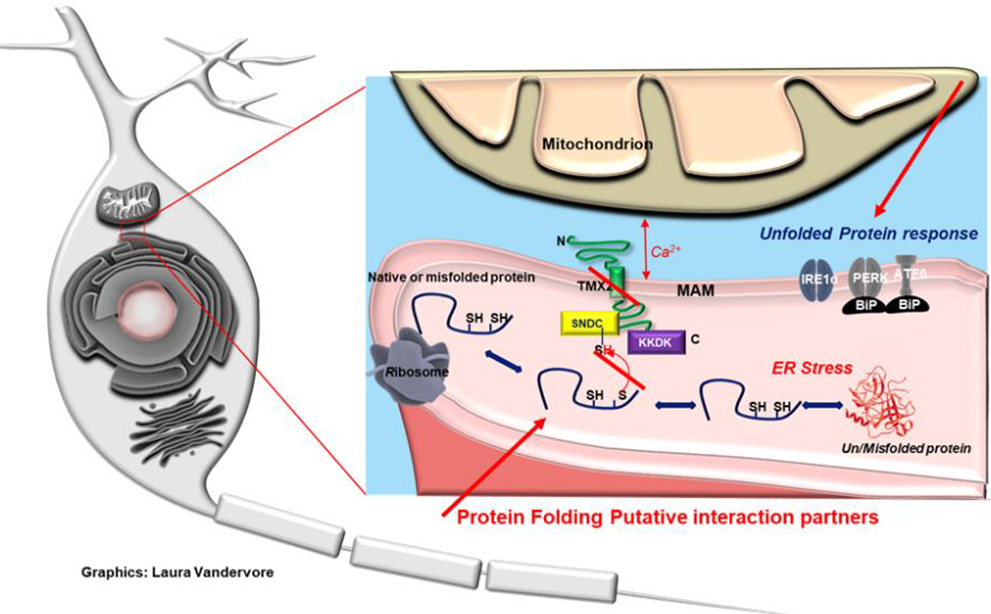 Main achievements
In this project, we have already discovered brain malformations caused by mutations in the following genes:
AP4M1
IER3IP1
RTTN
COL4A2
USP18
MOCS3
INTS1
INTS8
MACF1
CARS
SMPD4
TMX2
Our group has also collaborated to the characterization of brain malformations and of human mutations in the following genes:
ACTB
PIK3CA
AKT3
CCND2
SCN3A
APC2
EML1
ISPD
CSTB
PNKP
ZIC1
Our projects
Ongoing projects:
Microtubule-lipid crosstalk during neuronal cytokinesis
(ZonMW TOP # 91217045, co-PI)
Zebrafish modeling and transcriptome analysis of patient cells for new pathogenic mechanisms of primary microcephaly (Erasmus MC, Clinical Genetics).
Key Publications
TMX2 is a crucial regulator of cellular redox state and its dysfunction causes severe brain developmental abnormalities.Laura Virginia Vandervore, Rachel Schot, Chiara Milanese, Daphne J Smits, Esmee Kasteleijn, Andrew E Fry, Daniela T Pilz, Stefanie Brock, Esra Börklü-Yücel, Marco Post, Nadia Bahi-Buisson, Maria José Sánchez-Soler, Marjon van Slegtenhorst, Boris Keren, Alexandra Afenjar, Stephanie Coury, Wen-Hann Tan, Renske Oegema, Linda S. De Vries, Katherine A. Fawcett, Peter G.J. Nikkels, Aida Bertoli-Avella, Amal Al Hashem, Abdulmalik A. Alwabel, Kalthoum Tlili-Graiess, Stephanie Efthymiou, Faisal Zafar, Nuzhat Rana, Farah Bibi, Henry Houlden, Reza Maroofian, Richard E. Person, Amy Crunk, Juliann M. Savatt, Lisbeth Turner, Mohammad Doosti, Ehsan Ghayoor Karimiani, Nebal Waill Saadi, Javad Akhondian, Maarten H. Lequin, Hülya Kayserili, Peter J. van der Spek, Anna C. Jansen, Johan M. Kros, Robert M. Verdijk, Nataša Jovanov Milošević, Maarten Fornerod, Pier Giorgio Mastroberardino, Grazia Maria Simonetta Mancini. (2019). Am J Hum Genet 2019, November 14th online.
Loss of SMPD4 Causes a Developmental Disorder Characterized by Microcephaly and Congenital Arthrogryposis.Magini P, Smits DJ, Vandervore L, Schot R, Columbaro M, Kasteleijn E, van der Ent M, Palombo F, Lequin MH, Dremmen M, de Wit MCY, Severino M, Divizia MT, Striano P, Ordonez-Herrera N, Alhashem A, Al Fares A, Al Ghamdi M, Rolfs A, Bauer P, Demmers J, Verheijen FW, Wilke M, van Slegtenhorst M, van der Spek PJ, Seri M, Jansen AC, Stottmann RW, Hufnagel RB, Hopkin RJ, Aljeaid D, Wiszniewski W, Gawlinski P, Laure-Kamionowska M, Alkuraya FS, Akleh H, Stanley V, Musaev D, Gleeson JG, Zaki MS, Brunetti-Pierri N, Cappuccio G, Davidov B, Basel-Salmon L, Bazak L, Shahar NR, Bertoli-Avella A, Mirzaa GM, Dobyns WB, Pippucci T, Fornerod M, Mancini GMS. Am J Hum Genet. (2019). Am J Hum Genet. 2019 Oct 3;105(4):689-705.
Heterogeneous clinical phenotypes and cerebral malformations reflected by rotatin cellular dynamics.Vandervore LV, Schot R, Kasteleijn E, Oegema R, Stouffs K, Gheldof A, Grochowska MM, van der Sterre MLT, van Unen LMA, Wilke M, Elfferich P, van der Spek PJ, Heijsman D, Grandone A, Demmers JAA, Dekkers DHW, Slotman JA, Kremers GJ, Schaaf GJ, Masius RG, van Essen AJ, Rump P, van Haeringen A, Peeters E, Altunoglu U, Kalayci T, Poot RA, Dobyns WB, Bahi-Buisson N, Verheijen FW, Jansen AC, Mancini GMS. (2019). Brain. 2019 Apr 1;142(4):867-884.
Cysteinyl-tRNA Synthetase Mutations Cause a Multi-System, Recessive Disease That Includes Microcephaly, Developmental Delay, and Brittle Hair and Nails.Kuo ME, Theil AF, Kievit A, Malicdan MC, Introne WJ, Christian T, Verheijen FW, Smith DEC, Mendes MI, Hussaarts-Odijk L, van der Meijden E, van Slegtenhorst M, Wilke M, Vermeulen W, Raams A, Groden C, Shimada S, Meyer-Schuman R, Hou YM, Gahl WA, Antonellis A, Salomons GS, Mancini GMS. (2019). Am J Hum Genet. 2019 Mar 7;104(3):520-529.
MACF1 Mutations Encoding Highly Conserved Zinc-Binding Residues of the GAR Domain Cause Defects in Neuronal Migration and Axon Guidance.Dobyns WB, Aldinger KA, Ishak GE, Mirzaa GM, Timms AE, Grout ME, Dremmen MHG, Schot R, Vandervore L, van Slegtenhorst MA, Wilke M, Kasteleijn E, Lee AS, Barry BJ, Chao KR, Szczałuba K, Kobori J, Hanson-Kahn A, Bernstein JA, Carr L, D'Arco F, Miyana K, Okazaki T, Saito Y, Sasaki M, Das S, Wheeler MM, Bamshad MJ, Nickerson DA; University of Washington Center for Mendelian Genomics; Center for Mendelian Genomics at the Broad Institute of MIT and Harvard, Engle EC, Verheijen FW, Doherty D, Mancini GMS. (2018). Am J Hum Genet. 2018 Dec 6;103(6):1009-1021.
Collaborations
Collaboration within Erasmus MC
Department of Cell Biology
Department of Child Neurology
Department of Radiology
Department of Bioinformatics
ENCORE expertise centrum
Collaboration outside of Erasmus MC
Within the European Network on Brain Malformations (neuro-MIG), academic and patient organizations and private companies from 31 European and intercontinental countries are affiliated, including about 130 member researchers. Grazia Mancini has been the main proposer of the COST Action (CA16118, running from 2017 to 2021) supporting this Network and is the chair of the management committee.
Funding & Grants
Microtubule-lipid crosstalk during neuronal cytokinesis
(ZonMW TOP # 91217045, co-PI)
Our team
Grazia M.S. Mancini, MD PhD, PI
Rachel Schot, BSc, technical biochemistry and molecular biology
Daphne Smits, MD, PhD student
Jordy Dekker, MD, shared PhD student
Frans Verheijen, PhD, clinical molecular biochemist