About our research group/lab
Our research
Background information
This group was formed to strengthen and expand research on functional genetics of disease, with the use of zebrafish.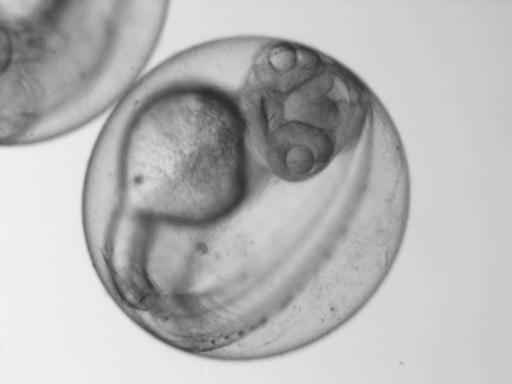 Overall aim
We aim to understand how microglia function in the healthy brain and how gene mutations in microglia cause disease.
Understanding human disease genes in the zebrafish
Zebrafish are small and transparent in early embryonic development, but still share about 70% of genes with humans. Therefore they are very useful to help us understand how disease genes affect cells by visualizing cells directly in the context of a living animal.
(Dutch spoken)
Research focus areas
Genetics and cell biology research using zebrafish as a model system with direct comparison to human post-mortem tissue.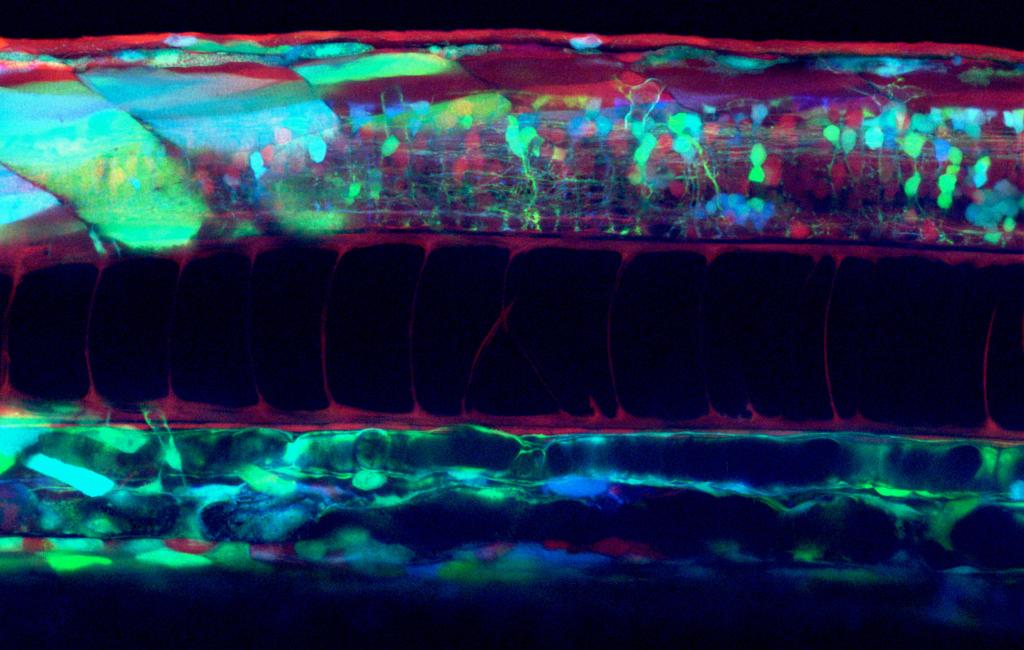 Microglia in leukodystrophy
Macrophages are immune cells, that also modulate tissue development. The brain's macrophages (microglia) have a major role in age-related diseases, including dementia, we do not fully understand the roles that they play in disease. We recently discovered that in adult-onset leukodystropy with axonal spheroids and pigmented glia (ALSP), caused by heterozygous mutations in the CSF1R gene, microglia are depleted in the brain (Oosterhof et al., Cell Rep, 2018). We are currently using zebrafish as a genetic, in vivo model, and patient tissues to analyze how the brain is affected by a lack of microglia and better understand the underlying mechanisms.
Microglia in brain development
In addition to heterozygous mutations in CSF1R, bi-allelic mutations cause a much more severe developmental brain disease, where microglia are almost completely absent, and virtually every aspects of the brain is affected (Oosterhof et al., Am J Hum Genet, 2019). We are currently using zebrafish, as a genetic, in vivo model, to understand the roles of microglia in embryonic brain development. Based on the strong overlap between the adult-onset and recessive developmental disease pathology, we speculate that there are important functions of microglia/macrophages in humans that are required throughout life.
Modeling genetic disease in zebrafish
Zebrafish are well suited to model recessive diseases affecting embryonic development in vivo. In three recent publications, we used zebrafish to gain insight in completely different infantile diseases: an infantile cardiomyopathy, Sandhoff disease, a lysosomal storage disease, and a new type of leukodystrophy caused by respectively biallelic mutations in ASNA1, HEXB and CSF1R (Verhagen et al., 2019; Kuil et al., 2019; Oosterhof et al., 2019). Importantly, from these we gain clues about disease mechanisms, and learn about brain development. Our current work is focused particularly on modeling newly identified genetic brain diseases, involving epilepsy, microcephaly and white matter abnormalities.
Identifying mutations in undiagnosed patients
Whole-exome sequencing (WES) typically identifies pathogenic mutations in less than 40% of patients tested. Recent studies have shown that analysis of transcripts by RNA-sequencing allows discovery of mutations, or the effect thereof, that are missed by WES. Additionally, RNA-sequencing can reveal unexpected effects on gene-expression including mRNA splicing or mono-allelic expression. We use RNA-sequencing on blood cells, fibroblasts, obtained from skin biopsies, and transdifferentiated cells, as an experimental strategy to assist in obtaining molecular diagnosis of undiagnosed patients with various types of diseases, or improve our understanding of the effect of variants of unknown significance (VUS).
Key Publications
Comprehensive multi-omics integration identifies differentially active enhancers during human brain development with clinical relevance.
Yousefi S, Deng R, Lanko K, Salsench EM, Nikoncuk A, van der Linde HC, Perenthaler E, van Ham TJ, Mulugeta E, Barakat TS. Genome Med. 2021 Oct 19;13(1):162. doi:10.1186/s13073-021-00980-1.
The multicellular interplay of microglia in health and disease: lessons from leukodystrophy.
Berdowski WM, Sanderson LE, van Ham TJ#. Dis Model Mech.2021 Aug 1;14(8):dmm048925. doi: 10.1242/dmm.048925.

Bi-allelic VPS16 variants limit HOPS/CORVET levels and cause a mucopolysaccharidosis-like disease.
Sofou K, Meier K, Sanderson LE, … Barakat TS, SchlotawaL, van Ham T, Asin Cayuela J, Sterky FH. EMBO Mol Med.2021 May 7;13(5):e13376. doi: 10.15252/emmm.202013376.

Bi-allelic variants in HOPS complex subunit VPS41 cause cerebellar ataxia and abnormal membrane trafficking.
Sanderson LE, Lanko K, Alsagob M, Almass R, … Schmidts M#, Barakat TS#, van Ham TJ#, Kaya N#. Brain.2021 Apr 12;144(3):769-780. doi: 10.1093/brain/awaa459.

Zebrafish macrophage developmental arrest underlies depletion of microglia and reveals Csf1r-independent metaphocytes.
Kuil LE, Oosterhof N, Ferrero G, Mikulášová T, Hason M, Dekker J, Rovira M, van der Linde HC, van Strien PM, de Pater E, Schaaf G, Bindels EM, Wittamer V,van Ham TJ#. Elife. 2020 May
5;9:e53403. doi: 10.7554/eLife.53403.
Loss of UGP2 in brain leads to a severe epileptic encephalopathy, emphasizing that bi-allelic isoform-specific start-loss mutations of essential genes can cause genetic diseases.
Perenthaler E, Nikoncuk A, Yousefi S, Berdowski WM, … Maroofian R, Kaya N, van Ham TJ, Barakat TS. Acta Neuropathol. 2020 Mar;139(3):415-442. doi:10.1007/s00401-019-02109-6.
Biallelic Variants in ASNA1, Encoding a Cytosolic Targeting Factor of Tail-Anchored Proteins, Cause Rapidly Progressive Pediatric Cardiomyopathy.
Verhagen JMA, van den Born M, van der Linde HC, G J Nikkels P, Verdijk RM, Kivlen MH, van Unen LMA, Baas AF, Ter Heide H, van Osch-Gevers L, Hoogeveen-Westerveld M, Herkert JC, Bertoli-Avella AM, van Slegtenhorst MA, Wessels MW, Verheijen FW, Hassel D, Hofstra RMW, Hegde RS, van Hasselt PM, van Ham TJ, van de Laar IMBH. (2019). Circ Genom Precis Med. Sep;12(9):397-406.

Hexb enzyme deficiency leads to lysosomal abnormalities in radial glia and microglia in zebrafish brain development.
Kuil LE, López Martí A, Carreras Mascaro A, van den Bosch JC, van den Berg P, van der Linde HC, Schoonderwoerd K, Ruijter GJG, van Ham TJ.(2019) Glia. 2019 Sep;67(9):1705-1718.

Homozygous Mutations in CSF1R Cause a Pediatric-Onset Leukoencephalopathy and Can Result in Congenital Absence of Microglia.
Oosterhof N, Chang IJ, Karimiani EG, Kuil LE, Jensen DM, Daza R, Young E, Astle L, van der Linde HC, Shivaram GM, Demmers J, Latimer CS, Keene CD, Loter E, Maroofian R, van Ham TJ, Hevner RF, Bennett JT. (2019). Am J Hum Genet. 2019 May 2;104(5):936-947.

Reverse genetic screen reveals that Il34 facilitates yolk sac macrophage distribution and seeding of the brain.
Kuil LE, Oosterhof N, Geurts SN, van der Linde HC, Meijering E, van Ham TJ. (2019). Dis Model Mech. 2019 Mar 8;12(3).
Colony-Stimulating Factor 1 Receptor (CSF1R) Regulates Microglia Density and Distribution, but Not Microglia Differentiation In Vivo.
Oosterhof N, Kuil LE, van der Linde HC, Burm SM, Berdowski W, van Ijcken WFJ, van Swieten JC, Hol EM, Verheijen MHG, van Ham TJ. (2018). Cell Rep. 2018 Jul 31;24(5):1203-1217.e6.

Identification of a conserved and acute neurodegeneration-specific microglial transcriptome in the zebrafish.
Oosterhof N, Holtman IR, Kuil LE, van der Linde HC, Boddeke EW, Eggen BJ, van Ham TJ. (2017) Glia. 2017 Jan;65(1):138-149. doi:10.1002/glia.23083.
Immune cell dynamics in the CNS: Learning from the zebrafish.
Oosterhof N, Boddeke E, van Ham TJ. (2015) Glia. 2015 May;63(5):719-35. (2015). Glia. 2015 May;63(5):719-35.
Funding & Grants
2019
LEaDing fellow/Marie Curie COFUND Programme - Microglia in brain development; Applicant Dr. Leslie Sanderson.
2019
Erasmus University Rotterdam (EUR) Fellowship.
2017
Metakids Foundation - Zebravis als model voor lysosomale witte stof ziekten Applicant Dr. N.I. Wolf (VUMC), my role: co-applicant.
2017
Erasmus University Rotterdam
2017
Erasmus University Rotterdam (EUR) Fellowship.
2013
Dutch Brain Foundation Youn Talent Award
2013
Alzheimer Nederland Research fellowship
2012
Marie Skłodowska-Curie Career Integration Grant
2012
ZonMW, VENI grant
Our team
Tjakko van Ham, PhD, Principal investigator/Assistant professsor
Umberto Arugo, MD, Guest researcher/Erasmus+ program
Woutje Berdowski, MSc (PhD student)
Minke de Kwant, BSc student
Herma van der Linde, BSc (Research technician)
Daphne Maaskant, MSc student
Claudine Ruijmbeek, MSc (PhD student, together with Judith Verhagen, Dept. Clinical Genetics)
Leslie Sanderson, PhD (Leading fellow, postdoc)
Lucy Zhang, MSc student
Collaborative projects
Niko Kuehn, MSc (PhD student, together with Raymond Poot, Dept. Cell Biology)
Jordy Dekker, MSc (PhD student, together with Grazia Mancini, Dept. Clinical Genetics)