About
Introduction
Bio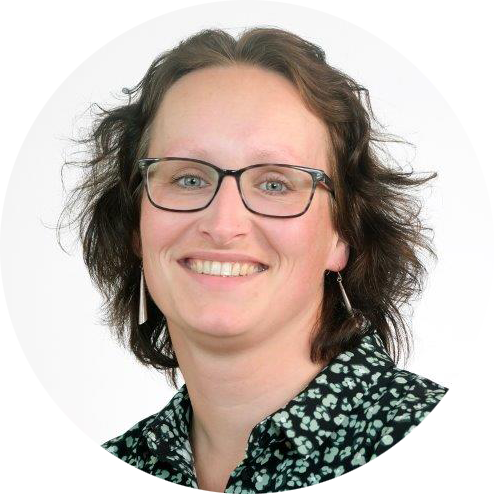 Dr. Julie Nonnekens received her MSc in Biotechnology at Wageningen University in 2009. She obtained her PhD in cancer biology with the focus on DNA repair mechanisms at the University of Toulouse (France) in 2013. Following, she was a postdoc at the Hubrecht Institute working on ribosome biogenesis in cancer and longevity. In 2014 Julie joined the Erasmus MC with a joint appointment as postdoc and is now Assistant Professor at the Department of Molecular Genetics and Department of Radiology and Nuclear Medicine.
"

The research of her group bridges the interests of both departments in the field of DNA damage repair mechanisms and nuclear medicine to study the radiation biology of targeted radionuclide anticancer treatment in order to ultimately optimize treatment regimens.

"


Julie has received several (young investigator) awards and is principal investigator on various research grants including the prestigious ERC starting grant. She is board member (secretary) of the Netherlands Society of Radiobiology and co-founder of the European working group on Radiobiology of Molecular Radionuclide Therapy.
Field(s) of expertise
Research
Targeted radionuclide therapies (TRT) are revolutionizing treatment of patients with metastasized cancers. During TRT, radiolabeled compounds are targeted to the cancer cells via specific tumor binding (e.g. via receptors). Once bound to the tumor cells, the radionuclides will induce DNA damage leading to cancer cell death. Currently, more cancer patients are being treated with TRT than ever before. However, it is clear that some patients are being over-treated (resulting in toxicity) or under-treated (no tumor regression). This indicates the clinical need for therapy improvement.
"

A better understanding of the radiobiology, i.e. of the biological effects of ionizing radiation of TRTs, could contribute to increasing their effectiveness by providing evidence in favor of one treatment method or regimen over another. With better radiobiological understanding, TRT success could be enhanced and might even progress from mostly palliative towards curative.

"

In order to answer our research questions, we are using a variety of models and tools. From 2D cultured cells and ex vivo cultured human tumor slices to xenografted mice. This broad range of models allows us to study different aspects of TRTs. We use several cellular assays, immunohistochemistry of human tumor tissue or mouse organs, confocal live-cell microscopy and small animal imaging (SPECT, MRI, optical).
Our focus areas are:
Cellular effects of TRT in tumor and healthy tissues
Radiobiology of different radiation qualities
Radiosensitization to improve radionuclide therapy outcome
Education and career
2003-2009

MSc Medical Biotechnology Wageningen University, Wageningen,

The Netherlands

2009-2013

PhD University of Toulouse Paul Sabatier III, Toulouse,

France
Publications

Selected publications
All publications:
Teaching activities
MSc Infection and Immunity,
MSc Molecular Medicine,
BSc Nanobiology,
BSc Medicine,
BSc Radiotherapy,
Medical residents
Radiotherapy
Scholarships, grants, and awards
Grants
| | |
| --- | --- |
| | European Research Council starting grant (PI) |
| | Investigator initiated industry project (PI) |
| | Investigator initiated industry project (PI) |
| | Oncode – clinical proof of concept (co-PI) |
| | Convergence – Open mind project (PI) |
| | Erasmus MC - Fellowship (PI) |
| | KWF Dutch Cancer Society – Research project (co-PI) |
| | KWF Dutch Cancer Society - Young Investigator Grant (PI) |
| | KWF Dutch Cancer Society – Research project (co-PI) |
| | Medical Research Council UK - Research grant (co-investigator) |
| | Investigator initiated industry project (PI) |
| | Erasmus University Rotterdam - Fellowship (PI) |
| | Fondation pour la Recherche Médicale France - Fellowship (PI) |
More