Research
Our research, mission and vision
Fundamental Question
Since its establishment about 50 years ago by Hans Galjaard as the Department of Cell Biology and Genetics and its split, the Department of Cell Biology has been recognized internationally for its excellence and important discoveries. With Frank Grosveld (1993-mid 2013) and Danny Huylebroeck (from mid-2013 until June 2022) as chairs, the Department of Cell Biology uses a continuously updated set of biological and technological approaches to advance our understanding of the genetic and molecular basis of cell differentiation in embryogenesis and post-natal development.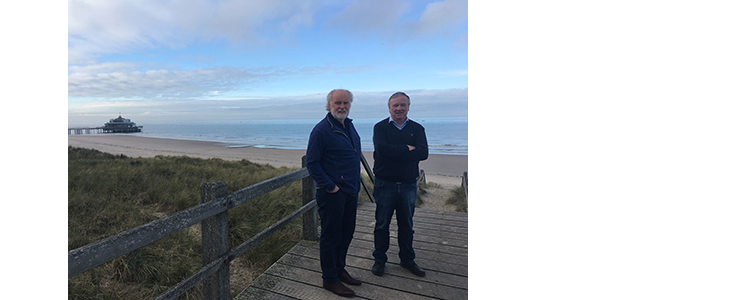 Via intense intra- and extra-departmental collaborations we address the fundamental questions of (i) how cells mount the appropriate transcriptional responses to cell-fate determining instructions, (ii) how cell heterogeneity and plasticity are installed, and (iii) how cells couple this to changes in cell shape and behavior (e.g. motility, guided migration). Such research in our department provides unique opportunities to Erasmus MC for applying fundamental principles from cell and developmental biology to tissue/organ repair and congenital and chronic diseases. However, it also requires us to master many scientific-technological challenges at departmental scale.

Organization
Recently we decided to build our research on 5 pillars:
The organization of the cell nucleus

, with focus on proteins and architectural genomic principles that regulate chromatin folding and remodeling.

The regulation of developmental gene transcription

, by concerted action of transcription factors and their co-factors, epigenetic regulators and (distant) regulatory elements in the genome.

Cell biological studies

, with emphasis on cellular processes that dynamically regulate adaptive changes in cell behavior. So, this pillar studies cytoplasmic structures and/or processes, with main focus on the microtubule cytoskeleton and its associated proteins, supplemented by studies of instructed cell behavior impacting on cell shape changes and migration, and signal processing via primary cilia.

Novel technologies

, i.e. genomics, perturbation screening, and organoids.

Systems Biology and Gene/Protein Network analysis

.
Mission and Vision statements
Our mission is to do fundamental research towards the generation of cell diversity and function via instructed cell differentiation. For this, we study primarily the regulation of developmental gene expression and how its precision is achieved in the context of dynamic structural organization of the genome.
Our vision is to remain an internationally renowned department for its studies of functions and action modes of key regulatory proteins, and their molecular networks, in individual or populations of cells in tissues/organs, animal models as well as human cells, in normal and counterpart pathologic processes.
A major aim is to apply this knowledge in the development of improved diagnostics and therapy, within Erasmus MC and beyond.
At the moment Prof. dr. Joost Gribnau is interim head of the Department of Cell Biology, Erasmus MC
Ee-building, 10th floor, room Ee-1040
Dr Molewaterplein 40, 3015 GD, Rotterdam
m.vangeest@erasmusmc.nl
Tel: +31 10 7043169
Principal Investigators
Debbie van den Berg
Developmental neurobiology

Gert Jansen
Cilia and signal transduction

Derk ten Berge
Stem cell and developmental biology
Eskeatnaf Mulugeta
Developmental genomics and systems biology

Dubravka Drabek
Generation of human antibodies from transgenic mice
Sjaak Philipsen
Molecular control of erythropoiesis; Reversing the Switch

Maarten Fornerod
The role of lipid signaling in cell cycle progression, neuronal development and transcriptional regulation
Raymond Poot
Transcriptional regulators of cognition

Niels Galjart
Control of cell shape and function
Robbert Rottier
Lung development; linking basic science to clinical questions

Frank Grosveld
Regulation of transcription
Ana Ruiz-Saenz
Molecular mechanisms underlying cancer progression

Jeffrey van Haren
Understanding and controlling cellular guidance mechanisms
Ihor Smal
Image analysis and machine learning methods for quantitative bioimaging


Danny Huylebroeck
Instructed cell differentiation

Kerstin Wendt
Cohesin and chromatin organization
Publications
Papers published in 2020
Birkhoff JC, Brouwer RWW, Kolovos P, Korporaal AL, Bermejo-Santos A, Boltsis I, Nowosad K, van den Hout MCGN, Grosveld FG, van IJcken WFJ, Huylebroeck D, Conidi A.
Targeted chromatin conformation analysis identifies novel distal neural enhancers of ZEB2 in pluripotent stem cell differentiation.
Hum Mol Genet. 2020 Aug 29;29(15):2535-2550.
https://pubmed.ncbi.nlm.nih.gov/32628253/
Boland BS, He Z, Tsai MS, Olvera JG, Omilusik KD, Duong HG, Kim ES, Limary AE, Jin W, Milner JJ, Yu B, Patel SA, Louis TL, Tysl T, Kurd NS, Bortnick A, Quezada LK, Kanbar JN, Miralles A, Huylebroeck D, Valasek MA, Dulai PS, Singh S, Lu LF, Bui JD, Murre C, Sandborn WJ, Goldrath AW, Yeo GW, Chang JT.
Heterogeneity and clonal relationships of adaptive immune cells in ulcerative colitis revealed by single-cell analyses.
Sci Immunol. 2020 Aug 21;5(50):eabb4432.
https://pubmed.ncbi.nlm.nih.gov/32826341/
Brueckner L, Zhao PA, van Schaik T, Leemans C, Sima J, Peric-Hupkes D, Gilbert DM, van Steensel B. Local rewiring of genome-nuclear lamina interactions by transcription.
EMBO J. 2020 Mar 16;39(6):e103159.
https://pubmed.ncbi.nlm.nih.gov/32080885/
Cao W, Li M, Liu J, Zhang S, Noordam L, Verstegen MMA, Wang L, Ma B, Li S, Wang W, Bolkestein M, Doukas M, Chen K, Ma Z, Bruno M, Sprengers D, Kwekkeboom J, J W van der Laan L, Smits R, Peppelenbosch MP, Pan Q.
LGR5 marks targetable tumor-initiating cells in mouse liver cancer.
Nat Commun. 2020 Apr 23;11(1):1961.
https://pubmed.ncbi.nlm.nih.gov/32327656/
Casa V, Moronta Gines M, Gade Gusmao E, Slotman JA, Zirkel A, Josipovic N, Edwin O, van IJcken WFJ, Houtsmuller AB, Papantonis A, Wendt KS.
Redundant and specific roles of cohesin STAG subunits in chromatin looping and transcriptional control.
Genome Res. 2020 Apr 6. pii: gr.253211.119.
https://pubmed.ncbi.nlm.nih.gov/32253279/
Deryckere A, Stappers E, Dries R, Peyre E, van den Berghe V, Conidi A, Zampeta FI, Francis A, Bresseleers M, Stryjewska A, Vanlaer R, Maas E, Smal IV, van IJcken WFJ, Grosveld FG, Nguyen L, Huylebroeck D, Seuntjens E.
Multifaceted actions of Zeb2 in postnatal neurogenesis from the ventricular-subventricular zone to the olfactory bulb.
Development. 2020 Apr 6. pii: dev.184861.
https://pubmed.ncbi.nlm.nih.gov/32253238/
Di Filippo ES, Costamagna D, Giacomazzi G, Cortés-Calabuig Á, Stryjewska A, Huylebroeck D, Fulle S, Sampaolesi M.
Zeb2 Regulates Myogenic Differentiation in Pluripotent Stem Cells.
Int J Mol Sci. 2020 Apr 5;21(7). pii: E2525.
https://pubmed.ncbi.nlm.nih.gov/32260521/
Di Stefano M, Stadhouders R, Farabella I, Castillo D, Serra F, Graf T, Marti-Renom MA.
Transcriptional activation during cell reprogramming correlates with the formation of 3D open chromatin hubs.
Nat Commun. 2020 May 22;11(1):2564.
https://pubmed.ncbi.nlm.nih.gov/32444798/
Dries R, Stryjewska A, Coddens K, Okawa S, Notelaers T, Birkhoff J, Dekker M, Verfaillie CM, Del Sol A, Mulugeta E, Conidi A, Grosveld FG, Huylebroeck D.
Integrative and perturbation-based analysis of the transcriptional dynamics of TGFβ/BMP system components in transition from embryonic stem cells to neural progenitors.
Stem Cells. 2020 Feb;38(2):202-217.
https://pubmed.ncbi.nlm.nih.gov/31675135/
Folkerts J, Gaudenzio N, Maurer M, Hendriks RW, Stadhouders R, Tam SY, Galli SJ.
Rapid identification of human mast cell degranulation regulators using functional genomics coupled to high-resolution confocal microscopy.
Nat Protoc. 2020 Mar;15(3):1285-1310.
https://pubmed.ncbi.nlm.nih.gov/32060492/
Folkerts J, Redegeld F, Folkerts G, Blokhuis B, van den Berg MPM, de Bruijn MJW, van IJcken WFJ, Junt T, Tam SY, Galli SJ, Hendriks RW, Stadhouders R, Maurer M.
Butyrate inhibits human mast cell activation via epigenetic regulation of FcεRI-mediated signaling.
Allergy. 2020 Feb 28. doi: 10.1111/all.14254
https://pubmed.ncbi.nlm.nih.gov/32112426/
Gerritsen B, Pandit A, Zaaraoui-Boutahar F, van den Hout MCGN, van IJcken WFJ, de Boer RJ, Andeweg AC.
Characterization of the ferret TRB locus guided by V, D, J, and C gene expression analysis.
Immunogenetics. 2020 Feb;72(1-2):101-108.
https://pubmed.ncbi.nlm.nih.gov/31797007/
Horati H, Janssens HM, Margaroli C, Veltman M, Stolarczyk M, Kilgore MB, Chou J, Peng L, Tiddens HAMW, Chandler JD, Tirouvanziam R, Scholte BJ.
Airway profile of bioactive lipids predicts early progression of lung disease in cystic fibrosis.
J Cyst Fibros. 2020 Feb 10. pii: S1569-1993(20)30034-5.
https://pubmed.ncbi.nlm.nih.gov/32057679/
Ho-Xuan H, Glažar P, Latini C, Heizler K, Haase J, Hett R, Anders M, Weichmann F, Bruckmann A, Van den Berg D, Hüttelmaier S, Rajewsky N, Hackl C, Meister G.
Comprehensive analysis of translation from overexpressed circular RNAs reveals pervasive translation from linear transcripts.
Nucleic Acids Res. 2020 Sep 21:gkaa704.
https://pubmed.ncbi.nlm.nih.gov/32955563/
Kenter AT, Rentmeester E, van Riet J, Boers R, Boers J, Ghazvini M, Xavier VJ, van Leenders GJLH, Verhagen PCMS, van Til ME, Eussen B, Losekoot M, de Klein A, Peters DJM, van IJcken WFJ, van de Werken HJG, Zietse R, Hoorn EJ, Jansen G, Gribnau JH.
Cystic renal-epithelial derived induced pluripotent stem cells from polycystic kidney disease patients.
Stem Cells Transl Med. 2020 Apr;9(4):478-490.
https://pubmed.ncbi.nlm.nih.gov/32163234/
Klei TRL, Dalimot JJ, Nota B, Veldthuis M, Mul E, Rademakers T, Hoogenboezem M, Nagelkerke SQ, van IJcken WFJ, Oole E, Svendsen P, Moestrup SK, van Alphen F, Meijer AB, Kuijpers TW, Zwieten RV, van Bruggen R.
Hemolysis in the spleen drives erythrocyte turnover.
Blood. 2020 Aug 10:blood.2020005351. doi: 10.1182/blood.2020005351. Online ahead of print.
https://pubmed.ncbi.nlm.nih.gov/32777816/
Korporaal A, Gillemans N, Heshusius S, Cantú I, van den Akker E, van Dijk TB, von Lindern M, Philipsen S.
Hemoglobin switching in mice carrying the Klf1Nan variant.
Haematologica. 2020 May 28:haematol.2019.239830. Online ahead of print.
https://pubmed.ncbi.nlm.nih.gov/32467144/
Lau SP, van Montfoort N, Kinderman P, Lukkes M, Klaase L, van Nimwegen M, van Gulijk M, Dumas J, Mustafa DAM, Lievense SLA, Groeneveldt C, Stadhouders R, Li Y, Stubbs A, Marijt KA, Vroman H, van der Burg SH, Aerts J, van Hall T, Dammeijer F, van Eijck CHJ.
Dendritic cell vaccination and CD40-agonist combination therapy licenses T cell-dependent antitumor immunity in a pancreatic carcinoma murine model.
J Immunother Cancer. 2020 Jul;8(2):e000772.
https://pubmed.ncbi.nlm.nih.gov/32690771/
Manzo SG, van Steensel B.
Phosphorylated Lamins in Euchromatin: New Clues to Progeria.
Dev Cell. 2020 Mar 23;52(6):676-678.
https://pubmed.ncbi.nlm.nih.gov/32208159/
Menuchin-Lasowski Y, Dagan B, Conidi A, Cohen-Gulkar M, David A, Ehrlich M, Giladi PO, Clark BS, Blackshaw S, Shapira K, Huylebroeck D, Henis Y, Ashery-Padan R.
Zeb2 regulates the balance between retinal interneurons and muller glia by inhibition of BMP-Smad signaling.
Dev Biol. 2020 Sep 17:S0012-1606(20)30255-4. doi: 10.1016/j.ydbio.2020.09.006. Online ahead of print.
https://pubmed.ncbi.nlm.nih.gov/32950463/
Merkert S, Schubert M, Haase A, Janssens HM, Scholte B, Lachmann N, Göhring G, Martin U.
Generation of an induced pluripotent stem cell line (MHHi018-A) from apatient with Cystic Fibrosis carrying p.Asn1303Lys (N1303K) mutation.
Stem Cell Res. 2020 Mar 25;44:101744.
https://pubmed.ncbi.nlm.nih.gov/32220772/
Miyata M, Gillemans N, Hockman D, Demmers JAA, Cheng JF, Hou J, Salminen M, Fisher CA, Taylor S, Gibbons RJ, Ganis JJ, Zon LI, Grosveld F, Mulugeta E, Sauka-Spengler T, Higgs DR, Philipsen S.
An evolutionarily ancient mechanism for regulation of hemoglobin expression in vertebrate red cells.
Blood. 2020 Jul 16;136(3):269-278. doi: 10.1182/blood.2020004826.
https://pubmed.ncbi.nlm.nih.gov/32396940/
Modic M, Cacchiarelli D, Ten Berge D.
Integrative biology studies in pluripotent stem cells.
Stem Cell Res. 2020 Jan;42:101686.
https://pubmed.ncbi.nlm.nih.gov/31887610/
Neagu A, van Genderen E, Escudero I, Verwegen L, Kurek D, Lehmann J, Stel J, Dirks RAM, van Mierlo G, Maas A, Eleveld C, Ge Y, den Dekker AT, Brouwer RWW, van IJcken WFJ, Modic M, Drukker M, Jansen JH, Rivron NC, Baart EB, Marks H, Ten Berge D.
In vitro capture and characterization of embryonic rosette-stage pluripotency between naive and primed states.
Nat Cell Biol. 2020 May;22(5):534-545. doi: 10.1038/s41556-020-0508-x. Epub 2020 May 4.
https://pubmed.ncbi.nlm.nih.gov/32367046/
Nenna R, Slaats M, Ersu R, Lo D, Seglani S, Nissenbaum C, Horsley AR, Proesmans M, Petrarca L, Williams E, Dassios T, Ardura-Garcia C, Duijts L, Marczak H, Snijders D, Rottier R, Chao CM, Pijnenburg MW, Grigg J.
ERS International Congress, Madrid, 2019: highlights from the Paediatric Assembly.
ERJ Open Res. 2020 Jul 20;6(2):00063-2020.
https://pubmed.ncbi.nlm.nih.gov/32714968/
Pal Singh S, de Bruijn MJW, Velaso Gago da Graça C, Corneth OBJ, Rip J, Stadhouders R, Meijers RWJ, Schurmans S, Kerr WG, Ter Burg J, Eldering E, Langerak AW, Pillai SY, Hendriks RW.
Overexpression of SH2-Containing Inositol Phosphatase Contributes to Chronic Lymphocytic Leukemia Survival.
J Immunol. 2020 Jan 15;204(2):360-374.
https://pubmed.ncbi.nlm.nih.gov/31836657/
Parenti I, Diab F, Gil SR, Mulugeta E, Casa V, Berutti R, Brouwer RWW, Dupé V, Eckhold J, Graf E, Puisac B, Ramos F, Schwarzmayr T, Gines MM, van Staveren T, van IJcken WFJ, Strom TM, Pié J, Watrin E, Kaiser FJ, Wendt KS.
MAU2 and NIPBL Variants Impair the Heterodimerization of the Cohesin Loader Subunits and Cause Cornelia de Lange Syndrome.
Cell Rep. 2020 May 19;31(7):107647.
https://pubmed.ncbi.nlm.nih.gov/32433956/
Perenthaler E, Nikoncuk A, Yousefi S, Berdowski WM, Alsagob M, Capo I, van der Linde HC, van den Berg P, Jacobs EH, Putar D, Ghazvini M, Aronica E, van IJcken WFJ, de Valk WG, Medici-van den Herik E, van Slegtenhorst M, Brick L, Kozenko M, Kohler JN, Bernstein JA, Monaghan KG, Begtrup A, Torene R, Al Futaisi A, Al Murshedi F, Mani R, Al Azri F, Kamsteeg EJ, Mojarrad M, Eslahi A, Khazaei Z, Darmiyan FM, Doosti M, Karimiani EG, Vandrovcova J, Zafar F, Rana N, Kandaswamy KK, Hertecant J, Bauer P, AlMuhaizea MA, Salih MA, Aldosary M, Almass R, Al-Quait L, Qubbaj W, Coskun S, Alahmadi KO, Hamad MHA, Alwadaee S, Awartani K, Dababo AM, Almohanna F, Colak D, Dehghani M, Mehrjardi MYV, Gunel M, Ercan-Sencicek AG, Passi GR, Cheema HA, Efthymiou S, Houlden H, Bertoli-Avella AM, Brooks AS, Retterer K, Maroofian R, Kaya N, van Ham TJ, Barakat TS.
Loss of UGP2 in brain leads to a severe epileptic encephalopathy, emphasizing that bi-allelic isoform-specific start-loss mutations of essential genes can cause genetic diseases.
Acta Neuropathol. 2020 Mar;139(3):415-442.
https://pubmed.ncbi.nlm.nih.gov/31820119/
Sánchez-Huertas C, Bonhomme M, Falco A, Fagotto-Kaufmann C, van Haren J, Jeanneteau F, Galjart N, Debant A, Boudeau J.
The +TIP Navigator-1 is an actin-microtubule crosslinker that regulates axonal growth cone motility.
J Cell Biol. 2020 Sep 7;219(9):e201905199.
https://pubmed.ncbi.nlm.nih.gov/32497170/
Slot E, de Klein A, Rottier RJ.
Generation of three iPSC lines from two patients with heterozygous FOXF1 mutations associated to Alveolar Capillary Dysplasia with Misalignment of the Pulmonary Veins.
Stem Cell Res. 2020 Mar 4;44:101745.
https://pubmed.ncbi.nlm.nih.gov/32169823/
Stik G, Vidal E, Barrero M, Cuartero S, Vila-Casadesús M, Mendieta-Esteban J, Tian TV, Choi J, Berenguer C, Abad A, Borsari B, le Dily F, Cramer P, Marti-Renom MA, Stadhouders R, Graf T.
CTCF is dispensable for immune cell transdifferentiation but facilitates an acute inflammatory response.
Nat Genet. 2020 Jul;52(7):655-661.
https://pubmed.ncbi.nlm.nih.gov/32514124/
Stoszko M, Al-Hatmi AMS, Skriba A, Roling M, Ne E, Crespo R, Mueller YM, Najafzadeh MJ, Kang J, Ptackova R, LeMasters E, Biswas P, Bertoldi A, Kan TW, de Crignis E, Sulc M, Lebbink JHG, Rokx C, Verbon A, van Ijcken W, Katsikis PD, Palstra RJ, Havlicek V, de Hoog S, Mahmoudi T.
Gliotoxin, identified from a screen of fungal metabolites, disrupts 7SK snRNP, releases P-TEFb, and reverses HIV-1 latency.
Sci Adv. 2020 Aug 12;6(33):eaba6617.
https://pubmed.ncbi.nlm.nih.gov/32851167/
Ten Kate CA, Brouwer RWW, van Bever Y, Martens VK, Brands T, van Beelen NWG, Brooks AS, Huigh D, van der Helm RM, Eussen BHFMM, van IJcken WFJ, IJsselstijn H, Tibboel D, Wijnen RMH, de Klein A, Hofstra RMW, Brosens E.
Infantile hypertrophic pyloric stenosis in patients with esophageal atresia.
Birth Defects Res. 2020 Apr 16. doi: 10.1002/bdr2.1683. [Epub ahead of print]
https://pubmed.ncbi.nlm.nih.gov/32298054/
Tindemans I, van Schoonhoven A, KleinJan A, de Bruijn MJ, Lukkes M, van Nimwegen M, van den Branden A, Bergen IM, Corneth OBJ, van IJcken WF, Stadhouders R, Hendriks RW.
Notch signaling licenses allergic airway inflammation by promoting Th2 cell lymph node egress.
J Clin Invest. 2020 Apr 7. pii: 128310.
https://pubmed.ncbi.nlm.nih.gov/32255764/
van der Burght SN, Rademakers S, Johnson JL, Li C, Kremers GJ, Houtsmuller AB, Leroux MR, Jansen G.
Ciliary Tip Signaling Compartment Is Formed and Maintained by Intraflagellar Transport.
Curr Biol. 2020 Aug 28:S0960-9822(20)31186-6.
https://pubmed.ncbi.nlm.nih.gov/32916106/
van der Ploeg EK, Carreras Mascaro A, Huylebroeck D, Hendriks RW, Stadhouders R.
Group 2 Innate Lymphoid Cells in Human Respiratory Disorders.
J Innate Immun. 2020;12(1):47-62.
https://pubmed.ncbi.nlm.nih.gov/30726833/
van Haren J, Adachi LS, Wittmann T.
Optogenetic Control of Microtubule Dynamics.
Methods Mol Biol. 2020;2101:211-234.
https://pubmed.ncbi.nlm.nih.gov/31879907/
van Schaik T, Vos M, Peric-Hupkes D, Hn Celie P, van Steensel B.
Cell cycle dynamics of lamina-associated DNA.
EMBO Rep. 2020 Sep 7:e50636. doi: 10.15252/embr.202050636. Online ahead of print.
https://pubmed.ncbi.nlm.nih.gov/32893442/
van Schoonhoven A, Huylebroeck D, Hendriks RW, Stadhouders R.
3D genome organization during lymphocyte development and activation.
Brief Funct Genomics. 2020 Mar 23;19(2):71-82.
https://pubmed.ncbi.nlm.nih.gov/31819944/
Vandamme N, Denecker G, Bruneel K, Blancke G, Akay Ö, Taminau J, De Coninck J, De Smedt E, Skrypek N, Van Loocke W, Wouters J, Nittner D, Köhler C, Darling DS, Cheng PF, Raaijmakers MIG, Levesque MP, Mallya UG, Rafferty M, Balint B, Gallagher WM, Brochez L, Huylebroeck D, Haigh JJ, Andries V, Rambow F, Van Vlierberghe P, Goossens S, van den Oord JJ, Marine JC, Berx G.
The EMT Transcription Factor ZEB2 Promotes Proliferation of Primary and Metastatic Melanoma While Suppressing an Invasive, Mesenchymal-Like Phenotype.
Cancer Res. 2020 Jul 15;80(14):2983-2995.
https://pubmed.ncbi.nlm.nih.gov/32503808/
Vos M, Boers R, Vriends ALM, Boers J, van Kuijk PF, van Houdt WJ, van Leenders GJLH, Wagrodzki M, van IJcken WFJ, Gribnau J, Grünhagen DJ, Verhoef C, Sleijfer S, Wiemer EAC.
MicroRNA expression and DNA methylation profiles do not distinguish between primary and recurrent well-differentiated liposarcoma.
PLoS One. 2020 Jan 23;15(1):e0228014.
https://pubmed.ncbi.nlm.nih.gov/31971976/
Wang C, Li W, Drabek D, Okba NMA, van Haperen R, Osterhaus ADME, van Kuppeveld FJM, Haagmans BL, Grosveld F, Bosch BJ.
A human monoclonal antibody blocking SARS-CoV-2 infection.
Nat Commun. 2020 May 4;11(1):2251. Publisher correction Nat Commun. 2020 May 14;11(1):2511.
https://pubmed.ncbi.nlm.nih.gov/32366817/
Weiterer SS, Meier-Soelch J, Georgomanolis T, Mizi A, Beyerlein A, Weiser H, Brant L, Mayr-Buro C, Jurida L, Beuerlein K, Müller H, Weber A, Tenekeci U, Dittrich-Breiholz O, Bartkuhn M, Nist A, Stiewe T, van IJcken WF, Riedlinger T, Schmitz ML, Papantonis A, Kracht M.
Distinct IL-1α-responsive enhancers promote acute and coordinated changes in chromatin topology in a hierarchical manner.
EMBO J. 2020 Jan 2;39(1):e101533.
https://pubmed.ncbi.nlm.nih.gov/31701553/
Wichgers Schreur PJ, van de Water S, Harmsen M, Bermúdez-Méndez E, Drabek D, Grosveld F, Wernike K, Beer M, Aebischer A, Daramola O, Rodriguez Conde S, Brennan K, Kozub D, Søndergaard Kristiansen M, Mistry KK, Deng Z, Hellert J, Guardado-Calvo P, Rey FA, van Keulen L, Kortekaas J.
Multimeric single-domain antibody complexes protect against bunyavirus infections.
Elife. 2020 Apr 21;9. pii: e52716.
https://pubmed.ncbi.nlm.nih.gov/32314955/
Wittmann T, Dema A, van Haren J.
Lights, cytoskeleton, action: Optogenetic control of cell dynamics.
Curr Opin Cell Biol. 2020 May 1;66:1-10.
https://pubmed.ncbi.nlm.nih.gov/32371345/
Yu N, Galjart N.
Purification of Mammalian Tubulins and Tubulin-Associated Proteins Using a P2A-Based Expression System.
Methods Mol Biol. 2020;2101:1-17.
https://pubmed.ncbi.nlm.nih.gov/31879894/
Yu X, Martella A, Kolovos P, Stevens M, Stadhouders R, Grosveld FG, Andrieu-Soler C.
The dynamic emergence of GATA1 complexes identified in in vitro embryonic stem cell differentiation and in vivo mouse fetal liver.
Haematologica. 2020 Jul;105(7):1802-1812.
https://pubmed.ncbi.nlm.nih.gov/31582556/
Zysman M, Ribeiro Baptista B, Essari LA, Taghizadeh S, Thibault de Ménonville C, Giffard C, Issa A, Franco-Montoya ML, Breau M, Souktani R, Aissat A, Caeymaex L, Lizé M, Tran Van Nhieu J, Jung C, Rottier R, Do Cruzeiro M, Adnot S, Epaud R, Chabot F, Lanone S, Boczkowski J, Boyer L.
Targeting p16INK4a Promotes Lipofibroblasts and Alveolar Regeneration After Early Life Injury.
Am J Respir Crit Care Med. 2020 Jul 6. doi: 10.1164/rccm.201908-1573OC. Online ahead of print.
https://pubmed.ncbi.nlm.nih.gov/32628504/
Facilities
The Department of Cell Biology is part of the Biomedical Sciences theme and has access to a number of facilities.
The Mass spectrometry facility, headed by Dr. Jeroen Demmers, is in the Erasmus Centre of Proteomics. Proteins (and protein-modifications) from our purifications are identified within days, using the latest, ultra-sensitive, equipment. This facility, combined with the biochemical expertise within the department, provides an ideal environment for the identification and characterization of protein interactions.
The Erasmus Center for Biomics is the Erasmus MC Genomics Core Facility, headed by Dr. ir. Wilfred van IJcken. It provides services and expertise for Next Generation Sequencing for all kinds of applictions (gene expression analysis, genome accessibility, genome conformation, variant detection, and many others) and a number of other genome-related techniques, which will save time in your research and provides easy opportunity for new research venues.
In the Applied Optical Imaging Centre, we have access to the latest microscopy technology and expertise, including a 4Pi microscope for high optical resolution, a 2-photon microscope, and several confocal microscopes, especially adapted for different aspects of FRAP, FLIP and FRET technology.
The Erasmus MC iPS core facility has been founded to support fundamental and translational research by providing high quality iPS cell lines and embryonic stem (ES) cell lines to researchers within and outside the Erasmus MC.
In our mouse transgenics facility, we use the latest techniques to make mouse (conditional) knock-outs and knock-ins and derive (ES) cell lines and other cells from mice.
Our Fluorescence-Activated Cell Sorter (FACS) allows rapid separation of live and fixed cells, based on fluorescence (by immunochemistry and fluorescent proteins such as GFP).
Related departments
The Department of Cell Biology is embedded in the Biomedical Sciences Theme which comprises the departments of Cell Biology (Danny Huylebroeck), Molecular Genetics (Roland Kanaar), Biochemistry (Peter Verrijzer), Developmental Biology (Joost Gribnau), Genetic Identification (Manfred Kayser) and Neurosciences (Chris de Zeeuw).

Collaborations (from 2013-present)
Local Collaborations
Examples of intradepartmental collaborations are:

Those connecting studies of chromatin regulation, epigenomics and TF actions in differentiation of various cell types. An important recent connector is targeted chromatin conformation analysis (using T2C) for studying aspects of transcription regulation of specific loci.

Studies of pluripotent states of cells of pre- and early post-implantation mammalian embryos, on exit from pluripotency, and (shared with the department of Developmental Biology in our Theme of Biomedical Sciences) of ETS and ETX embryos, blastoids and gastruloids.

Neurodevelopment studies, centered around transcription factor (TF) proteomics, TF-TF and TF-chromatin remodeler co-operation, (release of) RNAPol2 pausing, ES/iPS cell neural differentiation and cerebral organoids, with a keen eye for neurodevelopmental disorders and modeling thereof in cell and/or animal models.

Those connecting other pillars, i.e. esiRNA and CRISPR-based targeted perturbations (of BMP-Nodal and Wnt system components and transcription regulatory networks, TRNs) in ES cell based hematopoietic and neural differentiation, taking this now to single-cells and multi-omics read-outs.
Cell biology studies, e.g. visualizing BMP-Smad activity in cells and embryos with new reporters, and studies of microtubule dynamics, primary cilia and cell migration.

Various technologies are uniting factors: omics-bioinformatics combinations, including ChIP-Seq, expression profiling and protein network analysis.

Examples of interdepartmental collaborations (with the listed departments, outside the Theme of Biomedical Sciences) that significantly broaden fundamental biology and (pre)clinical research within Erasmus MC, with constant input from bench to bed and vice versa, include those with
Internal Oncology (triple-negative breast cancer), Neurosurgery (BMP signalling in recurrent glioma), Clinical Genetics (cytokinesis in developing brain cortex, neuronal migration disorders, TGFβ-system in aneurysm, autism-macrocephaly incl. in zebrafish, non-canonical cohesin subunits in patients), Hematology (developmental erythropoiesis), Psychiatry (iPS-derived neurons, neuro-psychiatric/developmental disease), Pulmonary Medicine (epigenetics in allergic asthma), Pediatric Surgery (lung repair and disease, organoids), Cardiology (heart development), Epidemiology (head size GWAS biological annotation), Surgery (modelling infectious disease in organoids), Otorhinolaryngology and Head and Neck Surgery (chondrogenesis, osteogenesis), OIC (triple-color dSTORM and super-resolution imaging of cohesin and TFs). Many of these collaborations also serve local Academic Centers, e.g. Systems Biomedicine (coord: Cell Biology), Hemoglobinopathies and Acquired Anemias (coord: Cell Biology), SCORE (current coord. from Cell Biology) and Atrial Fibrillation.
National and International Collaborations
Examples of national collaborations are these with

Leiden Univ/LUMC BMP-Smad signalling; Mummery and de Chuva de Sousa Lopes), Hubrecht Institute in Utrecht (Zeb2 in infarcted heart; van Rooij; cytoskeletal and gene/protein network changes during HSC emergence; Robin; WNT-stimulation protocols in serum-free human organ stem cells; with Clevers), Immunology in Utrecht (Wnt signalling in T cells; Coffer), Sanquin Research in Amsterdam (transcriptional control of erythroid development; von Lindern-van den Akker), NKI in Amsterdam (functional SNP annotation in human NSCs, van Steensel; development of erythroid progenitors, Jacobs), ERIBA in Groningen (de Haan), Radboud Univ. in Nijmegen) (epigenetic characterization of pluripotency states in early embryos, Marks; epigenome of hematopoietic development, Stunnenberg).

Project-based, individual international collaborations

are numerous. Examples are
A. Papantonis, A. Rada-Iglesias (both Cologne), D. Fitzpatrick (Edinburgh), B. Ren (San Diego), K. Maeshima (Mishima), U-M. Bauer (Marburg), C. Bonifer (Birmingham), J. Borg, A. Felice (Valetta), M. Busslinger (Vienna), M. Crossley (Melbourne), S-L. Thein (Bethesda), L. Gutierrez (Oviedo), R. Hardison (Pennsylvania), D. Higgs (Oxford), B. Lenhard (London), M. Wachsmuth, J. Lewis (both Heidelberg), M. Kleanthous, C. Lederer (Nicosia), A-R Migliaccio (Bologna), H. Najmabadi (Tehran), G. Patrinos (Patras), G. Suske (Marburg), L. Tora (Strasbourg), V. Viprakasit (Bangkok), S. Wilson (Newcastle), M. Yamamoto (Sendai), L. Zon (Boston), C. Verfaillie, M. Sampaolesi, E. Seuntjens, J-C. Marine, A. Zwijsen, A. Luttun, F. Lluis, L. Jones (all Leuven), G. Berx, S. Goossens, F. van Roy, B. Lambrecht (all Gent), L. Nguyen (Liège), A. Del Sol Mesa (Luxembourg), I. Chambers (Edinburgh), B. Lenhard, F. Guillemot (both London), R. Patient (Oxford), V. Janzen (Bonn), M. Sereda, K-A. Nave (Göttingen), T. Braun, G. Dobreva (both Bad Nauheim), N. Urbán, N. Rivron (both Vienna), W. Wurst, M. Drukker, M. Götz (all Munich), G. Meister (Regensburg), C. Zweier (Erlangen), N. Bondurand (Créteil), H. Cremer (Marseille), T. Walzer (Lyon), C. Andrieu-Soler, E. Soler (both Montpellier), R. Sedlacek (Prague), L. Garavelli (Reggio Emilia), R. Ashery-Padan (Tel Aviv), J. Haigh (Melbourne), H. Kondoh (Kyoto), L. Hui (Shanghai), R.Q. Lu (Cincinnati), A. Goldrath (La Jolla), E. McNally (Chicago), A. Debant (Montpellier), A. Andrieux, I. Arnal (Grenoble), M. Mogensen (East Anglia), T. Wittmann (San Francisco), L. Wilson (Santa Barbara), H. Maiato (Porto), L. Sayas (Tenerife).
Seminars
Farewell Symposium for Prof. Danny Huylebroeck on Friday 17 June 2022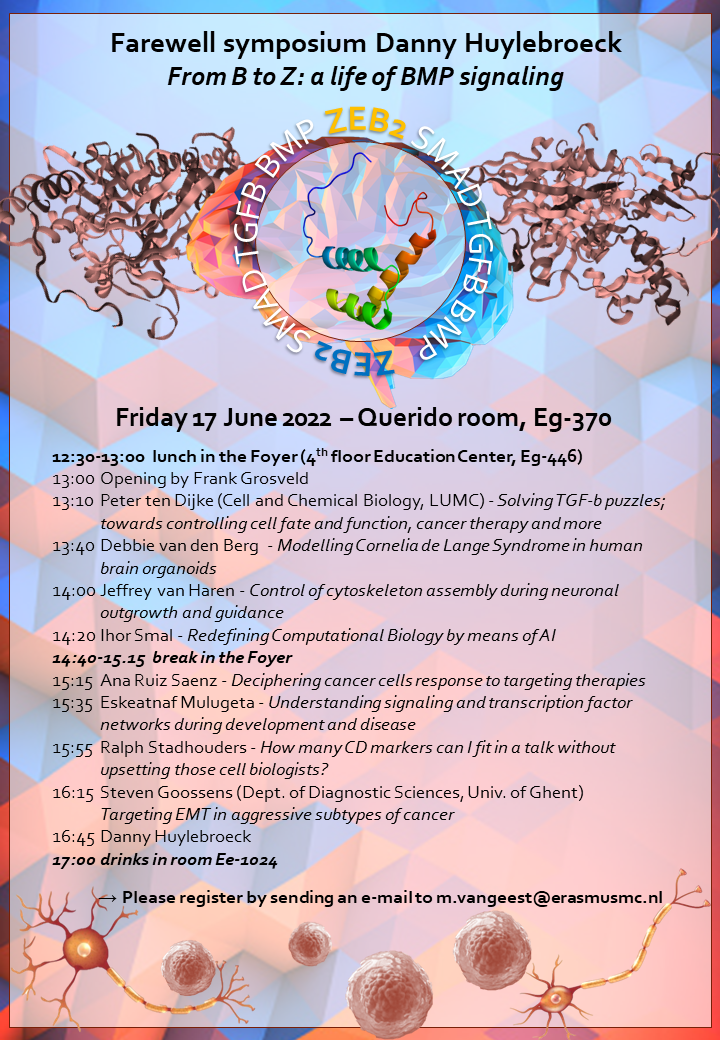 Previous online seminars:
Kathy Niakan (Crick Institute, London), 14 January 2021
Christiane Zweier (University of Bern), 11 March 2021