June 15, 2021
For decades we've been seeing a sharp rise in the ageing population. People are getting older and fatal diseases are turning into chronic llnesses. Even though these are great achievements, they leave a growing population in need of care while the number of health professionals stays the same. Simultaneously, personalized health care is rapidly replacing generic treatment methods.
In the long run, this is an unsustainable state of affairs. We should constantly innovate to maintain our high standards and keep a maturing population healthy. That is why Erasmus University Medical Center and the city of Rotterdam have initiated a campus where healthcare, technology and business come together. The development of the area will be a close collaboration with governments, institutes and the business community.
Convergence
The campus will be a place that facilitates future developments, with sufficient free space to respond to and adapt to new insights. The campus will also provide space to support the process of convergence with TU Delft and Erasmus University.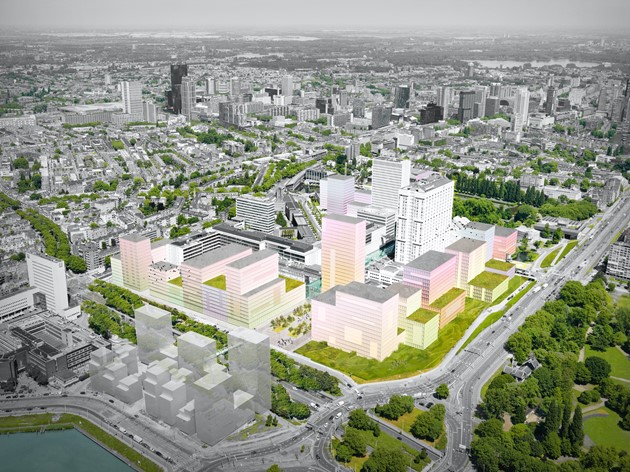 Connecting health and technology
At the Erasmus MC Campus we facilitate the full innovation cycle, from cohort research to business development and from prototyping to implementation. We do this in an urban environment, with a strong connection to the city and society.
We will house a diversity of organizations focused on health-tech. The ecosystem includes state-of-the-art co-facilities and optimal test sites, allowing residents to collaborate and put their innovations into practice, while the medical center benefits from the latest technological developments.
Based in Rotterdam and rooted in science, Erasmus MC Campus is a place for visionaries to come together. It is a place where innovators feel the freedom to answer the questions of tomorrow. A place for thinking, daring and doing.