About our research group/lab
Our research
Background
As many drugs have difficulty reaching their site of action to effectively treat diseases, drugs are given in high dosages causing serious side-effects. Toxic effects to the rest of the body can be prevented by local drug delivery. Ultrasound-activated microbubbles, 1-10 µm in diameter, have shown potential as local drug delivery system. When exposed to ultrasound, the microbubble's gas core responds to the pressure change by compressing and expanding, which results in the vibration of the microbubble. This vibration stimulates and enhances cellular drug uptake. The group studies the underlying mechanism of the microbubble-cell-drug interaction to achieve maximum therapeutic outcome.

Overall aim
As with all local drug delivery systems, the aim is to achieve a specific pharmacological response of a therapeutic agent at a particular diseased site. The benefits are a more controlled biodistribution of the therapeutic agent which reduces side-effects and improves therapeutic efficacy. A unique feature of ultrasound is local insonification thereby stimulating and enhancing drug uptake only at a region of interest. In addition, ultrasound imaging will aid the guidance and monitoring of therapy. Given the presence of microvascular networks in nearly all tissues, local drug delivery using microbubbles provides extensive possibilities for treating pathological tissues.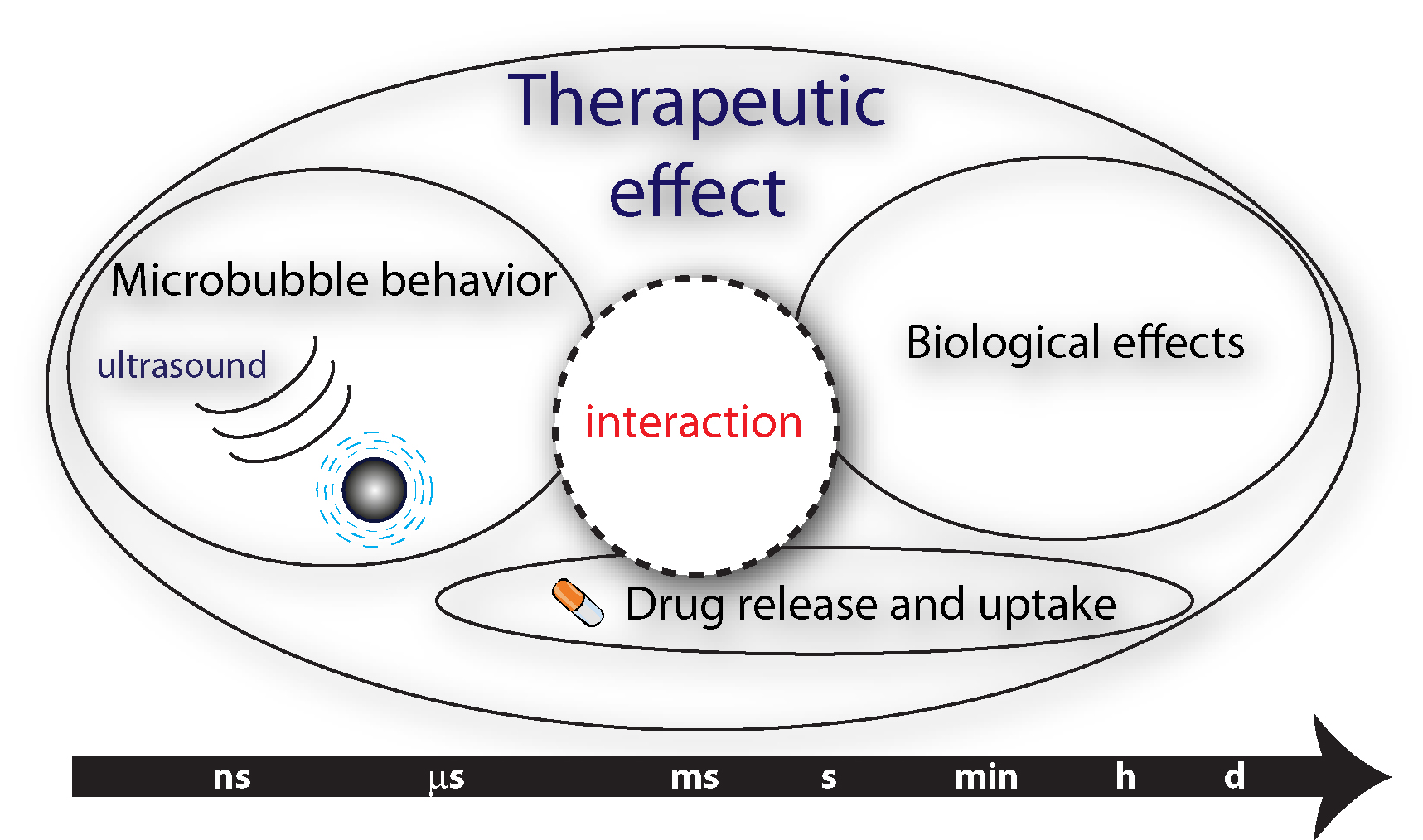 Research focus area
We focus on producing novel coatings of microbubbles for imaging and drug delivery, elucidating the microbubble-vessel wall-drug interaction, and developing microbubble-mediated treatment and ultrasound molecular imaging of bacterial infections on heart valves/cardiac devices. Detailed insight into the underlying mechanism of the microbubble-cell-drug interaction is crucial for maximum therapeutic outcome and widespread clinical use. The different time scales involved makes this research challenging, namely nanoseconds for the the microbubble vibration (microbubbles vibrate 2 million times per second in a 2 MHz ultrasound field), milliseconds for physiological effects, seconds to minutes for biological effects, and days to months for clinical relevance.

Confocal microscopy images of endothelial cells before and after the vibration of a microbubble by 2-MHz ultrasound. After ultrasound, the model drug (red) is taken up by the endothelial cell. The microbubble location is indicated by the dotted line and the cells are stained in green (cell membrane) and blue (cell nuclei).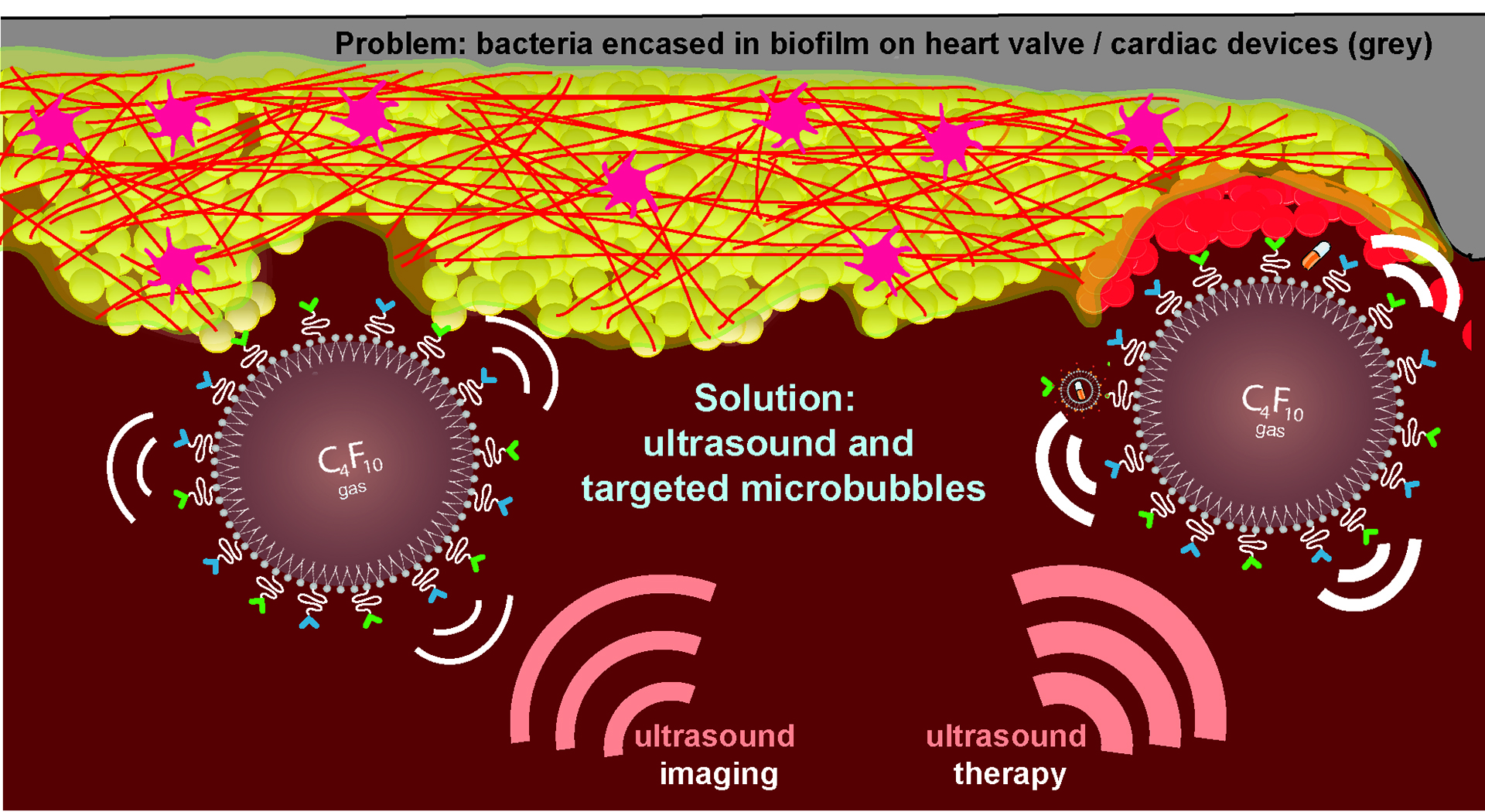 Our projects
Key Publications
Collaborations
Funding & Grants
NWO Vidi 17543
ERC Starting grant 805308
Phospholipid Research Center, Heidelberg, Germany
Erasmus MC fellowship
Our team
Klazina Kooiman , PhD, Principal Investigator
Technician:
Mariël Leon – Grooters; BSc
Postdoctoral fellow:
PhD students:
Alumni:
Inés Beekers, PhD cum laude (with distinction) obtained on 2020-07-08; PhD student 2015 – 2019; postdoctoral fellow 2019-12 – 2020-11.
Reza Pakdaman Zangabad, PhD, postdoctoral fellow 2020-03 – 2021-12