What we do
About our project
Background information
Bronchiectasis is characterized by irreversibly widened airways due to chronic inflammation, and carries the risk of infections. Only few registered antibiotic treatments are available for patients with bronchiectasis. The European iABC consortium is conducting a phase II dose finding study (iBEST-1) of tobramycin inhalation power for patients with bronchiectasis and chronic p. aeruginosa infection, to be followed by a phase III effectivity study. Sensitive outcome measures are still lacking however. Chest computed tomography (CT) is the gold standard to detect bronchiectasis. We hypothesize that CT scans can serve as a sensitive outcome measure.
Overall aim
We aim to develop and validate a new CT scoring method that can be used for clinical studies in which CT data is used as an outcome measure, and for the monitoring of disease in clinical follow up. We also will further develop the automated analysis methods for the airway:artery ratio, which could serve as an additional outcome measure.
Research method
During the iBEST-1 study we will collect the most recent CT scans of the 180 participants from 50 different centers across Europe. The CT data will be used to develop and validate the grid-based BronchiEctasis Scoring Technique for CT (BEST-CT). Besides, automated and manual airway-artery analyses will be performed on a subset of these data. During the phase III trial, baseline and after treatment CT scans will be acquired. The scans will be analyzed with both BEST-CT and the automated airway:artery analysis to evaluate the effectivity of tobramycin inhalation powder on these patients' airway:artery ratio.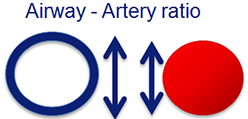 Desirable outcome
We wish we can conclude that CT scans can be used as sensitive outcome measure with these CT scoring methods. If so, this will add power to trials and eventually enable fast and successful development of treatments for patients with bronchiectasis. Besides, we hope to implement these methods in the clinical follow up of these patients for precise monitoring of disease.
Publications
Our team
Jennifer Meerburg, PhD student
Mariette Kemner- van de Corput, MD, PhD, head of LungAnalysis