What we do
About our project
A heart attack occurs when the flow of blood in the coronary artery is blocked. This is mostly due to the development and rupture of vulnerable atherosclerosis plaque. Is there a way to capture those vulnerable plaques at early stage and thus see the heart attack before it happens?

In this research, we will develop three new imaging modalities to visualize four different types of properties of the coronary artery, i.e. microstructure, flow pattern, thermo-elastic property and stiffness. By doing so, comprehensive accessment of morphology and physiology of the coronary artery are provided, which may bring new opportuties for the early detection of vulnerable plaques. The new technologies developed in this project may also be used for the early diagnosis of other diseases in the future.

Our research focus
Thermo-elastic Optical Coherence Tomography: By detecting the tiny tissue displacement induced by a nanosecond laser pulse, we can create a new imaging modality, showing both the thermo-elastic properties and microstrcutures of tissue.
Megahertz intravascular Doppler OCT: Advancing the Doppler OCT technique to 1.5 Megahertz speed allows us to measure flow velocity at <37.5 cm/s, and further visualize flow pattern of entire coronary artery.
Endoscopic Optical Coherence Elastography (OCE): Using a stable catheter and a fast OCE system, we will make the first endoscopic realizationg of OCE, simultaneously mapping the stiffness and structure of coronary artery (and bronchus).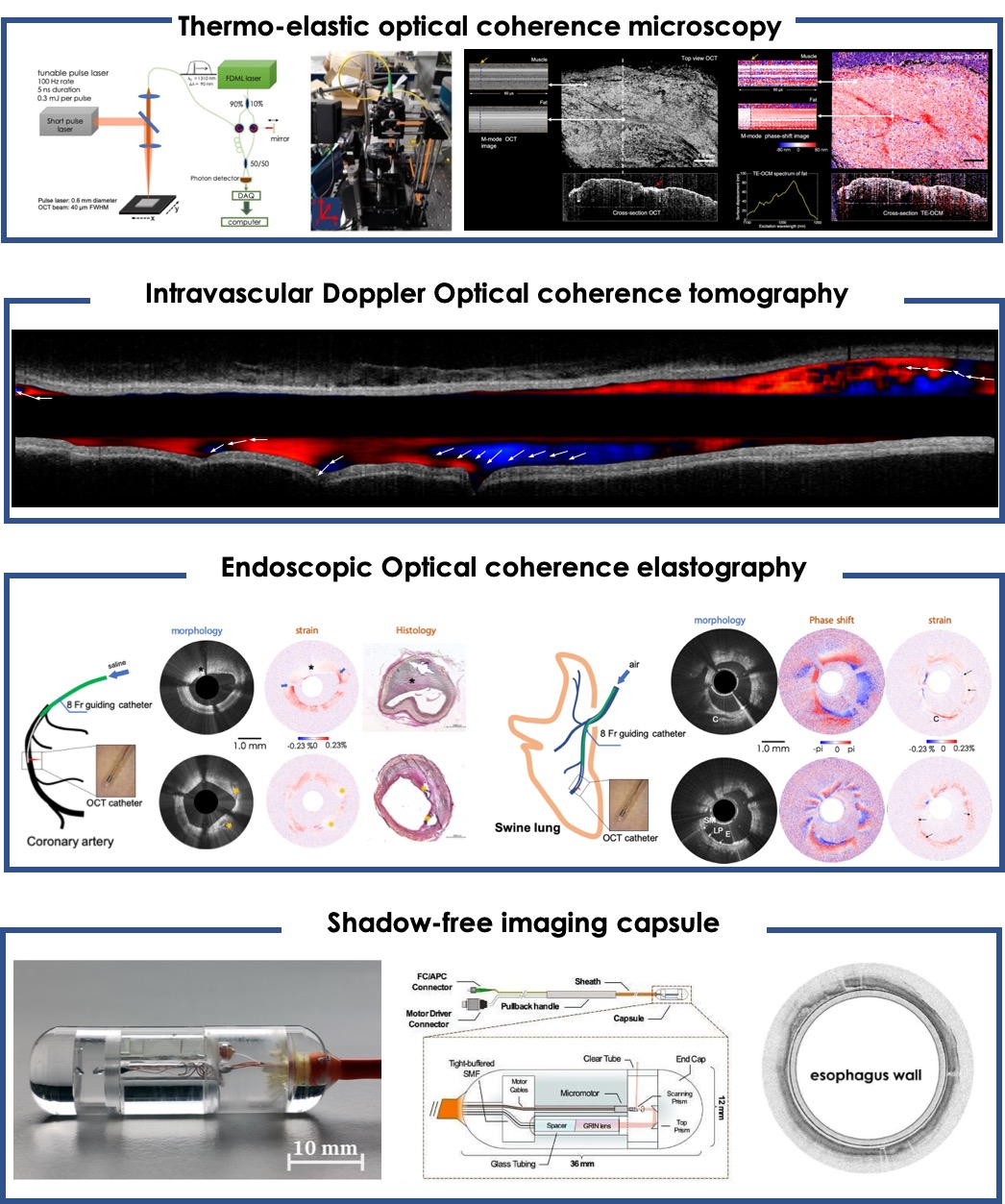 Funds & Grants
NWO Veni 2017 - 15940
Collaborations
Internal Collaboration
Department of cardiology
CoFa EMI
Department of respiratory medicine
Department of gastroenterology and hepatology
Department of pathology
External Collaboration
Publications
Our team

Geert Springeling


Principal Investigators
Phd Students