About our research group/lab
Our research
Objectives
Two main objectives of our epidemiological studies are:
counselling and treatment of patients with hereditary breast and/or ovarian cancer
late effects of breast cancer treatment
Origin and development
In the mid 1990s the multidisciplinary working group "Hereditary Cancer" was established at our institute – the same period that BRCA1 and BRCA2 germline mutations were first identified.
Initially, study results were mainly obtained through genetic, epidemiologic and oncologic data registered locally. Early studies contributed to a better insight into the efficacy and side effects of preventive measures, the characteristics and clinical course of hereditary breast and ovarian cancer and the preferences and decisions of women regarding genetic testing.
Over the last 10 years, we have focused more on collaboration with fellow researchers outside the institute; together we have realized much larger and more powerful national datasets available for analysis, both in the hereditary as in the general breast cancer setting. With the broadening of the research scope, the name of the group changed into "Cancer Epidemiology".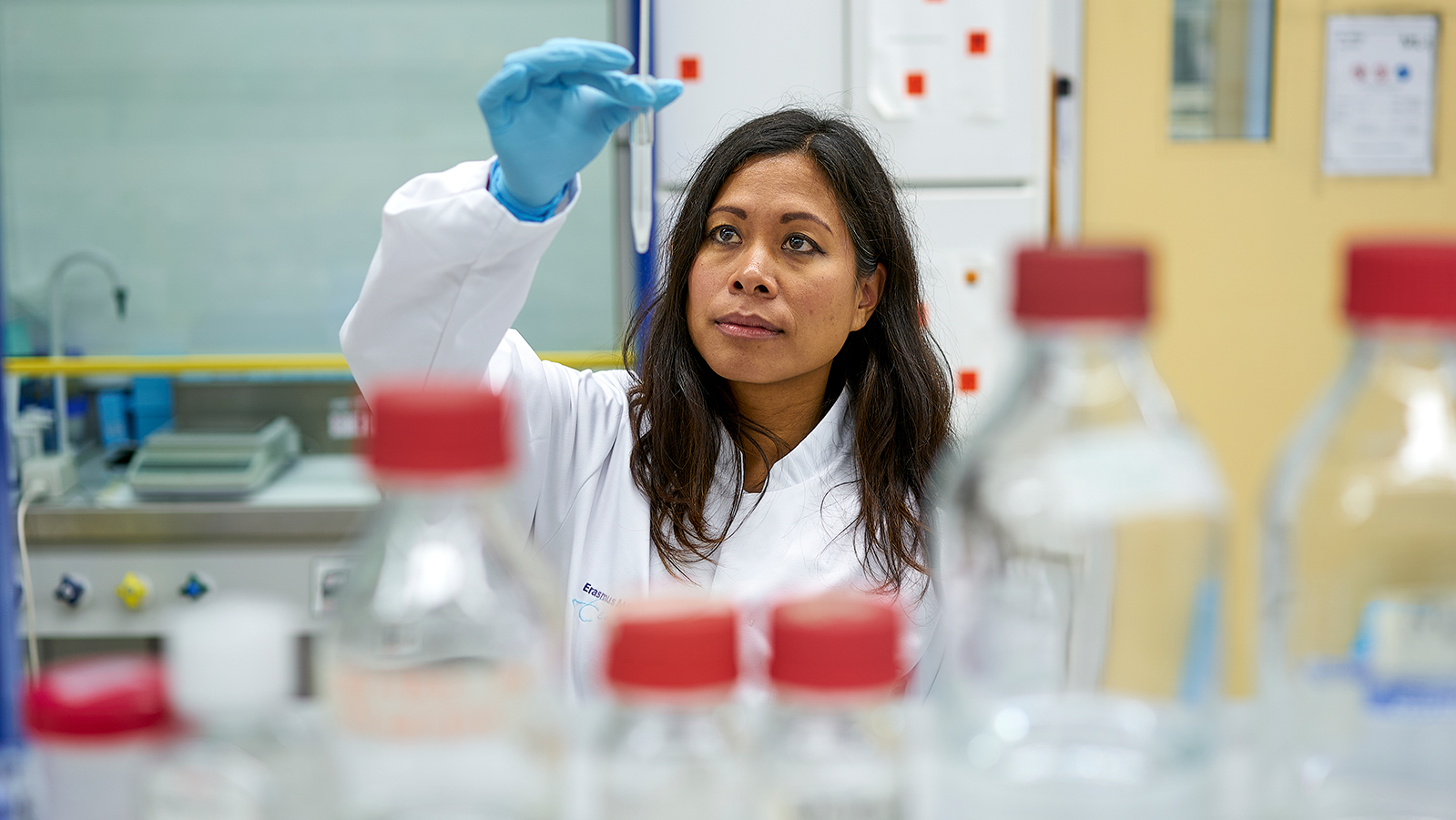 National collaboration
Hereditary cancer
In hereditary cancer, we work on prognosis of BRCA1/2 associated breast cancer and ovarian cancer by using national HEBON data; we are further in the lead of establishing a national cohort of breast cancer families with a CHEK2 1100delC mutation; prospective data on breast cancer incidence are urgently needed for better risk stratification by age and family history, and for improved follow-up regimens and counselling regarding preventive measures.
Late effects of treatment
Studies on late effects of breast cancer treatment have become increasingly important over the last decades due to improving survival rates of breast cancer. In a joint initiative with the Netherlands Cancer Institute, risks of cardiovascular disease and second breast cancers have been established.
We developed a comprehensive risk model for second breast cancer by identifying and integrating all known risk/protective factors. Use of the final version will be most helpful in decision making on preventive measures and follow-up procedures for patients and their clinicians.
We participate in the BRAGATSTON study led by UMC Utrecht, investigating the predictive value of coronary artery calcifications measured on radiotherapy planning CT scans for risk of cardiovascular disease in breast cancer patients.
Late effects in hereditary setting
A perfect example in which both main objectives come together is the HARMONY study. Based on the nationwide HEBON cohort, we investigate long-term health effects of premenopausal risk-reducing salpingo-oophorectomy in women at high risk of ovarian cancer. The HARMONY study is performed in close collaboration with the Netherlands Cancer Institute and Radboud UMC Nijmegen. Study objectives concern breast cancer-specific mortality, cardiovascular status, bone mineral density, cognition and quality of life.
International collaboration
On the international level, we established and continued close collaboration with several consortia (Breast Cancer Association Consortium (BCAC); Consortium of Investigators of Modifiers of BRCA1/2 (CIMBA) for many years by now.
The large datasets realized by these collaborative research groups have enabled to gain important new insights into genetic, environmental and lifestyle factors associated with breast cancer risk.
Based on this information, better comprehensive risk models have been developed that will have great impact not only on the counseling advice in high-risk families but also on the screening guidelines in the general female population.


Our projects
Risk prediction, screening and therapy of breast cancer in women from CHEK2 c.1100delC families in the Netherlands. Link to project
HARMONY
Favorable and unfavorable effects of risk-reducing salpingo-oophorectomy (RRSO) in women at high genetic risk of ovarian cancer. Link to project
Risk management of contralateral breast cancer; development and validation of an online decision aid for physicians and patients. Link to project
PREVOM
The sequel to the Angelina Jolie effect: the impact of bilateral risk-reducing mastectomy on survival and cancer-related anxiety in BRCA1/2 mutation carriers.
Key Publications
van Barele M, Heemskerk-Gerritsen BAM, van Doorn HC, Schmidt MK, Hooning MJ*, Jager A*. The Impact of Menstruation Persistence or Recovery After Chemotherapy on Survival in Young Patients With Hormone Receptor Negative Breast Cancer. Breast. 2020 Aug;52:102-109.
Giardiello D, Steyerberg EW, Hauptmann M, Adank MA, Akdeniz D, Blomqvist C, Bojesen SE, Bolla MK, Brinkhuis M, Chang-Claude J, Czene K, Devilee P, Dunning AM, Easton DF, Eccles DM, Fasching PA, Figueroa J, Flyger H, García-Closas M, Haeberle L, Haiman CA, Hall P, Hamann U, Hopper JL, Jager A, Jakubowska A, Jung A, Keeman R, Kramer I, Lambrechts D, Le Marchand L, Lindblom A, Lubiński J, Manoochehri M, Mariani L, Nevanlinna H, Oldenburg HSA, Pelders S, Pharoah PDP, Shah M, Siesling S, Smit VTHBM, Southey MC, Tapper WJ, Tollenaar RAEM, van den Broek AJ, van Deurzen CHM, van Leeuwen FE, van Ongeval C, Van't Veer LJ, Wang Q, Wendt C, Westenend PJ, Hooning MJ, Schmidt MK. Prediction and clinical utility of a contralateral breast cancer risk model. Breast Cancer Res. 2019 Dec 17;21(1):144.
Heemskerk-Gerritsen BAM, Jager A, Koppert LB, Obdeijn AI, Collée M, Meijers-Heijboer HEJ, Jenner DJ, Oldenburg HSA, van Engelen K, de Vries J, van Asperen CJ, Devilee P, Blok MJ, Kets CM, Ausems MGEM, Seynaeve C, Rookus MA, Hooning MJ. Survival after bilateral risk-reducing mastectomy in healthy BRCA1 and BRCA2 mutation carriers. Breast Cancer Res Treat. 2019 Oct;177(3):723-733.
Akdeniz D, Schmidt MK, Seynaeve CM, McCool D, Giardiello D, van den Broek AJ, Hauptmann M, Steyerberg EW, Hooning MJ. Risk factors for metachronous contralateral breast cancer: A systematic review and meta-analysis. Breast. 2019 Apr;44:1-14.
Heemskerk-Gerritsen BA, Seynaeve C, van Asperen CJ, Ausems MG, Collée JM, van Doorn HC, Gomez Garcia EB, Kets CM, van Leeuwen FE, Meijers-Heijboer HE, Mourits MJ, van Os TA, Vasen HF, Verhoef S, Rookus MA*, Hooning MJ*; Hereditary Breast and Ovarian Cancer Research Group Netherlands. Breast cancer risk after salpingo-oophorectomy in healthy BRCA1/2 mutation carriers: revisiting the evidence for risk reduction. J Natl Cancer Inst. 2015 Mar 18;107(5).
Collaborations
Collaborations within Erasmus MC
We work in close collaboration with other specialisms/groups involved in the care and research of breast and ovarian cancer:
Breast Cancer Genomics
Surgical Oncology
Collaborations outside of Erasmus MC
Funding & Grants
We receive funding from the following organizations:
Our team
Group leader: Maartje J. Hooning, PhD
Annette B.A.M. Heemskerk-Gerritsen, PhD, Postdoc
Agnes Jager, MD, PhD, Medical Oncologist
Yvonne Unkel, Datamanager
Saskia Pelders, ir, Datamanager
Delal Akdeniz, MD, PhD student
Mark van Barele, MD, PhD student
Maartje A.C. Schreurs, ir, PhD student
Frederike Raad, medical student, datamanager
Contact us? Mail to our secretary.