January 17, 2020
"Our ambition is to revolutionize our ability to detect and analyze outbreaks of emerging disease at a much earlier stage than currently is possible, thus allowing time to respond rapidly to seriously curtail their impact," says prof Marion Koopmans, head of department of Viroscience at Erasmus MC Rotterdam, and coordinator of the VEO project. The project started January 1st 2020, and will receive funding for 5 years.
VEO (Versatile Emerging infectious disease Observatory) is a research and innovation action funded by the European Commission's Horizon2020 framework program, with 20 partners from 12 different countries, and a budget of 15 million euros. VEO will strive to establish an interactive virtual observatory for the generation and distribution of high-quality actionable information for evidence-based early warning, risk assessment and monitoring of emerging infectious diseases (EID) threats by public health actors and researchers in the One Health domain.
Emerging infectious diseases (EID) and antimicrobial resistance (AMR) are increasing due to global changes that have a fundamental impact on the dynamics of infectious diseases, challenging the existing global health infrastructure and organization. The lessons from recent outbreaks show that detection of outbreaks often is delayed. Rapid identification is essential to reduce the impact and costs of outbreaks, but it is a challenge to be prepared globally as preparedness competes with other priorities in healthcare and public health. As a major part of EID and AMR come from animals, a true shift in ability to detect would come from deep understanding the factors that drive their emergence, focusing on the complex interplay of environmental and human factors that drive disease dynamics.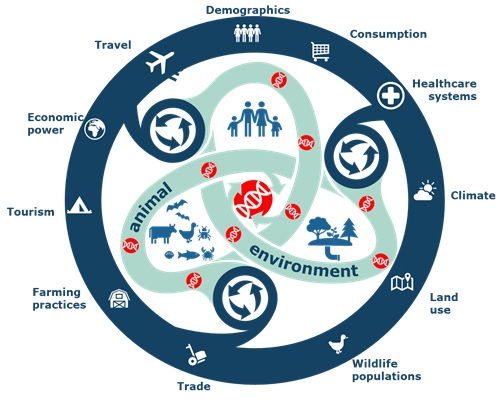 Key challenge: global changes in global trends acting as drivers of infectious disease emergence and spread in the One Health domain. Using open data potentially informative of such drivers could greatly add to the surveillance and prediction of EIDs.
"The digital revolution coupled with data science, and the use of open data coupled with the use of breakthrough multi-analytic technologies to mine and use such data offers great opportunities for infectious disease detection," explains prof Frank Aarestrup, head of the Genomic Epidemiology Unit at DTU Denmark, and co-coordinator. VEO will explore how publicly available data from multiple sources can be used to predict if, when and where risk of outbreaks is increasing. VEO will build on the principles and data sharing hubs developed for outbreaks through COMPARE (www.compare-europe.eu). "Furthermore, the VEO system will support follow-up of such signals where risk of outbreaks is increasing, using sophisticated catch-all methodologies for verification and tracking, and asking citizens to participate in the collection of data. The systems will support translating combined data into intuitive and interactive interpretation and visualisation tools for future users, like public health institutes, so they have actionable information they can act upon," Koopmans adds.
Partners VEO consortium
The VEO consortium is highly complementary in terms of European geographic coverage, expertise and disciplinary backgrounds and roles in EID preparedness and response. The broad geographic coverage underscores the true European dimension and relevance of the VEO system and research:
Erasmus University Medical Centre (Erasmus MC), the Netherlands

Technical University of Denmark (DTU), Denmark

Friedrich-Loeffler-Institute (FLI), Germany

European Molecular Biology Laboratory (EMBL), Germany

Animal and Plant Health Agency (APHA), United Kingdom

Eötvös Loránd University (ELTE), Hungary

RijksInstituut voor Volksgezondheid en Milieu (RIVM), the Netherlands

L'Institut Français de Récherche pour l'Exploitation de la Mer (IFREMER), France

Aristotle University Thessaloniki (AUTH), Greece

Academic Medical Center (AMC), the Netherlands

Institut Pasteur (IP), France

Consejo Superior de Investigaciones Cientificas (CSIC), Spain

École Polytechnique Fédérale de Lausanne (EPFL), Switzerland

Centre for big data statistics (CBS), the Netherlands

University of Edinburgh (UEDIN), United Kingdom

University of Bologna (UNIBO), Italy

University of Padova (UNIPD), Italy

Uppsala University (UU), Sweden

University of Helsinki (UH), Finland

University of Copenhagen (UCPH), Denmark